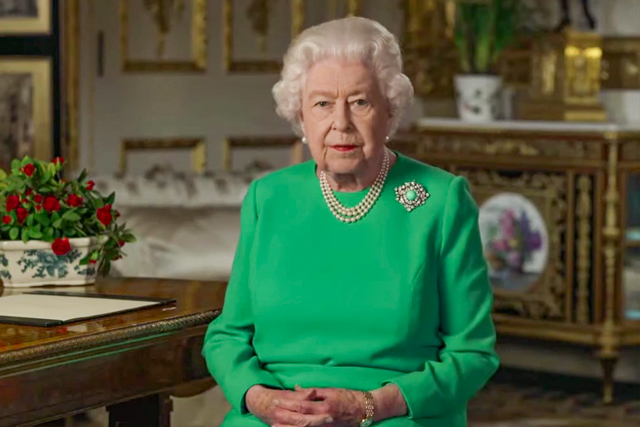 Last Sunday, Apr. 5, Queen Elizabeth II delivered a televised speech to the United Kingdom to address the COVID-19 crisis in the country. As of Apr. 6, 51,608 people have tested positive in the UK, with over 5,373 deaths.
Many lauded Elizabeth for her calm address and message of hope, which reassured citizens (and maybe even the world) that they can go back to normal times if they work together and trust in "the great advances of science" in battling COVID-19.
"I am sure the nation will join me in assuring you that what you do is appreciated and every hour of your hard work brings us closer to a return to more normal times. I also want to thank those of you who are staying at home, thereby helping to protect the vulnerable and sparing many families the pain already felt by those who have lost loved ones."
"Together we are tackling this disease, and I want to reassure you that if we remain united and resolute, then we will overcome it," said the queen.
Elizabeth's speech wasn't the only thing that people noticed. The pieces she wore during the address allegedly had hidden meanings behind them.
READ MORE: We're taking notes from Queen Elizabeth II's wardrobe
Let's start with the turquoise and diamond brooch. According to Express, the piece of jewelry was most likely passed down from Elizabeth's grandmother Queen Mary after she passed in 1953. Queen Elizabeth started wearing the brooch in public in 2014 and Harper's Bazaar noted that she rarely wears it.  Some are speculating that she chose the brooch for its turquoise gem, which is often believed to be "a stone of healing and love and protection, worn for centuries as amulet and talisman, and thought to enhance powers of leadership."
Elizabeth's emerald green dress also stood out because it's said to be the same shade as the scrubs of National Health Service workers. We know the queen is fond of wearing bright colors at events, but this outfit choice, as well as the brooch, can be seen as her way of supporting frontliners and those affected by the pandemic.
Meanwhile, netizens also took the opportunity to use the queen's dress as a green screen. Some of the results were hilarious.
I, for one, would like to thank the Queen for making her royal address and providing the nation with something it sorely needs right now…

The perfect Photoshop bait… pic.twitter.com/dU0CIATWs1

— Peter Chiykowski (@rockpapercynic) April 5, 2020
Elizabeth II wearing Elizabeth I: pic.twitter.com/7CZXtMYBlR

— Dave Till (@davetill) April 6, 2020
This canvas speaks to me pic.twitter.com/iWk6FuGsPM

— Ned Pyle (@NerdPyle) April 6, 2020
More subtle messages through jewelry
This isn't the first time people have thought that Queen Elizabeth II was sending a subtle message through her jewelry. A 2012 Order of Splendor blog explained that the monarch has brooches "representing countries, organizations, and regiments as well as brooches given as gifts and brooches inherited with great historical and sentimental significance."
For example, Elizabeth is often seen wearing the True Lover's Knot brooch, mostly pinning down her sash at various functions. But the brooch had a stronger meaning when the queen wore it to two royal weddings: Princess Margaret's in 1960 and Prince William's in 2011.
READ MORE: From small to gravity-defying: Royal wedding hats that almost stole the show
Some brooch experts also observed that Elizabeth carefully chooses what she will wear when she meets with international leaders. To signify a friendship with Canada, Elizabeth was seen wearing a maple leaf brooch during a royal visit.
When US Pres. Donald Trump visited England in 2019, many noted that Elizabeth allegedly wore two anti-Trump brooches. One was the "American state visit brooch" which was gifted to her by the Obamas in 2011. As people know, Trump isn't the biggest Obama fan, so this brooch choice can be the queen's way of saying she favors the former president.
The brooch with the most loaded messaging was the Queen Mother Palm Leaf Brooch, which Elizabeth wore on Trump's final meeting with her. It was the same piece worn by Queen Elizabeth the Queen Mother during King George VI's funeral.
The shade didn't stop there because during a state banquet with the Trumps, Elizabeth wore the Burmese Ruby and Diamond Tiara, which is said to protect a person from illness and evil.
***
Although the Royal Family never addressed whether Elizabeth's fashion choices were political, it's still pretty clear that she's not choosing them at random. What do you think?
Screengrab from YouTube
Follow Preen on Facebook, Instagram, Twitter, YouTube, and Viber
Related stories:
The fashion highlights of Meghan Markle's first royal tour
A history of the Royal Family as told through tiaras
Little-known facts about Queen Elizabeth II and Prince Philip that will make you swoon
You most likely have the same favorite nail polish as Queen Elizabeth II