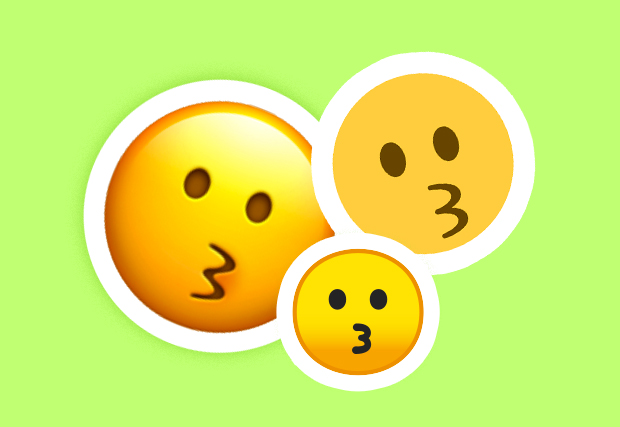 Let's get this out of the way before anything else. This is a safe space for those confounded by emojis and, like Avril Lavigne, just wondering why'd people have to go and make things so complicated. If you are a bit embarrassed about needing help on how to decode the double meanings behind emojis, don't be. Emojispeak is like any other language—ever-evolving.
Since the use of emojis is a colloquialism, meaning-making is a communal activity. What a certain emoji means for one group of people might be different for another. While it's valid to misinterpret an emoji sent to you, you also don't want to get into possibly sticky situations. So we prepared a little emoji speak guide for the internet's four main moods: wholesome, naughty, thirsty and looking for tea.
Wholesome
When you're looking to find out how a person you're talking to is using a particular emoji, usually their internet persona can reveal the answer. Naturally, the internet is divided into cliques like real life is. However, how a person may behave online isn't necessarily how they would present themselves IRL. So here's a bit of a disclaimer: While these emojis I'm about to share have wholesome meanings, they could also fall into a different category depending on a person's context. It's not just dog Twitter and the millions of "I'm babie"s on the wholesome train though.  
So a bunch of people have the octopus emoji ? on their display names. While animal emojis are often used just because they're cute, the octopus emoji is also a symbol for multitaskers, lovers of takoyaki and cuddling. Yes, wholesome cuddling without the hypersexualization of tentacles. Ever feel so gigil that you just want to squeeze someone using all your limbs? Octopus hug!
Another pretty wholesome emoji is the water closet emoji ?. It's been repurposed to mean woman crush instead of toilet so don't feel offended if someone calls you their ?. It's not exactly sapphic and not really popular among the women who love women (WLW) community. It's more a show of admiration than romantic attraction.
Are tattoos wholesome? Well, I think so at least. In the absence of a tattoo gun emoji, the syringe emoji  ? is now used to signify getting inked. You can also see a couple of people showing off their body art if you type this on the search bar.
Although not really used as frequently anymore, the airplane emoji ✈️ was placed after the word "going" to mean "going to." Some people clowned users who were fond of this because it's easier to type in the two letters than search for the emoji on your keyboard.
If you're often feeling super soft, the pleading face emoji ? is your new bff. 
Naughty
Even if you're not fluent in emoji, it's more likely than not that you know about the sexual innuendos behind select emojis. But if you're looking to clearly show your naughty intentions, emoji combos are the way to go. 
The smiling face with horns emoji with the eggplant emoji and the splashing sweat ???  is perhaps the horniest emoji combo of all. There's going to be some pounding, it's going to get messy and you're feeling absolutely wicked. It's going to be a rough ride.  
Before Elio Perlman even got a taste of THAT peach on "Call Me By Your Name,"  the peach emoji has been signifying a butt. But if you add the face with tongue before your peach ??, you can show that you're hungry and ready to dig in. 
Since I've been single for so long, I used to be one of the many people unaware that Netflix and Chill meant that something frisky was about to take place. But looking at the television emoji and the bed emoji ?? together, I can't mistake the end goal.
Thirsty
The good people of the internet have decided that there shall be many faces of thirst. The list includes the woozy face emoji ? for those looking to get railed, the hot face emoji ? for those getting hot and bothered and the drooling face emoji ? for those who simply find someone yummy. 
If you're chatting someone up and suddenly get all in your feelings, there's different emojis for that as well. Try the flushed face emoji with the backhand index pointing left and right emojis ? ?? to show that someone got you flustered and if you're unsure if that's what they meant to do. The hand with fingers splayed plus the weary face ?? is for those times when you just want to say, "Hold on!"
Looking for (and dropping) tea
Maybe "Gossip Girl" birthed the new era where almost everyone felt like a TMZ correspondent and started dropping tea. If you're the type who loves to keep receipts and spill secrets, then the nail polish emoji ?, the woman tipping hand emoji ?‍♀ and the woman getting face massage emoji ?‍♀should also be in your arsenal.
If you're just waiting for the tea to get served, the eyes emoji ?, the kissing face emoji ? and the grimacing face emoji ? are the equivalents of a big, juicy "Oof!"
Other reaction worthy emoji are the coffin emoji ⚰️ for when somethings gets you dead and the avocado emoji ? for when you think someone's being basic.
Go ahead and try them out. Just make sure that you can walk the talk when you do.
Art by Tricia Guevara
Follow Preen on Facebook, Instagram, Twitter, YouTube, and Viber
Related Stories:
The new emojis we'll be waiting for this year are gender-inclusive
Ladies, we can now let the world know our flow with the period emoji
The best ways to use the new pinching hand emoji
A cheat sheet to understanding emojis