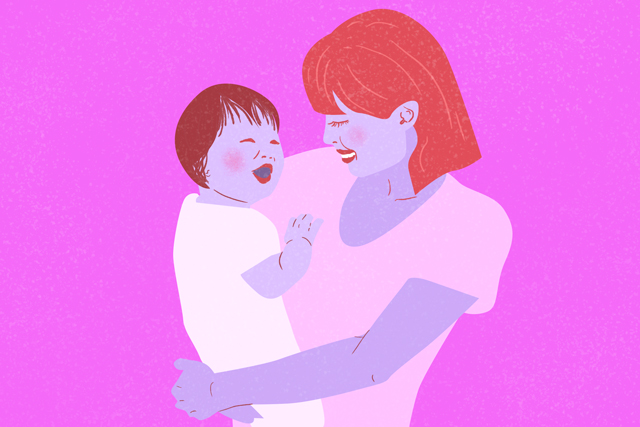 Parenting is hard. It's one of the many known facts of life, just like how the Earth is an oblate spheroid. Okay, maybe that was a bad example. But you get the point. We all know that to be a parent, you have to be tough as nails and as ready as you can be for anything. But how could any parent predict that they'd have to prepare for a pandemic? 
Family dynamics and home routines have been turned inside out during the enhanced community quarantine (ECQ). For me, parenthood stories are demythologizing in themselves. Parents (well, good parents) always say that raising a child is the most fulfilling thing in the world but it's always grueling and not always pretty. So with the added difficulties of the COVID-19 pandemic, how are parents faring right now?   
Praze is a 27-year-old marketing coordinator and a solo parent of a seven-month-old baby. In February before the lockdown, her baby was confined in an intensive care unit for two weeks and two days due to a viral infection. She was supposed to bring her baby back for follow-up check-ups and other lab tests but is feeling anxious about it. She chose to keep him home and had to double her efforts in caring for him. While she receives help from a stay-out nanny, their arrangement makes her feel paranoid. She says it's difficult to focus on her work (which requires a lot of writing) while worrying about her baby. "It's different because you have to be extra careful with your [every] move. Nakakaparanoid sobra. Konting makitang something different lang sa baby, nakakatakot na," she says.
Praze says that it's been hard to cater to the needs of an infant such, which includes a clean environment. Right now, everything needs to be extra clean but there's a shortage of disinfectants like alcohol. A parent needs to be resourceful and up-to-date with what's going on in the country. "Disinfect yung mga doorknobs. Yung toys, make sure they're clean especially if may tendency na isubo ng bata. Yung floors and windows, disinfect it at least every other day using bleach with water. I got this from my sister na nurse." Praze shares. She also added that there's the need to find alternatives to parenting practices. "Since my son is still a baby, hindi naman problem na hindi siya lumalabas but babies have the tendencies na mabagot. Need mo [rin sila] istroll para paarawan."
Mai is also caring for her newborn during the quarantine. She is a 23-year-old solo parent to her daughters—five-year-old Mabel and three-month-old Trixie. She's an undergraduate and shares that parenting has been challenging for her even before the quarantine. She's residing in Laguna to continue her studies and Mabel has been staying with her parents in Bulacan. She tries to visit home every weekend but she has a part time teaching job that doesn't always make it possible for her to do so. She says she had a difficult pregnancy with Trixie and gave birth just before the quarantine started. At first, her biggest concern was how she could juggle studying and taking care of her newborn. She was able to find a stay-in nanny in February. The same month was also the last time she was able to spend time face-to-face with her eldest daughter. 
"During the quarantine, parenting Mabel got harder for me since our communication is purely digital and it's sad that I only get to see her in pictures and videos. As for parenting Trixie, it got more exhausting since she's purely breastfed. Most of my time is dedicated to breastfeeding her and I only get a break when it's time for me to eat," says Mai. She notes that while it's good that she's able to focus on Trixie full-time, it's going to be tough for her to switch from breastfeeding to bottle-feeding when the ECQ gets lifted. She's aware that it would be a big adjustment for them since breastfed babies tend to be more clingy to their moms. She hopes to be spending equal time with both her daughters soon so she's eager to graduate. 
Another parent who had her own quarantine scare is 41-year-old general contractor Obie. She is a single mom to empathetic eight-year-old Gabbie and inventive six-year-old Sanmig. Obie narrates, "Two weeks ago I got the greatest scare of my life when I got sick. I thought I might have caught the virus and considered myself a person under monitoring (PUM) so I self-quarantined. I asked the dad of my children to pick them up immediately, no hugs and kisses just a quick goodbye. I was so angry at myself for still going out to buy provisions in the grocery which I thought was the reason why I got sick. But anyway, I think the reason behind my illness is because my daughter had stomatitis during the first week of the lockdown and may have passed on the flu to her brother and me."
Aside from having to adjust her work schedule for her kids, the biggest strain that Obie faced was getting access to pediatricians and doctors during an emergency. When she got sick, she was anxious about her medicine not working. Her aunt advised her to start using home remedies for the mouth lesions she got. As a single mom, she also worries about being able to provide for her kids if the economy goes bad. If the curve doesn't flatten, she's considering homeschooling her children for the next school year.
She says that the time she spent alone made her realize just how important good health is for the family. As a mom, she can't afford to get sick because her kids need her and she doesn't want to be kept away from them because they're the sources of her strength. "During this time of COVID-19, I realized that this should be explained to them no matter how complicated or scary the situation is. To be honest, I'm surprised that they are also concerned about finding a cure or about what's going on outside," she added.
Mommy Minnie is a tattoo artist at @goodhandtattoo who has her fair share of pandemic parenting realizations. Her kids are Cloud, 10, Cali, seven, and three-year-old Cash. She shares that her kids are very energetic and love to express themselves by making art and playing games. Minnie says that, as a lower-middle-class family, it's been difficult to get enough income and food supply for the duration of the ECQ. 
Minnie says that their family has grown more appreciative during this time. "First, we realized how important the working class people are. They are the backbones of our society and we must teach our children to respect them. The second realization is that we all have to slow down. We normalized a tiresome routine of always hurrying and making money. But we're not really making a living if we're not fully present in the moment, right? These times call for reconnecting with family. Reducing our anxieties and stress by taking time off the screen to replace with spending it with our children," she says.
So, how does a parent keep their children as safe and happy as they can under the ECQ? Our four moms gave us some tips. Praze says that parents should be more patient in keeping their kids entertained and to get to know them more. It's also important to keep your cool. "It's always best not to show that you are tense or worried about the situation. Kasi nafefeel ng mga bata kapag yung parents ay super stressed and maa-adopt nila yung ganong emotions," she suggests. 
Minnie agrees that parents should take care of themselves as well so they can remain strong for their kids. "My tips for parents is to take this time for self-care and for strengthening your relationship with your children. Tell the children that everything's gonna be okay," she says. Parents aren't the only ones who can get creative this time. "Inspire their creativity, cook with them, teach them, read to them, play with them, plant and grow your own food together—-just keep them busy (because kids easily get bored) by letting them create! Remember that you are their best teacher," she reminds fellow parents.   
Mai recommends that since the ECQ's extent is unpredictable, parents should be more creative and continue teaching their kids how to stay safe. "If you're handling a really young baby, I highly suggest that you purely breastfeed (unless you're unable to lactate) because it's healthier and can boost their immune system during this pandemic. You'll also be saving money that you can allot for other needs. If you're handling an older child, like a toddler—don't get them busy with gadgets but bond with them instead," she says.
Currently, Obie has been making divider screens to donate to the Philippine General Hospital's wards. She says it's important for her to show her children the meaning of compassion even during this difficult time. She reminds them that the reason why she's still busy is because there are people who need help. She wants them to be aware that they're lucky to be comfortable during this period. Moreover, she wants them to learn that the best cure for any illness is prevention. "Each of us needs to be strong and must take on a role and even if they are only kids, I expect them to think like an adult," she says. She wants her kids to keep a sense of security and hope in this troubled time.
Parenting has always been hard. By being creative and finding strength in family, all the parents out there can hold down the fort and do so proudly. 
Art by Tricia Guevara
Follow Preen on Facebook, Instagram, Twitter, YouTube, and Viber
Related Stories:
The Love Club: Relearning intimacy with your quarantine romances
We need to talk about women's issues during pandemics
The plight of Persons with Disabilities under the COVID-19 crisis
Protect your mental health from the pandemic