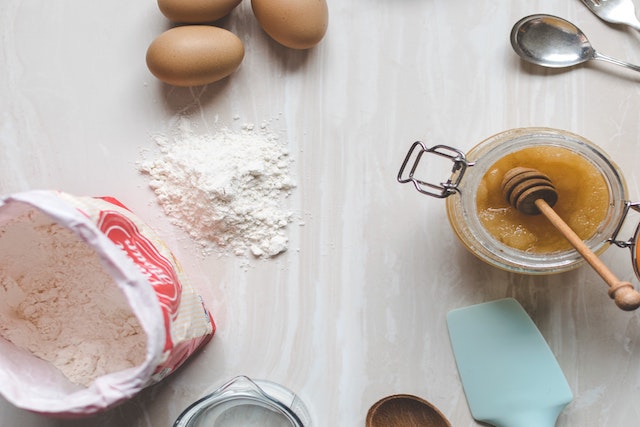 The internet was on a bit of a consensus during the first few days of quarantine that this was a prime time to become a hobbyist. Although that proved false for a lot of people, there are still those who continue finding solace in learning a new skill. The past few weeks saw the rise of amateur home baristas, embroiderers and bakers. In the absence of outdoor stimulus, hobbyists took it upon themselves to find something to help them stay excited about indoors.   
One of my best pals, Angel, is one of them. She's a 22-year-old technical assistant who started her baking journey back in December last year with chocolate chip cookies. It seemed easy to make compared to other baked goods so she thought she could nail it in one go. However, it took her three tries to —as Rachel Berry once sang—get it right. 
When she started getting the hang of it, she tried her hand at the real reason she wanted to bake in the first place: making layered cakes. She has Instagram cake decorating videos (and Virgoan commitment to a craft) to blame for this sweet pastime. "I don't know how many chocolate cakes I've made since I started but I still haven't gotten it right. It gets a little better at every try but I have to say I'm still at the same level as Hagrid when he made that cake for Harry. Not really an Instagram cake yet," Angel says, laughing. 
She also tried out breadmaking which she initially hated because of how it required a lot of patience and arm strength. Now, she finds the process relaxing, seeing a perfectly smooth dough and shaping it into braided bread. So we asked Angel for those looking to get back their peace of mind by baking through the quarantine, what should rookie bakers keep in mind?  
Have enough stock of basic baking ingredients
"It's really fun to bake and once you get the hang of it, it's really hard to stop," Angel says. Since the enhanced community quarantine is still in effect, it's harder to slip out to replenish your baking supplies. If you plan on making multiple attempts or baking different goods, buy a stock of butter (!), flour, sugar, eggs and milk on your next grocery run. For a smooth experience, try to get everything you need ready at home. 
Join online groups for bakers
For Angel, it's helpful to receive advice and tips from experienced bakers. "I recently just joined Bake Happy Manila on Facebook and there are A LOT of recipes, tips and inspirations from bakers all over the country," she shares.
https://www.facebook.com/bakehappymanilaofficial/photos/a.1698455717058501/1698461580391248/?type=3&theater
If you're going to attempt sourdough bread, don't
While the quarantine period might be a good time to learn a skill that requires a lot of time and attention, you might want to try making something other than sourdough. "Not because you lack skills—it can be learned, I personally haven't yet but I know it can be—but because it really needs a lot of flour," Angel clarifies.  
She tells me about the meticulous process that had me thinking twice: "If you start from scratch, you will need a lot of flour to maintain a sourdough starter. You have to feed it every day until it matures. The sourdough starter isn't even the baked good yet…it's just the yeast. Once it matures, that's when you can use it on your bread. Then, you have to keep feeding it regularly, that way they stay alive until your next sourdough session." Take her advice. Unless you're sure you have enough flour, maybe put that project off until the quarantine has been lifted.
If baking is laborious, is it still a good skill to take up during the quarantine? Angel says that it's something she looks forward to every week.  
"It takes me a few hours to bake something, not including the time I spend researching. Those are a few hours I don't spend on social media; the few hours I don't spend sitting down in a chair while facing a screen. I always feel like I have a mini project to finish every weekend. It makes me feel really excited, which is a very rare emotion to feel these days. There's also a sense of accomplishment when you finish baking, especially if it's a new recipe you just tried out. Again, a rare emotion to feel these days," she adds.
So for all the rookie bakers out there, we hope that getting the bread turns out to be as satisfying as you hoped it would be. 
Photo courtesy of Unsplash
Follow Preen on Facebook, Instagram, Twitter, YouTube, and Viber
Related Stories:
A look at #QuarantineDiaries and the ways the internet is trying to cope 
What to do at home during the enhanced community quarantine
These cakes are made for every SOGIE
You'll want to try these meatless recipes even after Holy Week