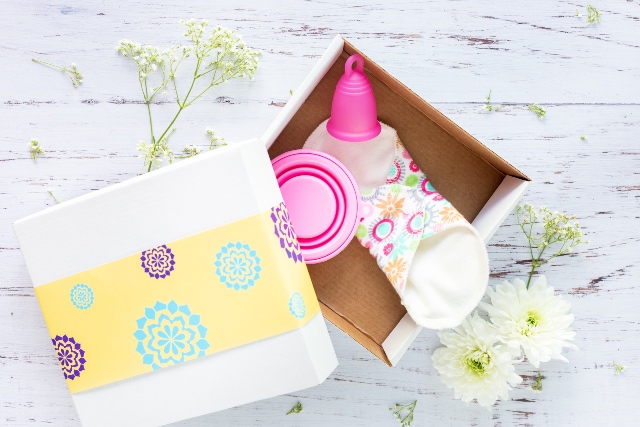 The coronavirus pandemic has made hoarders out of everyone. In a bid to stock up on essentials, people have resorted to panic buying inordinate amounts of things like sanitizers, toilet paper, nutrition bars, medical masks and bottled water. Some of the essentials that have seen an increase in sales are sanitary pads and tampons. This has now led to people worrying about whether or not they will have access to basic menstrual health products. 
Too often stigmatized or considered taboo, menstruation is a normal biological process experienced by half of the world's population—people who menstruate have to live with this for the majority of their lives. Menstruation can be a very difficult thing to deal with—people are bleeding out of their vaginas for god's sake! Some periods can also be extreme to the point of fatigue and pain for the people who experience them. 
Periods do not stop during a pandemic. Often in disaster response, menstruation is unaddressed, probably why there aren't limits yet to how many menstrual products a person can buy in a grocery store. In places like California, many women relied on free menstrual products courtesy of their local government but amid business closures and travel bans, supply shortages are to expected. It's easy to overlook the needs of others when people have to put themselves first, however, the global health crisis is making a lot more people aware of the fact that we have to prioritize menstrual health, too. 
Here are some reasons why menstrual health should be a priority, especially during a pandemic (but here's hoping it will continue to be a priority even after the endemic ends).
Menstrual stigma
All over the world, people are shamed for having periods. In Nepal, girls and women who have their periods are banished to a hut, a practice known as Chhaupadi. It was only criminalized last year—punishable with three months in prison and a hefty fine. In Uganda, girls who get their periods are likely to skip school because of bullying brought on by myths and misinformation. Meanwhile, in India, it is believed that when menstruating women handle or prepare food, the food is either inedible or will go bad. In the Philippines, young girls are taught that showering or bathing during your period will drive them insane. A young girl's first used sanitary pad must also be smeared on the face to prevent acne. These are just some of the practices across cultures that prevent women from talking openly about their periods.
There are a lot of myths, practices, traditions and prejudices all over the world. While these myths vary from culture to culture, majority of them point to periods as a source of shame and disgust. This can ultimately lead to people never talking about periods and therefore stunting learning about it. Prioritizing menstrual health education will hopefully erase these preconceived biases about menstruation and will help people who have them gain access to facts and correct knowledge. 
Expensive and limited menstrual products 
In a report by Forbes, period poverty affects everyone from rural communities who have to use soil and feathers to correctional facilities where inmates have to beg for sanitary products. In a pandemic, when most of these are sold out every time they're restocked, there might not be an accessible option at all. Many products, from blood collection to hygiene, are priced significantly higher compared to other essential products. There is also a global "pink tax," a form of gender-based price discrimination that propels the price of female-marketed products to an unnecessary high point. 
It's also important to note that different bodies have different needs and though sanitary napkins are widely popular, these may not work for people who experience heavy flows and skin complications. Making products such as tampons, menstrual cups and period panties widely available, accessible and affordable will significantly improve the experience of people who have periods. Here's to hoping that donation drives include women's menstrual products too because it's just as essential as soaps and masks. 
Health risks
Poor menstrual hygiene, as reported by the United States' Office on Women's Health, (usually brought about by misinformation and misuse of menstrual products) can cause reproductive and urinary tract infections, like the following. Bacterial vaginosis is also a big risk for users who don't have access to a change of sanitary napkins every few hours. For tampon users, Toxic Shock Syndrome is a big concern. For those who don't have access to clean water and soap, Hepatitis B can be a concern when they come into contact with menstrual discharge. In India, lack of menstrual hygiene is a major factor that contributes to the increased risk of cervical cancer. 
Increasing awareness on menstrual health and hygiene, as well as the proper use of menstrual hygiene products, are one of the best ways to avoid health risks related to menstruation. 
Ultimately, the stigma surrounding periods is one of the ways that women and people who have their periods are being policed on their agency over their own bodies. Menstrual health is an important public concern—the right to have control over it is something that every person who experiences it needs. 
The opportunity to choose collection methods, hygiene products and medical precautions and treatments should not be a luxury afforded to those who have money or are afforded menstrual education. This is a right that everyone should be able to exercise.
Photo courtesy of Pexels
Follow Preen on Facebook, Instagram, Twitter, YouTube, and Viber
Related Stories:
Menstrual leaves are at arm's reach for Filipinas
Not ready for menstrual cups? Give period panties a try
Access to menstrual hygiene products is a basic right, not a luxury
Our office just gave everyone menstrual cups