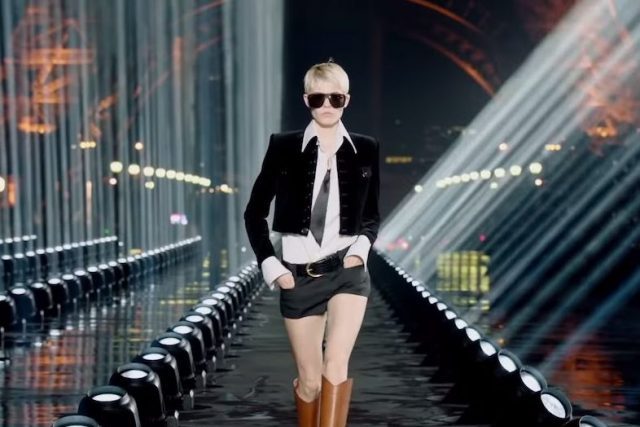 In a press release dated Apr. 27, French fashion house Saint Laurent announced that it will be bowing out of Paris Fashion Week and other pre-set fashion shows scheduled for the rest of the year. Owned by Kering and headed by Belgian designer Anthony Vacarello, the brand is known for its iconic pieces like the Mondrian dress during the 1960s and for pioneering designs for women's' tuxedos.
https://www.instagram.com/p/B_eeXpoj0rh/
The fashion house typically showcases its spring and fall lines during Paris Fashion Week, but in a bid to "take ownership of its calendar," they will now be launching their collections according to the brand's own schedule.
The press release points to the coronavirus pandemic as the underlying reason for this decision, stating, "Conscious of the current circumstance and its waves of radical change, Saint Laurent has decided to take control of its pace and reshape its schedule."
This decision is not surprising as more and more businesses around the world have closed up shop due to the global pandemic. Even New York-based fashion designer Marc Jacobs has expressed difficulty producing collections due to product shortages, travel restrictions and quarantine measures. In a video conference series called Global Conversations hosted by Vogue, Marc Jacobs told the public that he will no longer be producing his Fall 2020 looks, and the work on the Spring 2021 collection has been discontinued as well. 
In an interview with WWD, head designer Vacarello states that the coronavirus pandemic has "had a violent impact, disguised in apparent calm." He continues by saying that due to current circumstances, the schedule of the entire system (of shows, showrooms and orders) is out of fashion. 
He adds, "Our decision not to be part of any predefined calendar this year stems from our desire to recognize the importance of our time, of our life. A certain way of living more than a certain way of dressing. Slowing down and living the moment reveals all the vulnerabilities of an imprisoned organization. "
Screengrab from YouTube
Follow Preen on Facebook, Instagram, Twitter, YouTube, and Viber
Related stories:
YSL Tributes comeback: Are you into it?
We need to talk about how we talk about Isabel Preysler
This local sewing group is making PPEs for health workers
Fashion fit for the new decade