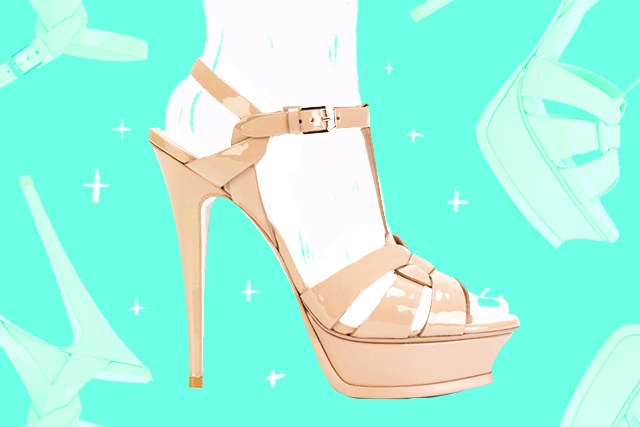 Shoe comebacks are so common these days that we're seeing such styles like dad sneakers and kitten heels make the rounds on social media and IRL. There are also footwear that still bring fear and cringe to a lot of people, but they're still making huge waves. Like Crocs, which are still considered ugly shoes, yet, they're still not going away. Another one that seems to be making a surprise return are the YSL Tribute Sandals.
For those who are unfamiliar with the Tributes, they are platform stiletto peep-toe shoes that became big in the early 2000's. According to V&A, these shoes show the influence of "fetish footwear," hence, their similarity to pole-dancing shoes. These are made with patent leather and boast of 5 1/2-inch heels.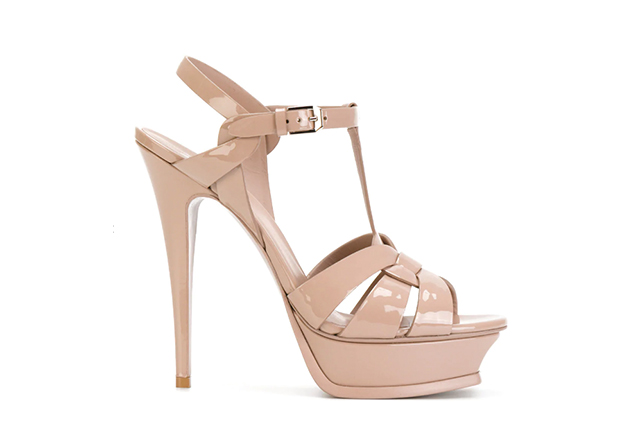 In short, they're really high and people who can walk in these without falling over are stronger than the marines. Kidding aside, Diet Prada recently created a discussion on their now-expired Instagram Stories about the comeback of this shoe. Mostly because Beyoncé wore a nude pair last week.
The real question here: Is this a good or bad sign? Are people ready for the return of the YSL Tribs?
Since the shoes' release almost a decade ago, there have been mixed reactions from people. Many say they don't like them because they're too high and uncomfortable, unwearable, or they're simply "ugly hooker shoes" in their eyes.
On the other hand, there are those who praise the shoes' ability to make anyone feel sexy and make your legs appear longer while wearing them. Fashionista also noted that the Tributes are worth the investment (they better be if you're paying over $700 for them) because they can go with jeans, tights, and skirts. Plus, they come in various colors and finishes.
The choice to wear these, we believe, depends on your taste and skill in walking in sky-high heels. If you're looking for a more "walkable" option, the YSL Tribute does come in 4-inch heels.
So, will you be buying these or resurrecting the pair you've kept hidden? Share your thoughts in the comments section or tweet us @preenph.
Art by Marian Hukom
For the latest in culture, fashion, beauty, and celebrities, subscribe to our weekly newsletter here
Follow Preen on Facebook, Instagram, Twitter, YouTube, and Viber
Related stories:
Will the big return of this ugly shoe change your mind about it?
Business class trips, celebrity clients, and Hermès Birkins: The life of a personal shopper
Looks like it's officially fashionable to wear your suits with flip-flops or sneaker-looking heels
Looking for new shoes? The kitten heel is making a comeback