Since most TikTokers are staying at home, most of their videos feature them wearing their comfortable loungewear. In fact, there seems to be a common theme in a lot of their fashion choices.
The rise of TikTok fashion trends started last year thanks to the VSCO and e-girl aesthetics, which actually dominated 2019 Google searches. Aside from these, Who What Wear also noted that a lot of TikTokers wear similar outfits in their videos. Whether or not it's a coincidence is a mystery to us.
That said, we looked at a number of TikTok videos to see which loungewear pieces are common. Here's what we found:
Crop top
Who What Wear observed that TikTokers like Addison Rae often wear crop tops. We're also predicting that more people would opt for this piece since summer is just around the corner.
Short shorts
Rappers like Megan Thee Stallion and Doja Cat are loving short shorts while they do dance covers, mostly ones with twerking. We also can't blame them for wearing this piece around the house since it's breezy and lightweight.
Tie-dye print
For some reason, tie-dye has been popular among TikTok users, with pieces having either neon prints or muted pastels. The latter is also considered the 2020 version of the trend as more people are opting for a more ombré tie-dye.
Sweats
Whether it's a hoodie or a pair of sweatpants, you're bound to see a couple TikTokers wearing them in videos. It's possible that they've been working out before posting their videos on the platform, but we also know how comfortable sweats can be when you're just chilling at home.
Photo courtesy of Pexels
Follow Preen on Facebook, Instagram, Twitter, YouTube, and Viber
Related stories:
We try to understand how "VSCO girls" dress
Fashionable and comfortable loungewear for a lazy Christmas morning
Your guide to TikTok trends and challenges
Early 2000s makeup is trending again—all thanks to TikTok

Looks like green has some competition for the title of 2020's It color. This year's color trend predictions show the return of Instagram beige.
This color trend was everywhere last year with Instagram influencers filling their feeds with beige OOTDs and interiors. Glamour UK also noted that the A6 VSCO filter, which has subtle natural tones that make beige hues pop, was a "fashion blogger favorite."
View this post on Instagram
Contrary to Dazed's prediction that Instagram beige would take a backseat in 2020, fashion week street style and runway looks proved that the color palette isn't going anywhere. Last year, the likes of Tadashi Shoji, Max Mara and Vivetta showcased several beige ensembles during their respective fall/winter 2020 shows.
During New York Fashion Week (NYFW) last February, attendees wore various shades of beige. Who What Wear theorized that people have been wearing this color a lot because of its timelessness, meaning it can be worn during any season of the year.
For everyday wear, Vans released a milk tea-inspired line of Old Skool sneakers which included three colorways: Milk Foam (light nude), Hazelnut (dark peach) and Smoked Milk Tea (soft "greige" or grey-beige).
View this post on Instagram
Outside of fashion, beige seems to be a popular choice for interior designers this year. My Domaine predicts that people are choosing more neutral-toned furniture, walls and floors for their homes. This color palette seems to be a go-to for beauty lovers, incorporating it in their nail polish and hair color.
Like green, Instagram beige is an easy go-to color for people who love neutrals. But in terms of versatility, beige might just have the upper hand as the color of 2020.
Let us ask you: Which color trend do you like more?
Art by Dana Calvo
Follow Preen on Facebook, Instagram, Twitter, YouTube, and Viber
Related stories:
Why green is the millennial pink of 2020
Crochet fashion is 2020's answer to the naked dress trend
A guide to the nostalgic and colorful world of kidcore
When NYFW and iPhone 11 color trends collide

Tired of comebacks and throwbacks? Love it or hate it, pop culture continues to embrace nostalgia. From movies to music, we are seeing reinventions and restorations of things past. Fashion is no exception and an example of a style that borrows from bygone years is kidcore. According to thedressco.de, the style started as a satirical aesthetic on Tumblr in the early 2010s. Its bright colors and obsession with '90s kiddie icons like Furby mark a return to childhood. Try going over stuff from your youth. Dust off your old toys and take your Lisa Frank-esque clothes out of the closet. With a number of Gen Z teens now co-opting the style, it looks like now's the time to give your forgotten knickknacks their fashion-forward glow-up. We've rounded up a list of kidcore lovers to get you inspired.
Takashi Murakami of Kaikai Kiki Co., Ltd.
One of the kings of kidcore, Takashi Murakami is the originator of the Superflat art movement and founder of Kaikai Kiki Co., Ltd. His company, which boasts a Louis Vuitton collab, is known for a playful style that takes inspiration from pop and otaku culture. The artist is pictured here wearing a fuzzy bear robot headpiece and a matching paw. He has the iconic smiling Murakami flower pinned on a bright jacket. His matching illustrated top and bottom are paired with chunky Kaikai Kiki sneakers. 
j-hope of BTS 
The fans of the K-pop superstar call his personal style #hobicore instead of kidcore. They've started a kidcore trend with their fan merchandise and OOTDs under the hashtag on Twitter. An Urban Dictionary entry says some of the #hobicore style elements are smileys, rainbows, colorful nails, plushies and happy energy. j-hope tweeted this picture of him sporting a "Hope World" beaded word bracelet with yellow tassels, candy-colored lucite rings to match his nail polish and a tiny framed childhood photo necklace.
Hyuna 
South Korean soloist Hyuna has been showing off a lot of kidcore getups and doing photoshoots mimicking her personal style. Browsing through her Instagram, you can see glitter jelly sandals, '90s cartoon tops, vintage floral babydoll dresses and looped dutch braids. In this post, she gives us a glimpse of her plastic glitter rings and kiddie trinkets. Check out those Trollz dolls and that bead animal keychain.
Tyler, The Creator 
Rapper Tyler, The Creator mixes skate style with kidcore. His clothing line Golf Wang and merchandise for his collective Odd Future combine vibrant colors with images like cats, doughnuts and cartoons. To cop his look, couple tinted chinos with his signature GOLF le FLEUR Converse flower patch sneakers.
Arci Muñoz 
Filipina actress Arci Muñoz is a style chameleon whose fondness for Japanese and South Korean street style as well as anime brought us delightfully kidcore ensembles. Here she is with a Sailor Moon hoodie, a stuffed Chimmy keychain, BT21 character bag strap clips and a soft pink beret. 
Jules of "Euphoria"
Jules Vaughn was the talk of the town when hit HBO show "Euphoria" aired. When the next season comes this year, we'll hopefully get to see more of her candy-colored wardrobe, sparkly rainbow makeup and fuzzy bags. Remember the daisy print sheer top on the saturated blue shirt plus her bright yellow mini backpack? What about the baby pink underwear to match her cropped cotton sleeveless crop top with little rose details? 
Harley Quinn in Birds of Prey
Margot Robbie and her team gave Harley Quinn the treatment she deserved in the kickass, female-led blockbuster "Birds of Prey." Dr. Quinzel's style is a fusion of punk and kidcore. She's having fun and committing crime in messy pigtails and glitter. Only she can pull off trying to escape armed men while wearing a rainbow caution tape jacket with bright red suspenders clipped on striped shorts. Another ComicCon worthy costume is the electric crop top and yellow dungarees combo.
Samsung Galaxy Z Flip Users
Your phone cover can make or break your mirror selfie. These days, you want it to reflect your personal flair. If you're thinking about going all-in for kidcore, try vamping up a phone case with cute stickers. Take these kawaii Samsung Galaxy Z Flips for example. They're decorated with rainbow holo stickers of smileys and stuffed bears. They even have stuffed or crocheted keychains for extra oomph. 
The kidcore doesn't stop with clothes. You can turn almost anything into kidcore ang go all out. 
But here's a word of caution. The responsible fashionista should remain wary of the privileged pitfalls of nostalgia like romanticizing the past and not contributing to the present. Instead of yielding to escapism, redefine kidcore as an empowering counterculture of inclusion and representation.
Art by Tricia Guevara
Follow Preen on Facebook, Instagram, Twitter, YouTube, and Viber
Related Stories:
We're taking style notes from anime, 'Carole & Tuesday'
The 2000's fashion trends I want in my closet
The tie-dye trend gets a 2020 upgrade
Crochet fashion is 2020's answer to the naked dress trend
After millennial pink and Gen Z yellow, the new It color trend taking over is—drum roll please—green.
In the past, the obsession with millennial pink started when Rose Quartz became Pantone's Color of the Year for 2016. This year, it's different since green isn't 2020's Color of the Year. So, how did the trend start?
Before 2020, shades of green was seen as a likely candidate to become Color of the Year because Pantone's color trends at the time contained a lot of green. And just last February, Vogue cited a 1stdibs survey of 50,000 designers that green is the most in-demand color for 2020. The color is mostly being used in interior design because it can"evoke the soothing beauty of terra firma—grass, trees, and other earthly entities" during a time where many of us feel disconnected from nature.
During fashion week season, green fashion was seen a lot, especially in the streets of Milan. Refinery29 also mentioned other notable green shades like mint, lime and chartreuse. They also mentioned that we've been seeing a lot of the color recently and probably didn't notice how big green would be—Jennifer Lopez's iconic Versace jungle dress toBillie Eilish's neon green roots.
Shades of green is also one of the predicted swimsuit trends for 2020. So expect to see a lot of that once summer rolls in.
In beauty, green is making its presence known as well. A darker shade like Paintbox's forest green nail polish called Like Wild is considered a great neutral to wear this year. Makeup lovers and recent runway looks also had pops of green on their eyes using mascara, eyeliner or a bright neon inner corner shadow.
We're only three months into 2020 but we can definitely see green dethroning its predecessors millennial pink and Gen Z yellow. Will it get a catchy name too? Well, we don't know yet since nobody has come up with one. As you can see, it might be hard to pick just one shade of green to highlight since people are loving all of them.
So, what do you think?
Photo courtesy of Versace's Instagram account
Follow Preen on Facebook, Instagram, Twitter, YouTube, and Viber
Related stories:
Swimsuit trends to kickstart your 2020 summer
When NYFW and iPhone 11 color trends collide
The lowdown on the cool green shade you're seeing everywhere
Millennial Pink returns as the world's top lipstick shade

As far as color trends go, tie-dye is still a popular trend. But unlike the vibrant psychedelic designs we're used to, we're seeing more muted pastel shades and ombrés.
Shopbop recently released an ombré collection of dyed dresses, tops and accessories, giving the tie-dye trend a much-needed upgrade for spring and summer. Vans also has a new line of sneakers in the same diffused ombré effect.
That said, check out our list below if you're looking to update your wardrobe this season.
Jacqueline De Yong Laila Life Long Sleeve Dyed Sweat

This long-sleeved top has a tie-dyed ombré design using black and dusty pink dyes. You can wear this over a sleeveless top or on its own during casual days. Available on Zalora PH.
Mango Pleated Midi Skirt

For your upcoming brunches, wear this breezy midi skirt that comes in a blue ombré design. You can pair heels or white sneakers with this—totally up to you! Available at Power Plant Mall.
Solid and Striped Belted Tie-Dyed Linen Shorts

This pair of Solid and Striped shorts has a light splash of pink dye, perfect to use at the beach. It's also made with lightweight and non-stretchy fabric for maximum comfort. Available on Net-a-Porter.
Keds Triple Kick Tie Dye

Add playful color to all your outfits with Keds' tie-dye sneakers. It has a Dream Foam footbed for extra comfort while walking and an elevated sole for height. Available at Glorietta 3.
BBty Ribbon Tie-Dye Hair Ring Bow

Style your hair with this tie-dyed bow that comes in four colors, meaning you can wear each one depending on your mood for the day. Available on Lazada.
Photo courtesy of Unsplash
Follow Preen on Facebook, Instagram, Twitter, YouTube, and Viber
Related Stories:
From hippie to high-fashion: Tie-dye pieces you'd want in your closet
Mustard yellow is the new color trend of the moment
Satin is our new go-to summer fabric
Dad fashion is always evolving—here's proof
Looks like dad trends are still dominating the fashion world.
During recent fall/winter 2020 shows, Who What Wear noted that ties and suits were popular on the runway. Designer labels like Prada, Dior, Gucci and Rokh have capitalized on the suit accessory, pairing it printed pantsuits and dresses.
We've been seeing dad trends pop up since 2017. If you've wondered how it's evolved throughout the years, here's a quick timeline.
Dad sneakers (2017)
During the summer of 2017, everyone was obsessed with chunky sneakers, calling them "dad sneakers" since they're commonly worn by dads. Instead of wearing the shoes with jeans, people started pairing them with dresses, suits and other outfits. We've also seen brands like Dior and Yeezy come out with their own renditions of the shoe style.
Collared shirts (2017)
I know, collared shirts are practically everywhere and people wear them a lot. But when Balenciaga sent down men wearing long-sleeved collared shirts during their spring/summer 2018 show, it was instantly a dad fashion trend. A lot of times, this style is layered with an oversized crew neck.
Hawaiian shirts (2018)
These tropical-print shirts became trendy in the summer of 2018 when women started wearing them with bralettes and crop tops. Think Hayley Kiyoko in the "Curious" music video.
Tube socks (2018)
We don't know where the obsession with tube socks came from, but fashion girls like Bella Hadid and Kendall Jenner started wearing them a lot in 2018. These were usually worn with chunky dad sneakers and shorts. Or if you're Selena Gomez, paired with leggings.
Dad cardigan (2019)
A dad cardigan is just like every other knitted outerwear that's commonly worn with collared shirts and jeans. It later evolved into an oversized sweater that young women wear over their graphic tees and crop tops.
***
What other dad trends will become big (or will come back) in the next few months? Let's wait and see.
Photo courtesy of @sneaker_tales' Instagram account
Follow Preen on Facebook, Instagram, Twitter, YouTube, and Viber
Related Stories:
Your dad's Hawaiian shirt gets an upgrade
What are "dad sneakers" and why are they trendy?
These will be the next big fashion trends, according to Pinterest
Heart Evangelista isn't the only one donning designer face masks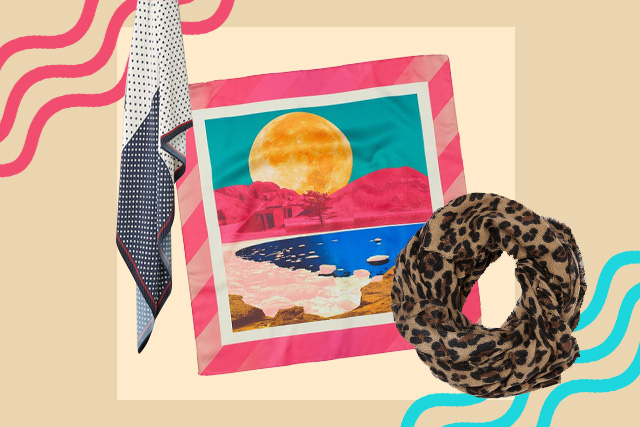 March just rolled in but the summer heat is already intense. And as we're all planning where to spend our summer vacations and what beaches we're going to hit, it's just as important to know what clothes we'll be bringing.
From lighter fabrics to skimpier outfits, we're all reducing bulk when it comes to our looks to stay fresh this summer. The scarf top trend started back in the early 2000s and made a comeback in 2018. Wearing  scarves and bandanas as a top has pretty much been a staple look every summer, especially since it's so easy to pull off.
Here are some scarves you might wanna cop for your summer wardrobe:
H&M printed satin scarf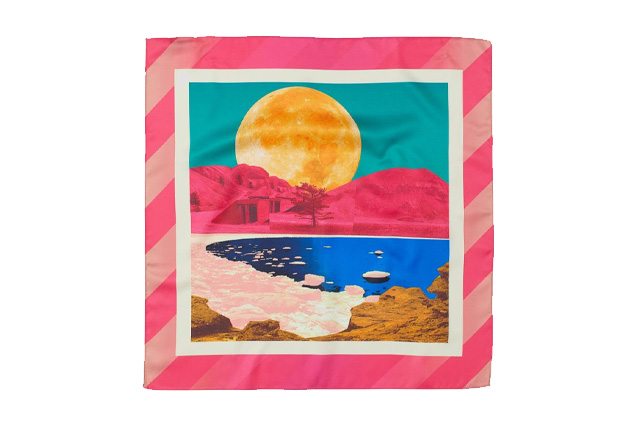 If you're into bright colors and scenic prints, this scarf is for you. The fabric is soft and light, making you feel cooler. Available at G/F Mega Fashion Hall, SM Megamall.
Mango printed pleated scarf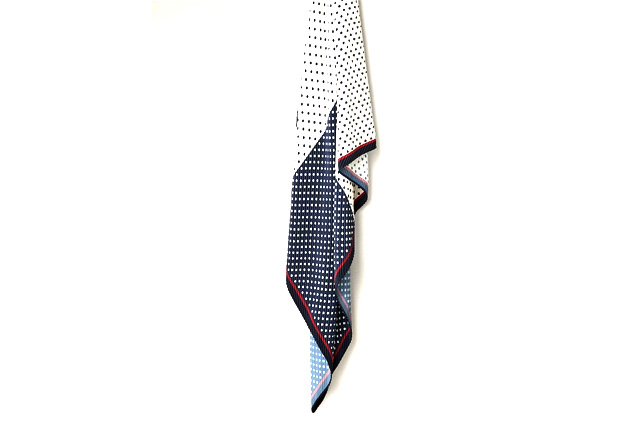 This pleated scarf from Mango in a blue and white polka dot print with hints of red gives off sailor vibes. Available at Level R1, Powerplant Mall.
MEMO oversized scarf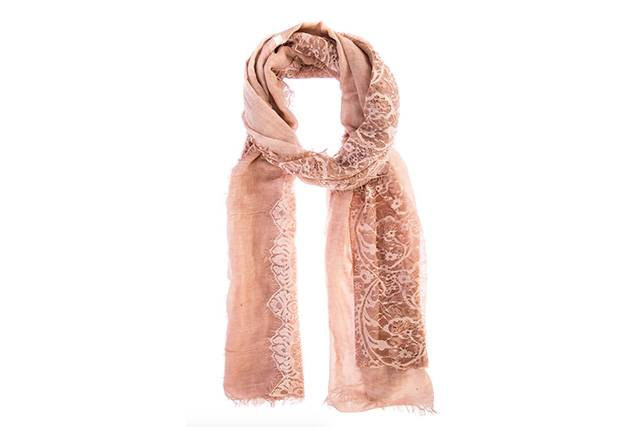 If you're not a fan of showing too much skin, this blush scarf is for you. There's more fabric to work with and it's got floral lace details. Available at UG/F, Alabang Town Center.
Zara animal print scarf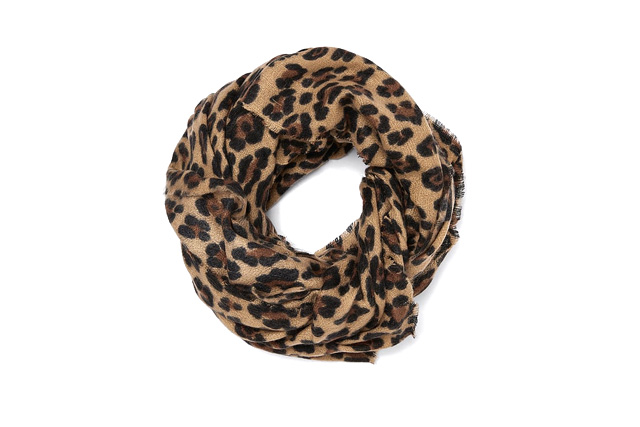 If you're a fan of subtle fringes, this animal print scarf has frayed edges that add a bit of attitude to the already loud print. Available at Level 1, SM Mall of Asia.
BENCH floral and stripes scarf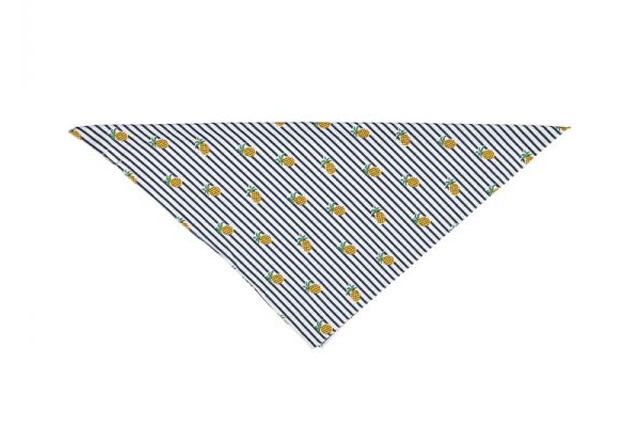 This striped scarf littered with pineapples screams tropical fun and relaxation—two things you'd definitely want this summer. Available at 2nd flr., Uptown Mall.
STMNT. Lola scarf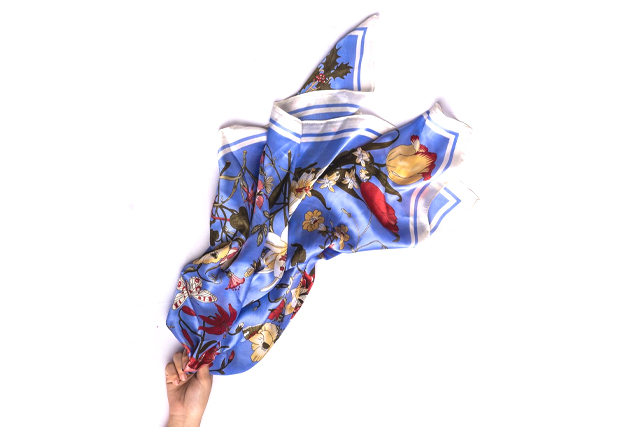 Aside from the natural elements present in the scarf's design, it gives off an enchanted forest feel, from the dreamy blend of olive, powder blue and red and yellow. Available on STMNT.'s Instagram account.
Art by Tricia Guevara
Follow Preen on Facebook, Instagram, Twitter, YouTube, and Viber
Related Stories:
Accessorize your neck scarf with rings you can find in your jewelry box
Shaira Luna Shows Us Five Ways to Use a Scarf
Christmas-themed accessories that aren't cheesy Santa hats
Too lazy when it comes to all things hair? These scarve-dos will save you.
The jury's out: Fans are loving the first episode of "RuPaul's Drag Race" season 12. Even previous winners Bob the Drag Queen and Sasha Velour said in "The Pit Stop" it was a pretty solid start for the new season.
For episode one, only seven out of 14 queens were introduced. Host RuPaul Charles said the other half will come in on the second episode, premiering this Friday (Mar. 6). The queens' first challenges were a spring/fall fashion show (similar to the one in season seven) and a rap performance guest-judged by Nicki Minaj. Meanwhile, the first runway category was anything sparkly.
If you haven't seen the episode yet, we're not going to spoil anything about the elimination. Instead, we're going to talk about the fashion trends that popped up in the episode. This includes outfits from their entrance, the spring/fall fashion show, rap performance and the final runway.
Pink animal print
Both Heidi N Closet and Crystal Methyd wore pink animal-print outfits in this episode. First, Heidi entered the werk room in a tiger-striped blazer and skirt outfit. She also hilariously called it "leprosy print" because she thought it was a leopard print. #dead
Speaking of leopard print, Crystal wore a hot pink jumpsuit paired with bright green boots, sky blue hair and chunky necklaces.
Fascinators
There's no Royal Wedding, but some queens did wear fascinators when they entered the werk room. Brita wore a cheetah print one with a pink feather detail, while Nicky Doll wore a red and black fascinator with a thin feather sticking out.
Helmets
We don't know why Gigi Goode loved wearing helmets in this episode, but we're not complaining. The first one was a multi-colored helmet to go with her pastel motorcycle suit during the spring/fall show.
The second was a black glittery helmet to go with her green pantsuit during the final runway.
Shoulder pads
Whether it's Jackie Cox's poofy sleeves for her entrance look or several of Widow Von'Du's exaggerated shoulder details, it was clear that these queens went for the power woman look by adding shoulder pads to their outfits.
Photo courtesy of RuPaul's Drag Race's Instagram account
Follow Preen on Facebook, Instagram, Twitter, YouTube, and Viber
Related Stories:
This Vietnamese-Filipino drag queen just broke the "San Francisco curse" on 'RuPaul's Drag Race'
Start your engines, we have 'RuPaul's Drag Race' S12 theories
RuPaul is so powerful, a psychic predicted his success before his birth
This Instagram puts drag queens into covers of iconic fashion covers and editorials

Summer is so near. We're already counting down the days when we can travel to our favorite local destinations like La Union or Boracay. But you know what else is getting us excited? Swimsuit shopping.
If you're looking to replace your old one-piece and bikini sets, you can't go wrong with this year's swimsuit trends. We listed some of them below so you can choose which colors, patterns and styles suit your tastes.
All shades of green
Green has been a standout color recently because of the street style during Milan Fashion Week, so it's no surprise to see swimwear in mint, lime and neon green as well.
Florals of every shape
"Bouquet dressing" or floral-on-floral pairing is a popular trend for spring 2020. It's also a trend that Miranda Priestly wouldn't find "groundbreaking," but I digress. Floral swimwear is expected to become popular this summer, with Refinery29 putting emphasis on "micro-florals." This print is not only spring/summer-appropriate, it's also perfect for people who love fun colors.
Long-sleeved bikinis
Long-sleeved swimsuits aren't just limited to rash guard-type pieces. Stylecaster notes that even bikinis (like the ones Acacia presented at Miami Swim Week last year) have long sleeves now. Aside from being a unique take on swimsuits, it will also protect your arms from harmful rays.
Ruffled up
According to Pop Sugar, ruffles on swimsuits are making a comeback. One popular style is a ruffled sleeve seen one-piece and one-shoulder suits.
Tiger stripes
Animal prints are still very popular this year. The standout for summer 2020 is the tiger-striped print. You can choose from the traditional orange and black motif or more neon options.
Photo courtesy of Unsplash
Follow Preen on Facebook, Instagram, Twitter, YouTube, and Viber
Related Stories:
Show off that mom bod with these swimsuits
The Chanel bridal swimsuit: The beach wedding piece I aspire to have
This independent label sells "breastfeeding-friendly" swimsuits
Boracay might ban skimpy swimsuits because they're "indecent"