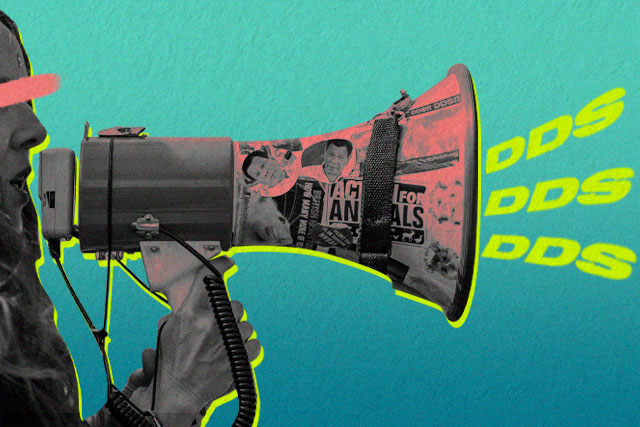 Last night, the country held its breath as one of its top broadcasting networks signed off. Several personalities expressed their sorrow and frustration over the cease-and-desist order issued by the National Telecommunications Commission (NTC) that forced the station to end their radio and TV broadcasts. In their last hour, the station gave their final appeal to the administration and the public. Tears were shed and rallying cries dominated on-air and on social media. Throughout this, however, some netizens were quick to react to #NoToABSCBNShutdown posts from Kapamilya stars who previously aired their support towards the president and his administration. 
Drop your peyborit Kapamilyang DDS artistas & talents.

I'll start.@vicegandako@Mscathygonzaga
Toni Gonzaga
Paul Soriano
Mariel Padilla
Robin Padilla
Piolo Pascual
Joseph Marco
Jayson Gainza
Bayani Agbayani
Jed Madela
Vhong Navarro
Ryan Bang
JL Cruzhttps://t.co/fehmGnSr4G

— supernegatrona AKA pink 5 🍥 (@supernegatrona) May 5, 2020
In fact, there were Twitter users listing the names of these station talents who they believed were "complicit" to the shutdown exactly because of how "friendly" these personalities were to the administration. For example: President Rodrigo Duterte hosted a dinner party last year as a "thanksgiving for artists who support the President." ABS-CBN released photos of some of the attendees such as Toni and Alex Gonzaga, "It's Showtime" hosts Vhong Navarro and Ryan Bang, Bayani Agbayani, John Lloyd Cruz and Robin Padilla. With receipts like these in tow, netizens called out these celebs under their posts. 
In response to, Alex Gonzaga's crying emojis tweet, netizens said that her support enabled the shutdown and that she should take a stand against it. 
— what are they distracting us from? (@psychokenetics) May 5, 2020
https://twitter.com/tomflordeliza/status/1257648865894756353?s=20
Imagine resorting to emojis because you can't make a clear stand in the situation. Oof. pic.twitter.com/sH24uGurFP

— vher (@vhercm) May 5, 2020
The internet was also not having her sister Toni Gonzaga's Instagram story on the sign-off that was filled with crying and broken heart emojis. 
However, the actress did reshare a "Para sa #MalayangPamamahayag" clip on her account and wrote #IStandwithABSCBN on the caption.
Plenty also poked fun at outspoken Duterte supporter Robin Padilla. The action star's Instagram post was full of incredulous replies from people who couldn't believe his reaction to the shutdown. On Twitter, users were saying that it was a prime example of a "man vs. himself" conflict and how he's not getting their sympathy.
https://twitter.com/marzifools/status/1257735700486619136
ABS-CBN reporters also weren't exempt from the backlash. Netizens brought back this tweet of a satire page posted in February about the silence of some station journalists.
LOOK: Joint Statement of Noli de Castro, Ted Failon, Gerry Baja, and Anthony Taberna on quo warranto case filed vs ABS-CBN. pic.twitter.com/lzN2ZD8o5L

— Malacañang Events and Catering Services (@MalacananEvents) February 10, 2020
Doris Bigornia also made a tearful statement on DZMM but netizens weren't convinced when they remembered how the president confirmed that she was once offered but declined the position of Department of Social Welfare and Development (DSWD) but declined. Bigornia was on good terms with the president back when she was covering during the 2016 presidential campaign period. Duterte once said in a media interview, "What is beauty? Beauty is like Doris Bigornia." 
https://twitter.com/acchilleuss/status/1257685343530188800?s=20
Meanwhile, many were shocked when Noli de Castro (whose daughter Kat de Castro was appointed board director at the People's Television Network) said at the end of yesterday's TV Patrol newscast that the shutdown was an attack on democracy. But it turns out, news chief Ging Reyes wrote those final words. 
WOW. TWIST OF FATE. NOLI DE CASTRO STANDING UP AGAINST THE DUTERTE ADMIN WOW!!!! MAY CHARACTER DEVELOPMENT SI EX VICE PRESIDENT OH!!!! KALA KO DDS KA GHORL?!?!? https://t.co/QJrnL0u9ZX

— joko (@jokocawili_) May 5, 2020
ABS-CBN News Chief @gingreyes hasn't produced a newscast in over a decade. But we've heard epic stories of her days as EP of The World Tonight. Here she is, back in the producer's chair for TV Patrol's final newscast. The final words from the newscast were from her. pic.twitter.com/dumYipujms

— Jeff Canoy (@jeffcanoy) May 5, 2020
While there were celebs who didn't share their sentiments on the franchise renewal, there were those like Angelica Panganiban who had become more vocal and bolder by the day.  
Lumuhod naman. Bakit niyo pinatay?… PILIPINO KA BA TALAGA??!!!!

— Angelica Panganiban (@angelica_114) May 5, 2020
Are we going to see more personalities of Philippine show business taking stronger stances on matters of public interest? Only time will tell.
Art by Dana Calvo
Follow Preen on Facebook, Instagram, Twitter, YouTube, and Viber
Related Stories:
Report the truth even if the government scares you
Robin Padilla gets his privilege checked—this time for his response to Gov. Remulla's appeal
PSA: Hold the government accountable for COVID-19 response
3 tips to avoid gaslighting from our government