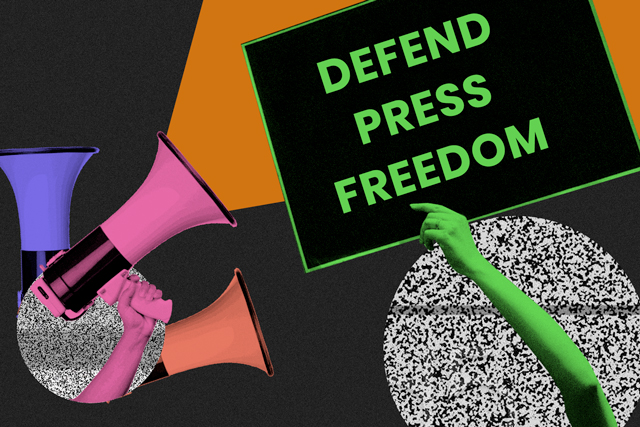 The last time that ABS-CBN was shut down, a dictator was ousted.
The franchise renewal of ABS-CBN has been a hot topic since The Office of the Solicitor General questioned the company's franchise through a quo warranto petition before the Supreme Court back in February. Even with lawmakers and the general public disputing whether the move was constitutional, the National Telecommunications Commission (NTC) still issued a cease-and-desist order (CDO) for the network. 
ABS-CBN news chief Ging Reyes produced yesterday's TV Patrol newscast and wrote the final words, "Hindi kami mananahimik sa pag-atakeng ito sa ating demokrasya at malayang pamamahayag." Is the ABS-CBN shutdown an issue of press freedom rather than a case of the government upholding the law? Preen spoke with the National Union of Journalists of the Philippines (NUJP) and the College Editors Guild of the Philippines (CEGP) to discuss the chilling implications of the shutdown and why its closure is a national concern. 
An encroachment of exclusive power
NUJP chairman Nonoy Espina says, "Almost from the moment he assumed office, Duterte has targeted critical media, verbally assaulting them, accusing them of 'fake news' and threatening to shut them down. In the case of ABS-CBN, he has repeatedly vowed to block the renewal of its franchise. His real intent is to silence or intimidate critical media." The president has been accusing the media giant of not airing his paid advertisements during the 2016 presidential elections but ABS-CBN chief executive officer Carlo Katigbak already stated that this was not true. They were unable to air the aid because they were posted late and all the slots were already filled. Katigbak clarified that they were able to refund half of the cost but the rest was no longer accepted by the President.
As early as July 2019, Representative Micaela Violago already filed for the franchise renewal. Anton Narciso of CEGP's national secretariat claims that staunch Duterte allies in the House of Representatives did not immediately act upon this and just waited for its franchise to expire. "According to Representative [Lito] Atienza, the house could pass the renewal of the license any day, but [Speaker Alan Peter] Cayetano has slowed down the process to please Duterte," he shares.
"Kasalanan ng Kongreso ito…kasalanan ni Speaker Cayetano ito."

Rep. Lito Atienza lashed out at Speaker Alan Peter Cayetano and apologized for the failure of Congress to act on the franchise renewal of ABS-CBN. #ABSCBNfranchise pic.twitter.com/srPi3dt7Ws

— ABS-CBN News Channel (@ANCALERTS) May 6, 2020
Previously, Solicitor General Jose Calida made a threat to file charges against the NTC should they give ABS-CBN provisional authority in the absence of a franchise. Earlier today, Palace spokesperson Harry Roque stated that Calida did not influence the NTC in any way. The solicitor general gave his own statement saying, "The question we should be asking is why hasn't Congress acted on it? Who is at fault here?" 
Espina says that while the CDO may be legal, the administration "has invoked 'compassion' in applying the law, a call that apparently does not hold for ABS-CBN alone since there have been other networks that have been allowed to continue operating long after their franchises lapsed and until Congress approved their renewal."
For CEGP,  the quo warranto against ABS-CBN is "an encroachment of the exclusive power of Congress to grant franchises, subject to amendment, alteration or repeal by Congress when the common good so requires."
Questionable commitment to public interest
The administration has been criticized for its COVID-19 crisis response that lacks urgency in providing medical and economic solutions as it tries to silence its critics. Narciso says that prioritizing mass arrest over mass testing is an indication of how the Duterte administration is neglecting Filipinos in times of health crisis. 
Now more than ever, the public needs its news sources. Espina says that shutting down the broadcasting network could cost lives—there are people in far flung areas who can only access a single network and rely on the information it provides for their income and safety during this quarantine period. "Thus, the closure of ABS-CBN will literally leave them in the dark at a time when timely and accurate information is crucial to combating the pandemic," he adds.
The peddlers of "fake news"
The Duterte administration's crackdown on fake news has been targeting critical media outlets such as Rappler. Did this possibly come into play in the shutdown? "The administration has been accusing the media of fake news from the get-go, way before this pandemic, even as its paid influencers and trolls cook up and spread disinformation, claiming they can do so because they are not journalists. Even the government's media outlets have time and again been purveyors of misinformation and disinformation," states Espina. The media may at times inadvertently publish false information however, the government deigning to sanction the president's false claims and its decision to hold off the implementation of an aggressive pandemic response because of it should also be addressed accordingly. 
CEGP asserts that most of these so-called "fake news" is coming from the Duterte administration, many of them are from his supporters. "Disinformation in this era is chaos in a democratic system. Fake news is generated by outlets that mask as actual media sites but promulgate false or misleading accounts designed to mislead the public," says Narciso. When these efforts become organized, they become disinformation campaigns that can disrupt governance. 
Where do we go from here?
So many tags in support of ABS-CBN surfaced yesterday and individuals have been directing complaints to the NTC in support of the franchise's renewal. But how else can the public contribute in defending press freedom and fighting disinformation?
Narciso shares, "Since the start of ABS-CBN's franchise renewal issue, CEGP and its member publications have been calling out Congress and Duterte." The alliance of campus publications believes that the State must uphold the integrity of freedom of expression and so its elected officers must safeguards press freedom in the country, along with media workers. To remind Duterte that no amount of his tyrannical rule will forever reign, CEGP says Filipinos must unite in defense of a press free to report nothing but the truth without fear, especially from those who hold power. 
NUJP affirms that they have one call: to respect people's basic rights and freedoms. In a time of much conflict and confusion, an attack against ABS-CBN is an affront to all Filipinos.
Art by Tricia Guevara
Follow Preen on Facebook, Instagram, Twitter, YouTube, and Viber
Related Stories:
Report the truth even if the government scares you
WATCH: Martial law journalists and campus reporters who #DefendPressFreedom
PSA: Hold the government accountable for COVID-19 response
Politicians finally get a taste of accountability—but it's not enough