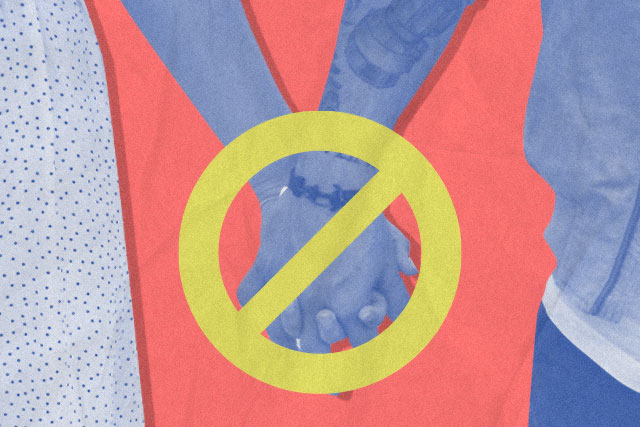 Bad news people whose love language is physical touch: holding hands with your partner in public isn't allowed in the "new normal."
In a DZMM interview, Presidential Spokesperson Harry Roque said that couples in general community quarantine (GCQ) areas should practice social distancing. "Basta wala pong kumpol-kumpulan. Iyong mga mag-asawa po, kinakailangan maghiwalay kayo 'pag naglalakad. Temporary hiwalay muna iyong mga boyfriend… Wala munang holding hands habang naglalakad po." (Don't clump together. Couples need to keep their distance while walking temporarily. Don't hold hands while walking for now.)
We understand how disappointed some of you might be. We've been cooped up in our homes for almost three months now and many couples aren't quarantining together. For single people, you probably downloaded dating apps and found potential post-quarantine dates.
READ MORE: People are actually using "quarantine" and "COVID-19" on their dating profiles
We also know how important physical touch is. Refinery29 cited multiple studies that noted how touch, even something as simple as a handshake, can reduce stress levels and decrease aggression among humans.
But given how the novel coronavirus isn't showing any signs of going away anytime soon, we have to make this small sacrifice of staying a meter apart from our partners and dates once we're living in the new normal. For now, here are non-physical ways you can flirt with someone:
Stare until they lock eyes with you
Twitter users said it first: "Girls flirt by staring." But please don't do this with strangers if you don't want them to think you're being creepy. If there are any guys reading: This isn't an excuse for you and your pals to girl-watch from across the road.
Manifest!
There is a joke online about how women often create scenarios in their heads. We say they're just manifesting their dreams and aspirations. This may or may not include flirting and dating someone, but hey, just think of the day you'll be able to hold your partner's hand in public again and the universe might just give it to you.
Text what you're feeling
You know that scene in "The Half of It" where Aster thought Paul was flirting with her through text while they were sitting across each other? Yeah, that's what we mean.
READ MORE: 5 things you should know about 'The Half of It' star Leah Lewis
Make them a playlist
As someone who loves music and probably creates too many playlists based on what I'm feeling for the month, this is adorable AF. If you can do it for your personal enjoyment, then you can flirt with your partner or date like this too.
***
Okay, what if you're not in public anymore? Well, wash your hands and sanitize everything first. Physical touch is important, but your health comes first, honey.
Art by Dana Calvo
Follow Preen on Facebook, Instagram, Twitter, YouTube, and Viber
Related stories:
Open relationships aren't as complicated as you think
Category is Social Distancing: Makeup gurus bring their A-game on IG
Let's face it: Low maintenance friendships produce high-quality relationships
Having a quaranfling is okay, but you know what isn't? Ghosting.