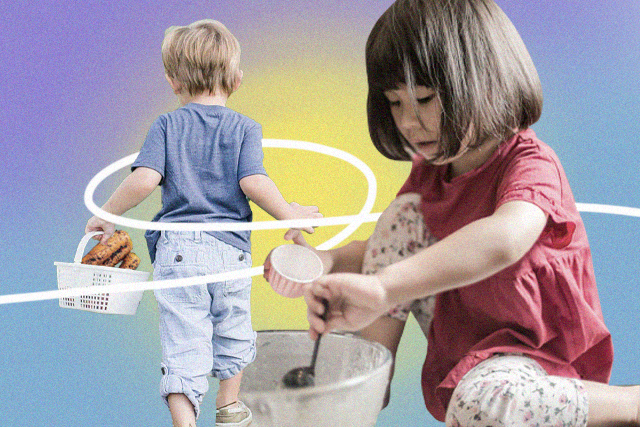 Coming into the third month of quarantine and with no word from the government on a concrete mass testing plan, we may be asking ourselves what's next for school? Many students already kissed their cap tossing graduation ceremony dreams goodbye and celebrated at home or online instead. While many fresh high school graduates are still wondering if they'll be stepping into their new college campuses next semester, many have questioned whether online classes would really work.
 A few months ago, students from De La Salle-College of Saint Benilde called out their college's decision to continue online classes, calling the setup anti-poor and ineffective given the lack of equipment and materials, heavy workload, output-based subjects, personal concerns and internet connection issues. On the other hand, Ateneo De Manila University took these concerns into account and decided to end the semester and pass all their eligible students. The university found it rather unfair and inhumane to grade their students' academic performance given the pandemic and considering that the students were not given the benefit of a full semester. Not only that, the university assured students that they would be refunding tuition fees as well.
For younger students required to take online classes, the burden is placed on their parents to ensure the growth and development they get from school at home. The Department of Education (DepEd) released a statement to begin "remote enrollment" for K-12 classes on Jun. 1. While the lockdown has left many workers unemployed or without a source of income, officials are anticipating private school enrollees to move to public schools or drop out of school entirely. DepEd thus aims to mobilize parent-teacher associations and intends for parents to take in their "new roles" as teachers to their children. 
However, parents have expressed that the current educational setup doesn't work in the home setting for both them and their children, adding that being thrown into this new role without the proper training or support from schools has caused a lot of stress. But there can be a way around this issue. Even without professional training, you can actually teach important skills to your children at home that are vital to their education.
Designate a time and place for learning in the house
Most schools are expected to provide learning materials as they switch to online classes. If not, there are many resources available online that you could choose from. Your role as a homeschool teacher is to guide them through their lessons and not get in the way of their classes. Make it clear to them that quarantine isn't an extended holiday and you want to make your home as conducive for learning as possible without losing its essence as a place of rest. Setting up a specific time for academic learning can help your children study at home without getting overwhelmed with the workload. Compared to seven hours of learning in a regular school, homeschoolers usually spend around two to four hours of academic learning while starting the day later than regular school. Meanwhile, setting up a separate room for academic lessons can also help your child get into the learning mindset while having an organized space for their materials. 
Get creative with your "class schedule"
Children are exposed to a lot of activities in school like sports, playing with their classmates and many more outside of lessons in the classroom. You need to understand that children will get bored easily in quarantine and you can't expect them to learn at the same pace if you just sit them through classes at home. If managing to stay alert throughout a two hour video conference meeting seems nearly impossible for adults, then you could expect the same or even worse for children. Based on the essence of homeschooling, children can learn from household activities with parents having the liberty to design a curriculum that will fit their needs as a family. While you set up a schedule for academic lessons, you can vamp it up and add activities like baking or gardening to add variation. Bethany Mandel, a parent who has chosen home education for her children, explained in the Atlantic that "home education" involves learning from everyday tasks: "baking can teach math, science and home economics." If you feel like you need a guide to do this, she also noted that going through a crash course on educational theory and best practices can give you a few tips. 
Turn chores into games
While it's still unsafe to reopen schools, digital platforms have become one of the fee viable learning options during the pandemic. However, parents have raised their concerns over too much screen time. One tip to keep your children busy while you're swamped with work is to let them help you with the household responsibilities. This way, making use of their free time and teaching them to do chores with you (or by themselves if they're old enough) will get the job done quicker. Not only that, letting them get used to chores will give them a sense of responsibility that can improve their time management and other skills.
Pediatrician Dr. Cristal Laquindanum suggested gamifying simple household chores which allows you to bond with your children while stimulating their imagination and creativity. One idea is having a contest on who could fold the most pieces of laundry. Another idea is to outline a floor tile with tape and challenge your children to sweep all the dust and dirt into it, you'll have your floor swept clean in no time.
Do what you both love together
One way to keep children engaged is to make sure they enjoy what they're doing.  Ellen Galinksy, author of "Mind in the Making: The Seven Essential Life Skills Every Child Needs," advised parents to listen to their children's interests and note how these can teach them important life skills. According to Galinksy, boosting your child's interests gives them a sense of purpose which she noted would help them thrive in the future. If your child likes to play video games, join them and see what makes them so hooked on the console. This is a great opportunity to teach them how to strategize and how to be a good sport if they lose a game. Moreover, you could also introduce them to your hobbies which allows the both of you to bond over things you both like. If you've developed an interest for gardening in quarantine, invite your child to help you out. They could definitely learn a thing or two about earth science here while you both spend some time together outside. This way you'll be teaching them what you know best and leaving some fundamental knowledge that they could pick up on.
Art by Dana Calvo
Follow Preen on Facebook, Instagram, Twitter, YouTube, and Viber
Related stories: 
Let girls into exclusive schools to learn, not to turn boys into good men
Jerrold Tarog's 'Senior Year' is now available for streaming and for reliving your high school days
The 'High School Musical' cast reunited on Zoom
A day spent fixing facilities for a public school? We recommend it