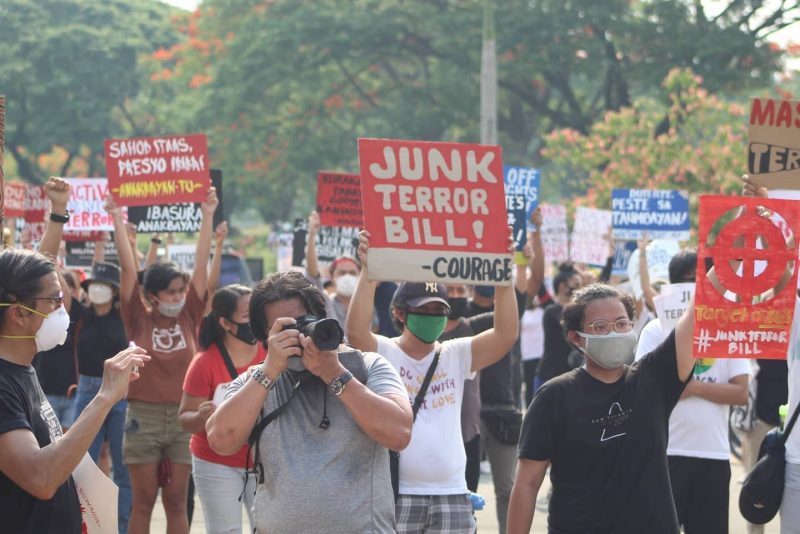 It looks like protests—both physical and over email—are working, as members of the House of Representatives are now withdrawing their support for the Anti-Terror Bill. Fifteen of the authors are now backing out while at least five others are changing their initial vote. 
Last Wednesday, June 3, The Anti-Terrorism Bill was passed on its third and final reading. The bill now only needs the president's signature for it to be signed into law and is expected to be given to President Rodrigo Duterte this week. 
Principal author Ruffy Biazon has disowned the bill because it's only a copy of the Senate version, passed in February of this year. Three deputy speakers, Loren Legarda of Antique, Aurelio Gonzales Jr. of Pampanga and Evelina Escudero of Sorsogon have also chosen to remove their names from the bill. Some lawmakers also requested their names to be removed because they were "mistakenly" identified as co-authors. 
The House voted 173-31, with 29 abstaining last Wednesday. On Thursday, the vote was corrected to 168-36. Some of those who initially voted yes, like Albay Rep. Joey Salceda, are also now changing their vote to abstain, after reviewing the bill and its vague definition of "terrorism." Laguna Rep. Sol Aragones says that they were incorrectly recorded as having voted yes when they actually abstained from the vote. 
In an interview with Inquirer.net, Aragones said, "I share the view that we need to fight terrorism, but there are provisions I do not agree to and which I think needs further study, which is why I voted to abstain from the start, contrary to the list circulating that I voted yes."
Albay Rep. Edcel Lagman asked Secretary General Jose Montales to release a certified true copy of the how the representatives voted in order to provide everyone with a final tabulation that reflects the real results as recorded in their Zoom meetings and Viber Community.
Meanwhile, critics like Leni Robredo, Chel Diokno, Risa Hontiveros and Kiko Pangilinan continue to be vocal about their call to have the Anti-Terrorism Bill junked. 
Filipinos also continue to express their hope that the bill will not be enacted. Over the past week, people took to the streets to protest against the bill, despite the current pandemic. Seven peaceful protestors from the University of the Philippines Cebu are also now under the custody of the Cebu City Police after a peaceful protest in the UP Cebu campus was disrupted by police in riot gear asking for permits and quarantine passes. 
People on social media also began a barrage of online and email protests. Over the past week, tutorials on how to email lawmakers to junk the bill as well as a quick link that will allow you to mass email the authors of the bill popped up on social media. Fake duplicate accounts on Facebook (which that people suspect might be used as "online tanim-ebidensya") also started popping up over the weekend, as activists and students of various universities started discovering multiple dummy accounts.  
[
Inquirer.net
]
Photo from Inquirer.net 
Follow Preen on Facebook, Instagram, Twitter, YouTube, and Viber
Related stories:
Don't give up, join the Anti-Terror Bill email protests
Police arrested 7 protestors, not terrorists, in UP Cebu
Sharpen your wits, we're using secret languages to protest now
An open letter to the hypocrites on my feed