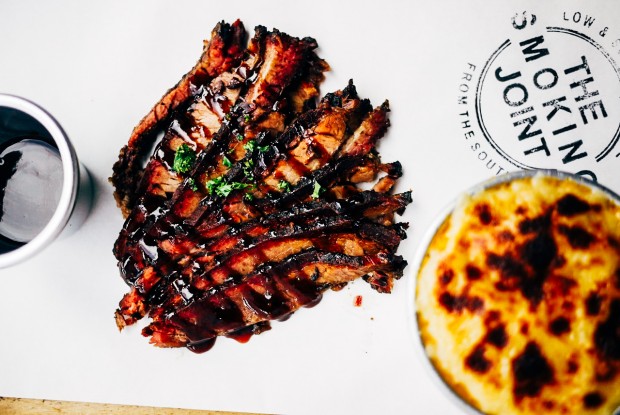 There's been a lot of buzz about The Smoking Joint, an eatery on the Aguirre food strip in BF Homes. No surprise there because western BBQ, or smoked meat, is relatively new here in Manila.
Located next to a Lydia's Lechon stall, the restaurant seats about 20 or so, with faux brick walls and wooden stools.
After perusing the menu, it was clear that they were focused on three kinds of smoked meats: brisket, pulled pork, and ribs. Modestly-sized portions (about 100 g/serving) are plated on wooden boards.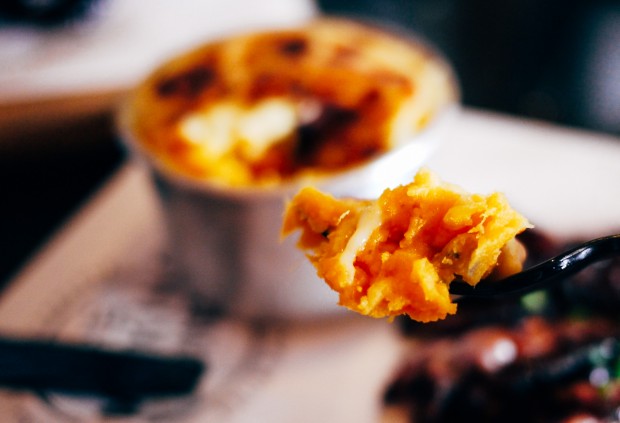 I tried the brisket (P190/100 g), with a side of Sweet Potato Corn Melt (P100), a sweet potato mash topped with cheese and some corn kernels.
According to the waiter, the beef is given a generous dry rub (though they couldn't identify the hero ingredients), smoked for 10 to 12 hours in their smoker, a serious black contraption by the entrance, and given a vinegar-beer bath every so often.
The result, surprisingly, was less than stellar. The brisket was dry and a little crumbly. Though tender, it lacked depth. My mom, who accompanied me on a late Sunday lunch, summed it up in one word: "meh."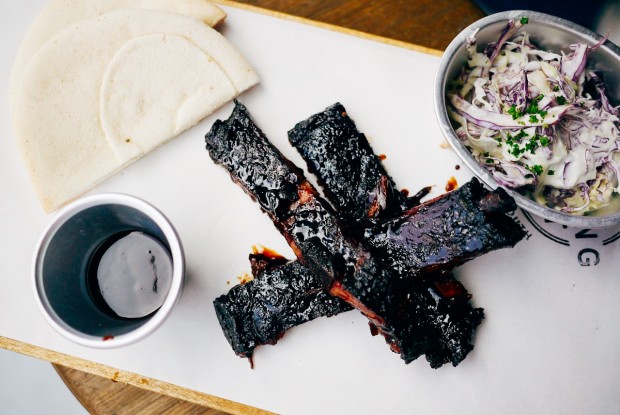 The ribs held up better. The Single (P250), consisting of about three ribs, were juicier than the brisket, with a respectable bark that, upon closer inspection, revealed a smoke ring that imparted decent flavor.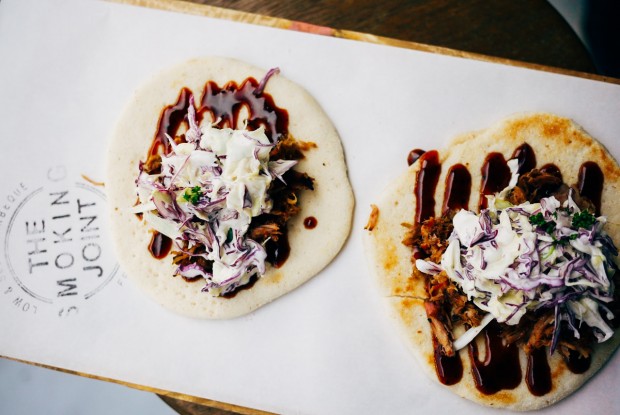 The pulled pork sandwich, plated on flat bread that resembled pan de sal in texture and topped with coleslaw and BBQ sauce, fared decently. But the mediocre coleslaw didn't do anything for the dish.
This is not to say that The Smoking Joint is not without its good points. We have to respect the efforts of a team willing to smoke their own meat. But the lackluster main dishes need some re-configuration before they can expect to become a highlight on the now-competitive Aguirre food strip.
Ambiance
Brick walls and dark interiors offer succor on hot days. But the John Mayer-heavy playlist doesn't do the place justice.
Service
The staff was friendly and eager to accommodate diners with plenty of questions.
Price
The prices are far from prohibitive with main courses costing between P100 to P300 but the serving sizes are more on the compact end.
Problems
For a meat-centric restaurant, diners are only offered plastic fork and spoons. On the plus side, they offer gloves if you want to get down and dirty.
The Smoking Joint. 308 Aguirre Avenue, BF Homes, Parañaque City. (02) 211-3617.
Disclaimer: The meals in this review were paid for by the author. All opinions stated here are her own.