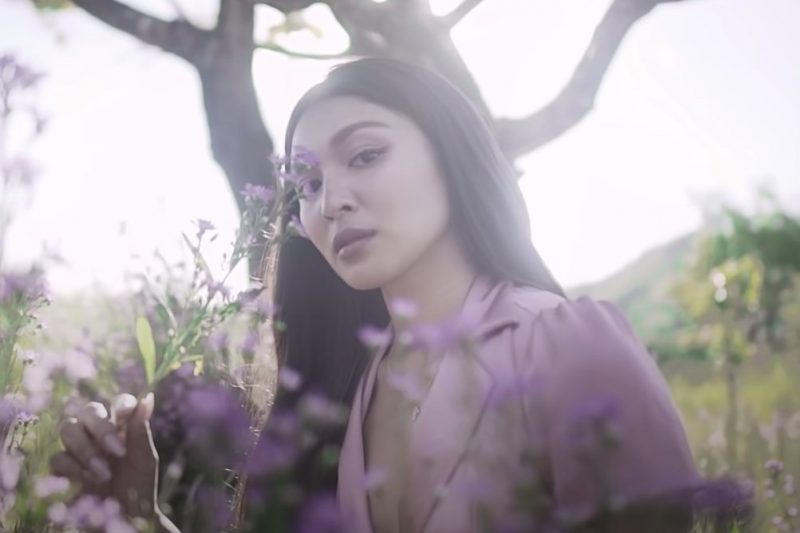 Earlier today, Nadine Lustre called out suspended DZMM radio-TV host Jobert Sucaldito for bringing up their issue in the ABS-CBN franchise renewal hearing. 
Back in January, Sucaldito's conflict with Lustre started when he made a flippant comment in response to her calling out journalist Ricky Lo for writing an insensitive article.
Lo claimed that her rumored (at the time) breakup with James Reid was true and that Reid was "handling the breakup with care to cushion the impact on Nadine who has admitted grappling with mental illness." According to an Inquirer report, Lo also mentioned the death of the actress' brother in the printed version of his article but was edited out in the version published online. Lustre called this out and Sucaldito then brought it up in his entertainment show "Showbuzz" and made a suicide joke.
"Di ba yun naman ang gusto nila? Kuno kuno may mga labas ang pwet, naka-T-back pa dun sa building tapos may nakalagay na mga caption na mga parang gustong tumalon. Sana tumalon na lang kung ganun din naman pala," he said.
ABS-CBN, then, released a statement on Jan. 8 that said they were "investigating reports that DZMM host Jobert Sucaldito uttered inappropriate and insensitive comments regarding actress Nadine Lustre's state of mental health."
"We in ABS-CBN News take the issue of mental health very seriously. This was even the subject of a recent documentary that we produced." They continued. "Our journalists and other members of our team are accountable for their on-air statements."
On Jun. 29, Sucaldito spoke as a resource person during the hearing on the ABS-CBN franchise renewal before the House of Representatives. During the session, Sucaldito brought up his conflict with Lustre and called out ABS-CBN for being too "harsh" to suspend him for his statement. 
"Nalulungkot ako lalo every time I would hear sir Carlo Katigbak saying that they are concerned about the people who will lose jobs kasi kawawa naman sila, walang makain. But how about us?" he said. "Papaano kami? Naisip niyo rin ba kami? Napaka-harsh ng inyong decision. Napaka-cruel ninyo."
Sucaldito explained that he was not given a chance to explain before he was suspended, but clarified that he was against shutting down the network.
"I am for the 'No to Shutdown,' but yung mga tao sana sa loob who really throw their wits around I hope you also learn your lesson. I hope you walk your talk," he continued.
However, President Nadine Lustre was not having it. The actress wrote on her Instagram stories that the suspended news anchor completely missed the point and "I can't believe you're using this issue to fight our home network whose only objective is to protect us."
She proceeded to say that "it's never okay to push someone to commit suicide" and stressed that Sucaldito was suspended because what he said was wrong in the first place.
"Kahit pagbali baliktarin mo, mali yung sinabi mo. Inalis ka sa trabaho dahil MALI YUNG SINABI MO and how is this even on congress?! Someone enlighten me. PLS," she said.
Suicide and mental illnesses shouldn't be taken lightly and we are one with President Nadine when she wrote "I'm sick and tired of boomers treating mental issues like it's a mf joke."
The Preen team has reached out to Jobert Sucaldito for their comment. As of July 1, they have yet to respond.
Screengrab from the "Summer" music video
Follow Preen on Facebook, Instagram, Twitter, YouTube, and Viber
Related Stories:
Kakie vs. boomers: Calling someone "hija" does not give you the high ground
Let's talk priorities—halting all ABS-CBN operations shouldn't be at the top
President Nadine Lustre is selling her old clothes on Depop, FYI
Disinformation nation: The ABS-CBN shutdown is a suppression of truth