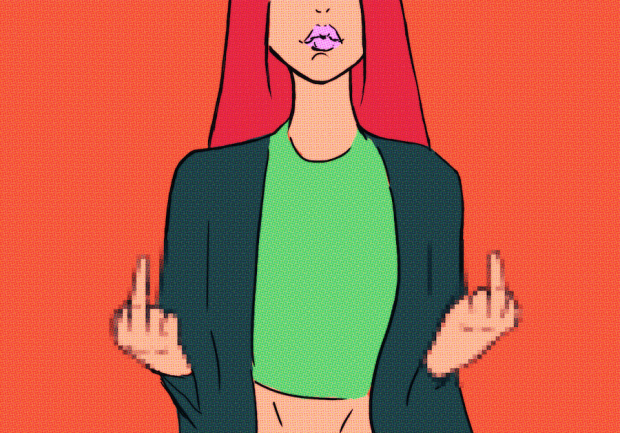 We can't not talk about Bill Cosby and the 35-plus women he allegedly drugged and then raped over the last four decades so powerfully captured on New York Magazine's cover. Correction: We can't not talk about the 35-plus women allegedly drugged and then raped by Bill Cosby over the last four decades, women whose claims were ignored, whose ordeal was trivialized, whose trauma was mocked, and whose voices were silenced until a man—another comedian—called Bill Cosby a rapist, and suddenly all those accusations gained validity.
Thank you, Hannibal Buress—a.k.a. Lincoln the dentist, the most chilled, progressive and enlightened man on Broad City—for calling a rapist a rapist. Yet why did it take a man—one man—to legitimize the claims of all the women who have come forward and those yet to do so?
As singer Janis Ian, who wrote and sang the piercing teenage ballad "At Seventeen," posted on her Facebook page:
"There's a lot to bother a sensible person about this. The years these women were ignored. The years they were derided. That the story finally really 'broke' because a male comedian named Hannibal Buress kept bringing it up, kept calling Cosby a 'rapist.' Not because woman after woman after woman went to the police, to the press, to anyone who would listen, with horribly similar stories."
He could be Bill Cosby, or any other man in some position of power, whether financially, socially, physically or professionally, it doesn't matter: a man who has to resort to drugs and alcohol to get a woman to suck his dick is a pathetic loser. And it doesn't even have to involve drugs; men don't compel women perform sexual acts they don't want to.
And any man who does that can go fuck himself.
And yet the trope of the hysterical woman, prone to exaggeration and melodrama, persists. Or the provocatively dressed woman who was asking for it. The lesbian who needed "correcting." The slut who sleeps around. The teenage siren who made the first move. The nun who didn't.
The list of stereotypes is endless, but the "sorrowful sisterhood" the New York Magazine article alluded to what binds all these women is anchored to the basic, disgusting and depressingly familiar premise: that you can't believe what a woman says.
Until a man says it's true.
No wonder countless women around the world choose to remain silent, lest their accusations are laughed at. Who cares about their bruised bodies or crushed souls? Those that dare to speak out are branded as angry, over-dramatic, desperate for attention, calculatedly angling for a financial settlement, or quite simply, lying.
Although I cannot claim to have been drugged and raped and brutalized repeatedly by an uncaring, unbelieving system the way these women have, I have found myself in situations that could easily have turned violent. Most of the time I've been able to walk away with as much calm as I could muster, but there have been moments when all I could do was cry and plead for the man to understand that I said "no," and I meant it. But I have to confess to the adrenaline rush the few times I managed to pull myself away and tell the man to go fuck himself.
And almost all of these times, I chose to remain silent because I knew no one would believe me.
In Jordan? Are you kidding me? Everyone would have assumed I deserved to have a man slip his fingers under my skirt as I passed him on the stairwell on the way to the dentist simply because I was a woman, obviously foreign, wearing a skirt that bared my knees.
"You fucking asshole!" I screamed. "What the fuck do you think you're doing?"
Everyone heard me but lowered their heads. The man—who sported one of those beards so beloved by the fundamentalists—scampered away like the pathetic loser he was.
In London, once, the father of a good friend of mine, played gallant and generous tito, taking me to dinner at The Dorchester, all the while expecting dessert at my apartment. I still remember the wrinkly smarminess of him trying to kiss me, my panic when he continued to press against me, my tears when he wouldn't leave. Finally, after threatening to call the police, he left.
I reminded him that his children were good friends of mine. And his wife was someone I admired.
"I was just testing you," he said smugly, as he walked out. "And you passed with flying colors. You handled yourself with class.
Go fuck yourself, I whispered to the door when it shut behind him.
Even lovers shouldn't make you do anything you don't want to in bed; a relationship does not grant blanket immunity from unwanted sexual demands.
It needn't mean indulging a fetish, or attempting something out of the ordinary, say, perhaps, anal sex. It could simply mean not being in the mood for sex of any kind.
An ex and I got back home after a long, carbo-loaded and alcohol-doused dinner in Locarno. He tossed the glowing embers in the fireplace, kept the lights low, and poured himself a glass of whiskey.
"Now I want you to do a striptease for me," he ordered.
Dude, are you fucking kidding me? I just ate half the annual pasta production of Italy. The last thing I want to do is take off my clothes and perform with a bloated belly for your titillation, was what I wanted to say.
Instead, I kept quiet and gave him a look that said, "Go fuck yourself. It ain't happening tonight."
You know what? I think he did.
B. Wiser is the author of Making Love in Spanish, a novel published earlier this year by Anvil Publishing and available in National Bookstore and Powerbooks, as well as online. When not assuming her Sasha Fierce alter-ego, she takes on the role of serious journalist and media consultant.
She will be speaking at the Philippine Literary Festival which takes place from Aug. 28to 30 at the Raffles Hotel in Makati.
For comments and questions, e-mail [email protected].
Art by Dorothy Guya