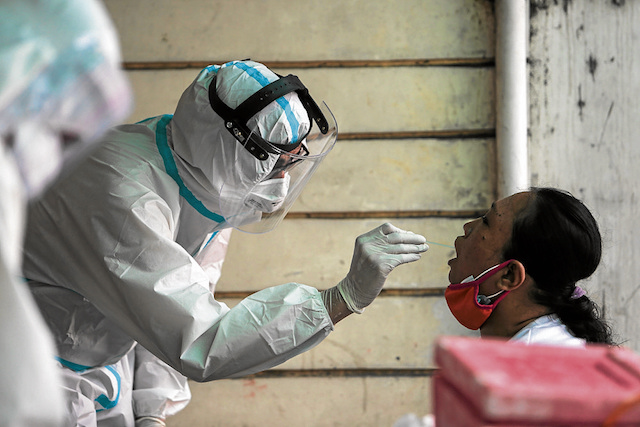 It's week two of our return to the modified enhanced community quarantine (MECQ) and while we were all hoping against hope that we would be hearing some good news from our health agencies this week, it would seem that we set ourselves up for even more disappointment. Adding to our concerns over the alleged corruption in the Philippine Health Insurance Corporation (PhilHealth), the Department of Health (DOH) announced today that it will be moving the posting of its daily COVID-19 case bulletin to 8 p.m. due to "an unexpected system error that caused the non-inclusion of new cases in the COVIDKAYA-extracted database."
JUST IN: DOH says COVID-19 case bulletin for today, August 10, will be released at 8:00 pm due to an unexpected system error that caused the non-inclusion of new cases in the COVIDKAYA-extracted database. pic.twitter.com/CXuWWLs9Vz

— Inquirer (@inquirerdotnet) August 10, 2020
Considering the agency's track record, netizens shared their concerns on the possibility of this error affecting or presenting an opportunity for the manipulation of the data. Before this incident, senators have criticized the agency after experts noted "alarming errors" on their COVID-19 data and Vice President Leni Robredo has even provided a list of suggestions to dispel public concerns over the integrity of the data provided by DOH.
The agency, however, assures the public that the problem has been addressed and they delayed the posting because the system needs "additional time to process the recently extracted data." DOH states in the post, "We are investigating the root cause in the system and will ensure that measures are in place to avoid this incident in the future."
As of Aug. 9, DOH reports that the country has 129,913 COVID-19 cases, 59,970 of which are active, with 67,673 recoveries and 2,270 deaths. We'll be taking note of these numbers in order to gauge the effectiveness of the MECQ.
A database system error months into the world's "longest and strictest" lockdown seems like something that should be very worrying but amid all the other stuff on our plate, it has become another blip in the news cycle.
Photo courtesy of Mark Alvic Esplana / Inquirer Southern Luzon
Follow Preen on Facebook, Instagram, Twitter, YouTube, and Viber
Related Stories: 
So, DOH Sec. Duque admits there have been some VIP testing
'Time-out' for health workers 'staging a revolution' and other highlights from the back-to-MECQ briefing 
How come VP Robredo's 'long-recommended' COVID-19 suggestions are still suggestions? 
How are our 57K COVID-19 cases 'successfully' flattening the curve, Mr. Duque?