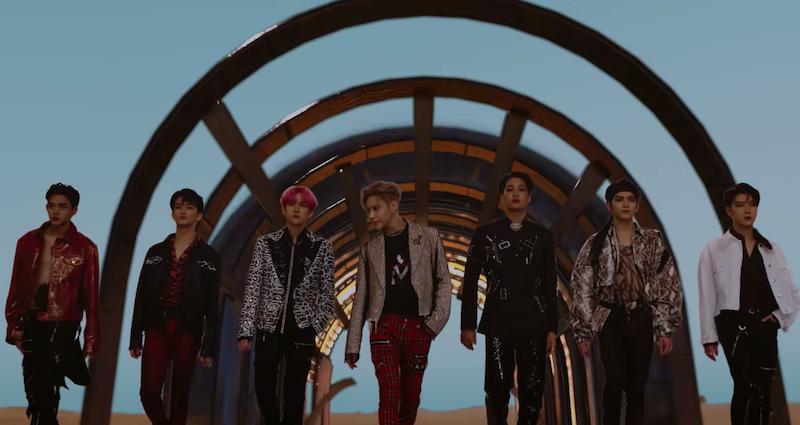 K-pop supergroup SuperM is coming back with their first full-length studio album "Super One," this Sept. 25. The jopping kings of K-pop debuted October last year with their first mini-album. While Sept. 25 is still a few weeks away, there will be two pre-release singles to see fans through the long wait. The first single "100,"  will be dropping on Aug. 14 and fans would be happy to note that youngest member Mark took part in composing and writing the lyrics for this. "Tiger Inside," the second single, will be released on Sept. 1. 
? #SuperM's '100', the 1st single of the #SuperOne project, to be released on Aug 14 1PM KST/0AM EST/ Aug 13 9PM PST!

? Participation of #MARK in the lyrics & composition!

? Intense breakbeat track that expresses SuperM's unique & powerful energy!#WeGo100 #WeGoHundred pic.twitter.com/aIYt7efx3F

— SMTOWN (@SMTOWNGLOBAL) August 10, 2020
For the first pre-release single, "100," the group started a dance challenge called #WeGo100, where fans can share their attempt at mastering SuperM's choreography with an exclusive 30-second snippet of the song.
The group has already released a few teaser videos for "Super One," with the boys shown pursuing their passions like basketball, painting and dance. Since SuperM was marketed to be a global supergroup, the video comes with narrations from the members in Korean, English and Chinese. 
Super One : #KAI Says

? https://t.co/BbZGNCbPu8#SuperM #SuperOne#WeAreTheFuture #SuperMTheFuture pic.twitter.com/bZWbVQOSmL

— SuperM (@superm) August 7, 2020
The supergroup is composed of members from SM Entertainment's existing boy groups, Taemin from SHINee, Mark and Taeyong from NCT, Ten and Lucas from WayV and Kai and Baekhyun (who is the group's leader) from EXO. 
Their debut single "Jopping" debuted at No. 1  of the Billboard 200 Chart. Since then, they have also toured North America, performed in many global stages and amassed many more followers because of their ties to their original groups and of course, their chemistry as a whole new supergroup. 
Until the full album drops, maybe someone can explain to me what jopping is? I'm a fan of these boys and the song is such a bop but it's been a year and I still don't get it. 
Screengrab from "Jopping" official music video 
Follow Preen on Facebook, Instagram, Twitter, YouTube, and Viber
Related stories:
Our favorite Kpop collaborations throughout the years
ONCE's are getting more and more with TWICE coming back real soon
K-pop stars listen to Ben&Ben, we love to see it
Calling all ARMYs! The new BTS drama just started its production