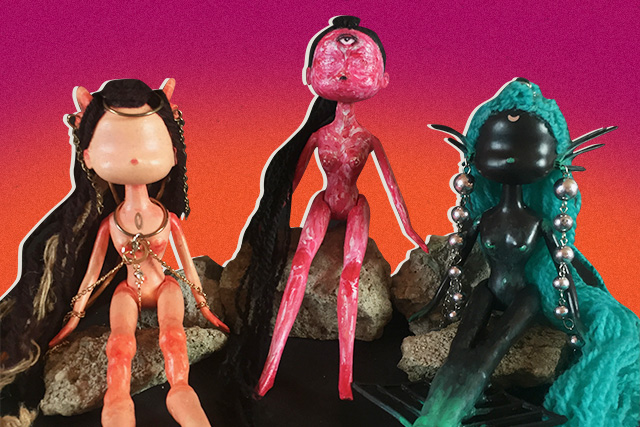 On Taylor Swift's "Folklore" track "Mirrorball," she croons, "I want you to know I'm a mirrorball. I can change everything about me to fit in." In contrast, most characters from folkloric tales are on a mission to break free from the norm.  It's interesting how folklores, by virtue of encompassing pre-colonial beliefs and tradition, often contain acts of subversion. Take for example the local legend of the rainbow or the Visayan epic "Hinilawod" which featured goddess of empowerment Nagmalitong Yawa who, at one point, took the form of a mortal man.
Consuming folklore and mythology today has become a practice of self-interrogation, a way of unlearning Western ideals and practices. We had a chat with 25-year-old genderfluid non-binary artist Dale Magsino of "Tau-tauhan" about their line of Philippine folklore-inspired dolls, what mythology means to them and how they realized that they were meant to stand out. 
Hi, Dale! As an artist who rarely misses out on joining and attending art fairs and markets, how are you holding up these days? 
I already miss everything about art fairs and markets, especially because this is where I started my art career. It's been difficult to adjust during the first months of the lockdown, all my art gigs were canceled, some of the art stores I'm consigned in were forced to close temporarily and I'm stuck at home. 
Since June, I've been active on Instagram and I even got the courage to open commissions for digital portraits. Recently, I've been included in Imprimatura Gallery's online exhibition. I'm still hoping that someday I'll be able to come back to the warm, embracing energy of art fairs and markets.
You debuted "Tau-tauhan" not too long ago and, honestly, I'm obsessed with each doll. Can you tell our readers about the doll line and introduce the designs included in the first collection?
Yes, I just started this new hobby and art venture last July. I posted photos of the dolls on social media and released the first collection a month ago. 
This collection is a reimagination of mythological and folkloric creatures that are believed to exist in different parts of the Philippines. Some of them you may be familiar with already while there are others you might not have heard of before. They are part of stories that have been passed down through generations and have shaped cultures. They are hidden parts of an identity waiting to be rediscovered and reclaimed.
https://www.instagram.com/p/CEHD64gBiXt/
The first collection of "Tau-tauhan" consists of eight dolls. "Babaylan" is named after the spiritual leader, healer and shaman in Indigenous communities in the Philippines. "Yasaw" is fashioned after the mischievous and playful little demons from Bicolano myths who scare people without any intention of hurting them.
"Lambana" is a small human-like creature with dragonfly wings that is a symbol of protection and guidance for the Tagalogs and Bicolanos. An interesting Bicolano story says that they were gifts given to Bulan (moon god) by Sidapa (god of death) to serve as his guides to visit him.
"Mandurugo" is a gentle winged creature who is devoted and can love unconditionally. But when their hearts break, they then turn into blood-sucking vampire-like creatures. The "Sarangay" of Ibanag folklore is a creature resembling a Minotaur. Part man and part water buffalo, they're obsessed with jewelry and will kill anyone who attempts to steal from them.
"Kataw" is a member of Visayan merfolk who are the reigning rulers of the ocean, higher ranking than a sirena or siyokoy, and can manipulate water. "Biraddali" is an angel or skymaiden (a direct translation from Tausug or other Samal languages) that are believed to cross whenever a rainbow appears to take bath in the mountains.
Last but not least is the "Dayamdam," an elf with fallen leaves for clothes that resides in the forests of Agusan. It's customary to seek their permission first before picking fruits or cutting trees from the forest they are guarding.
You often work with watercolor on paper. What made you decide to try your hand at creating custom dolls?
Boredom and curiosity. All of this started with a random YouTube video suggestion of a doll customizer. I have this habit of obsessing over one thing for weeks and trying to research every bit about it until I'm satisfied or sometimes, lose interest. Coincidentally, my parents own a general merchandise store and that's where I found these damaged and neglected dolls. I decided to repaint them, try customizing them myself. I got really hooked since it's my first time trying sculptural art and, so far, I'm enjoying it.
Can you walk us through your process for making one?
First, strip off the doll to its basic form. Take off the clothes and accessories. Cut off the hair, although you can keep it and just use a wire plier to take off excess hair from the head.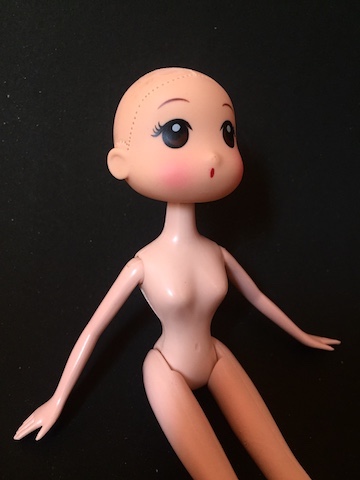 Next, using acetone and cotton, remove the doll's factory paint. Then, you can sand down the doll so the paint will stick easily. After this, you can start doing body modifications like adding horns or giving them wings and extra body parts.
You can then paint the doll. I use watered down acrylic paint. It can take four to five layers of paint to get an even coating. Add blush or shading to make it look natural and more alive.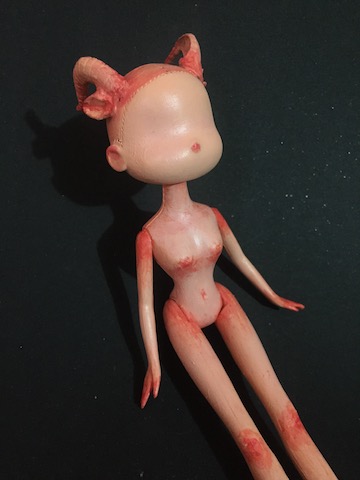 Lastly, accessorize. Put on all the small details that will strengthen the doll's personality. It can be from random found objects at home or parts of other toys that you can manipulate to merge with the doll. Give them a name, build a story and be mystified.
What's the story behind having them inspired by Filipino myths and folklore?
To be honest, while I was making the first three "Tau-tauhan," tackling Philippine mythology wasn't on my mind. I'm rather inspired by the materials that I have, combining them, manipulating them, trying to make a character out of it. When I was naming them, I stumbled upon The Aswang Project and read different articles about Philippine mythology and pre-colonial stories. I started wondering how many Filipinos were like me—not entirely aware of this part of our heritage.
So, I committed myself to become an instrument to get my audience to engage in this conversation. Marrying my dolls with these narratives has been transformative on my part. I got to challenge myself by exploring a new art medium and rediscover parts of Philippine culture that were new to me. As a colonized country, we somehow developed this mixed identity and mentality. It's easy for us to just neglect or forget our own roots, believing that adopting a foreign culture is more appealing. Being knowledgeable about the past can help us understand the present and serve as guidance for the future. It's time to reclaim it, recognize it, and be proud of it.
Looking at your body of work, a lot of it consists of portraits and it seems that you drew your audience's attention to their eyes or on eye motifs in the case of more abstract pieces. What are the narratives that you try to explore with your art?
There's no deep meaning behind those choices, I just love drawing eyes. I find comfort just doodling them anywhere I can and feel satisfaction whenever I incorporate them in art pieces I make. For me, eyes are the most honest and vulnerable part of a body. They reveal the truest form of emotion and character.  
I imagine how an inaudible conversation happens whenever someone looks at my art and my art looks back at them—an exchange of emotion or mis/understanding. I have been struggling to express myself and art helps me come out of my shell. Every piece I make is very personal. Through art, I am able to recognize my emotions and embrace them fully, accepting that I am flawed and I am not perfect. Art has been my safe space where I feel a sense of belongingness and freedom.
As a queer artist, what is mythology for you?
Philippine mythology are stories worth telling, much like our own stories as queer folks. Coming from my experience and upbringing, I can relate to stories behind most mythological characters. Stories of having to blend in, compromising your true form to be accepted and validated. Stories about being ridiculed for being otherworldly, different and weird. As a genderfluid non-binary individual, I can identify with these. 
I am still in the process of fully accepting my identity and embracing my true self. Reading and telling stories about mythology somehow remind me that I can exist without seeking the approval of anyone. I have the power to own my identity and be unapologetic about it. I was meant to stand out.
Apart from your solo pieces and "Tau-tauhan," you're part of collaborative brand Tingkad. Can you tell us more about it?
Tingkad is a collaborative brand by me and Tissa Pagaduan. It was formed during our second day participating in the Escolta Block Party. We met at her gallery in Manila, Sigwada Art Gallery, when I debuted my first show.
https://www.instagram.com/p/CElhGE_ht55/
We became close immediately and eventually decided to join forces. Now that many of our events were canceled, we're more present on Tingkad's Instagram account. We try different art challenges for #tingkadtuesday. We also have our art series  "Muling Pagtatagpo" where we merge traditional and digital art. Our aim is to live up to our brand name, which translates to "shine or brighten," by sharing what we love to do.
How can we get our hands on your custom dolls and what can we look forward to from you?
You can check "Tau-tauhan's" Instagram and Facebook page. To find out which dolls are still for sale, just drop a message for inquiries or send an email. 
I'm planning to release a new series by late September or early October and I have a big upcoming project for next year. Hopefully, the "Tau-tauhan" family can expand and mystify a larger audience. 
Art by Dana Calvo
Photos courtesy of Dale Magsino
Follow Preen on Facebook, Instagram, Twitter, YouTube, and Viber
Related Stories:
Three resin artists explain how to make resin art safely
This ecofeminist artist has us ogling vulvas and flora
This Davaoeña artist is helping her sister fight Lupus with stickers
Cop these masks to help this artist pay for her father's hospital bills