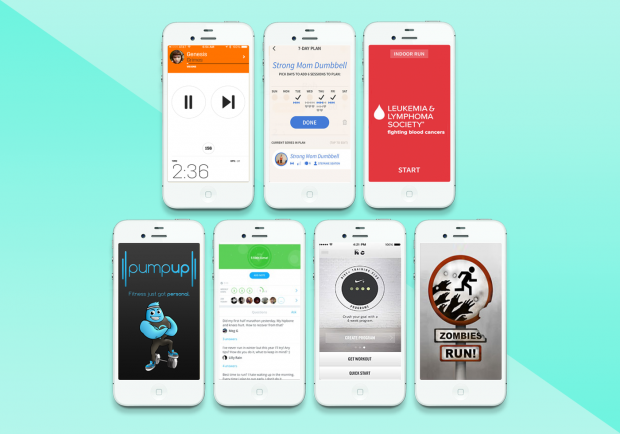 This August, #PreenFitSpo stories run around the topic of fitness, while striding in related matters of athleisure, pop culture, and romantic relationships.
Gone are the days when you can excuse yourself out of a sweaty workout session, and say "Oh, I only exercise in the gym, so I'll exercise once I renew my membership." Apps have seen through you and your excuse, so now, they've brought the sessions to where you are via your smartphones
.
There's an app for you, gym-loathing-fitness-curious lot. All you need to do is find the one that suits you.
For the sonic heads: Spring
You've grown bored of those beaten club beats. Swap your mood-reliant Spotify for Spring, a rhythm-based music service that gives you music that fits your movement. You can customize your playlist, or trust its DJ-and-music-lovers approved catalog. Either way, groove as you run.
For the workaholics: Fitnet
Yes, you're busy, but we're sure you at least have five minutes to spare outside
your 16
-hour da
y. Fitnet lets you personalize your workou
t
sessions, so they
can
fit right into your schedule and your goals. Plus, you can monitor how well (or lazily) you've been exercising by enabling real-time feedback via webcam from a trainer that's miles away.  
Fitnet. Available for P95 in iOS and Android. For more information, visit their website.
For the charitable souls: Charity Miles
Getting fit is not a vanity activity, anymore—it can be a selfless one. With the help of corporations, Charity Miles makes it possible for casually "sponsored" athletes to donate at least 10c to a charity the user chooses. Simply turn on the app, and press start. The app tracks your distance, and the money you earned. At the end of the day, you accept your sponsorship and the app gives you a virtual pat on the back. 
For those driven by #fitspirations: Pump Up
Sometimes, uplifting music and pretty sportswear just can't make you work out. Here's Pump Up, the new Instagram for a fitness community inspired
by before-and-after posts. It's the place where everybody can post photos of every stage of their healthy journey.
It also serves as
a visual r
eminder that if they can do it, you should too.
For those dependent on (hot) coaches: Coach.me
So you wanted a personal coach but you're too conscious to have a live one? Download Coach.me, a coaching platform that allows you to get reminders, personal mentoring, and v
irtual
Q&A's
via swipes
and clicks on your screens.
For the Nike fans and artsy snobs: Nike + Training Club
Ugh, Nike, why do you always have to be so chic and on-point with your branding? Nike and its arsenal of highlighter-colored lines and seductive campaign materials can attract you to work out (or at least think about it.) Get their branded app that comes with over 100 workouts by master trainers, focused programs, and amazing photography.
Nike + Training Club. Available
for free
i
n iOS and Android. For more information, visit their website.
For the indoor gamers and literati: Zombies, Run
We've had enough of geeks and bookworms saying their preferred hobbies at least make their brains run—they don't, so try running w
ith
your
fee
t. Get Zombies, Run, an app that lets you take the adventure out of your phone to the streets. You hear your mission and music through your headphones; a narrator tells you if zombies are approaching; then you run as fast as you can. Now you've an excuse to say, "Zombies!!!" without looking crazy.