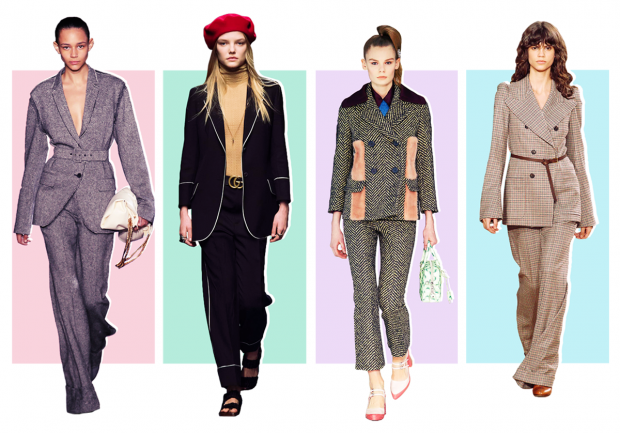 It is no secret that Hillary Clinton loves her pantsuits. Heck, one of her "hard choices" includes choosing which one to wear. But lucky for you, or maybe for Hillary, too, we can make the decision easier with a lot more options. The season's runways showed a slew of pantsuits that are definitely more than just monochromatic and boring.
Just a brief recap: In the 1920s, thanks to Coco Chanel and the era's newfound mobility, women traded their corsets for slacksuits. The power suit rose to fame in the 1980s. As women began defining their mark in the workplace during the time, a nod to heavily padded shoulders and oversized jackets became commonplace. The Donna Karan suits arrived the decade after—when women favored more luxurious and premium fabrics like cashmere and suede.
Fast-forward to now, the corporate setting is starting to blur what "corporate dressing" really is. Though your direct superior could be a chill kind of person when it comes to office uniform, you don't have to be. Pantsuits can fittingly exit the office wear stereotype and ease into daytime dressing. The secret is not just in good tailoring but also in inventive styling.
Here are pantsuit looks that can transition from the boardroom to the streets just fine.
Printed Pantsuits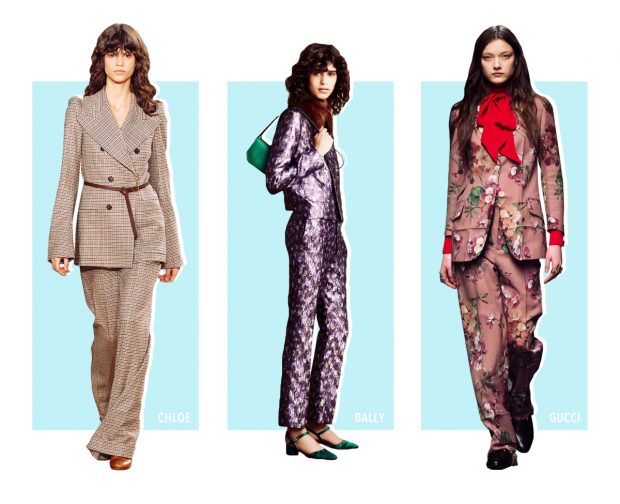 One way to recalibrate the pantsuit for this season is by adding a tinge (or head-to-toe if you're daring enough) of print. These punchy propositions—florals from Gucci, abstract art from Bally, and plaid from Chloé—enable the two-piece suit to be more flexible towards the call for casual dressing. Dress it up with power accessories done in bold colors, or pare it down by pairing it with V-neck shirt inside.
Pantsuits as Eveningwear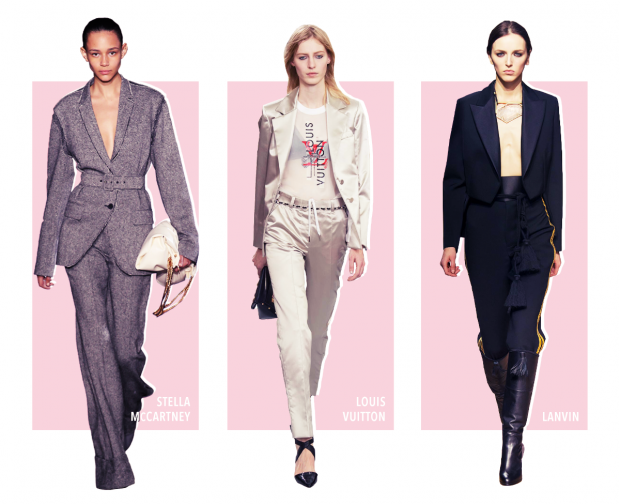 After-hours cocktail parties, you say? Dressier pantsuits still need not be intimidating. The trick is in the unlikely fabric choices that work. Louis Vuitton's shiny satin pair gives off the rock star-gone-corporate vibe when paired with a logo tee and done in dove-grey. But Stella McCartney suggests a flash of skin by wearing nothing underneath the plush belted wool coat. If you're the velvet kind of woman though, Lanvin's jewel-toned pantsuit still means business—a sleek and sexier kind that is.
Offbeat Pairing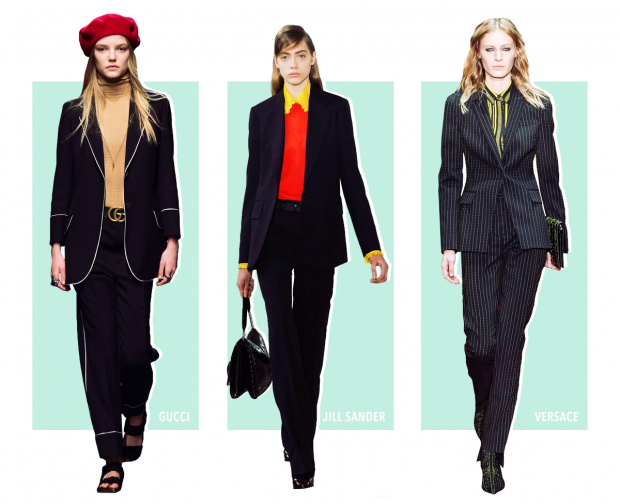 The ubiquitous dark pantsuit can be dressed as is, but can also be updated through subversive styling. Jil Sander's take on this is with a pop of orange knitwear worn inside over a well-fitting navy pant and suit. Gucci is well into color, too, but through an unlikely suggestion of a red-orange knit beret and flats. You may doubt at first, but when worn, the look flaunts the right amount of kitsch and precision. On the other hand, Versace's take on the all-time favorite pinstripe suit consists of pairing it with a sexy and sleek green silk shirt underneath and sharp, pointed booties. It's in the little add-ons that make the usual separates stand out from the rest.
Pastel Shades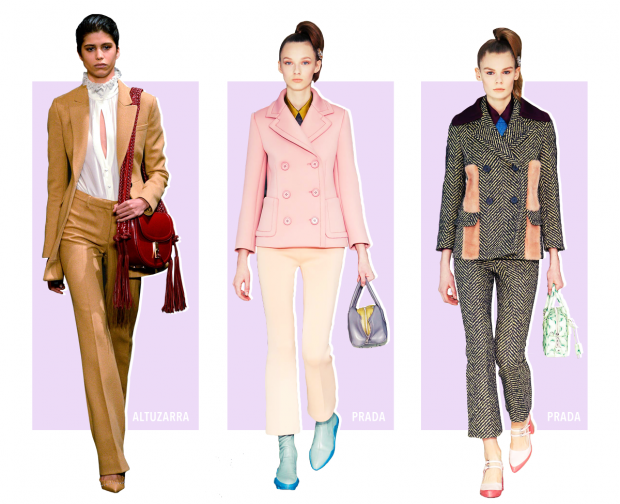 Miuccia Prada recently shared on Style.com her thoughts on the fall trends and says that it was "Sweet but violent. I wanted impact. How can you be strong with pastels?" Well, the answer is pretty straightforward. The sometimes-intimidating pantsuit gets another seasoned update by balancing it through softly hued pieces. Prada's pale pinks, greens, and blues on spongy neoprene are less on the saccharine side and higher on the impact. Have pantsuits become the look for the sweet? Look into Altuzarra to tell that the case isn't always so. Joseph Altuzarra's beige take on it with a high-collar white blouse is proof that these sensational light hues can be sexy, too.
Art by Dorothy Guya