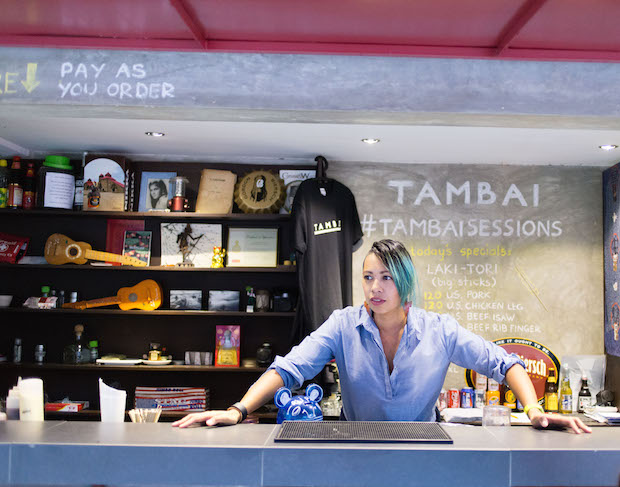 Don't be fooled by Yana Gilbuena's long blue bangs and sleek buzz cut. Underneath it is the brain behind a brilliant plan to get more people to dine the local way—both in manner and cuisine.
Two years ago, Yana embarked on a journey that changed her life forever. She went on a 50-week trip to travel all over America to get strangers to eat Filipino food. She made them

salo or gather in the native way. Banana leaves were abundant, and bare hands were
dipped in makeshift plates, scooping rice and whatever the local viand Yana had for the night.
Despite not having

any

formal culinary training, Yana has translated a selfish whim to eat Filipino food into a selfless act of serving others what she initially wanted for herself. Yana has been based in the States for seven years, recreating Filipino food  

even
with produce and spices made available by her foreign home.
She would produce menus according to what she'd find at the local farmer's market. The quarterly dinners sat up to 40 people, some of whom who
 are eager to help her out in this endeavor.
"Sometimes, they helped me: they'd bring me to the markets and show me around. They'd ask their friends who work in kitchens, and they'd ask me if I needed help. They sometimes cleared out a space for me, and some would sponsor the ingredients," tells Yana.
"A lot of these people are so giving, and I don't know how to repay them."
To her diners, it was all about the experience. And we get what they mean—who wouldn't remember some random night that you were served rabbit caldereta? (Yes, Yana did serve it up one night, getting help from a friend of a friend of a friend.)
Today, she's back on local soil to get more things going. She's learning more local techniques to bring to Canada and South America, meeting new people, and satisfying new palates. She's also bringing the pop-up dinners soon to the metro, so get ready to get your hands dirtier than ever.  
Photo by Tammy David
Source: Denise Danielle Alcantara for
Southern Living, "A Moveable Feast," July 2015.