The way people talk about carbs is kind of a bummer. And in a carbs-obsessed country like the Philippines, it's difficult to adjust to the concepts of gluten-free, wheat-free, and protein-rich. And while we do celebrate every new restaurant that champions a healthy lifestyle, we can't help but embrace the ones that willfully don't.
ArroZeria's new menu definitely features more than its fair share of carbs. According to Chef Chele Gonzalez, he wanted to put the focus on their paella, while introducing some new dishes, like the Fideua Callos, a paella cooked with thin noodles, garbanzo beans, pork, and tripe; Arroz Gratinado Longaniza, house-made longganisa, broccoli, and garlic-rich aioli in a rice dish that is run under a broiler; a refreshing and tender Salpicon de Pulpo (octopus) bathed in capsicum and onion vinaigrette; Pimiento Rellenos, piquillo peppers stuffed with braised oxtail; a classic Chorizo y Gambas; and Lengua Frita, deep-fried Angus beef tongue coated in béchamel sauce and breadcrumbs.
ArroZeria opened its doors in Century City Mall earlier this year, backed by the same team behind Vask and Gallery Vask: Chefs Chele, Ivan Saiz, and Keith Fresnido.
At the launch of the new menu, Chef Chele explained the vast difference between the way Filipinos enjoy the traditional rice dish in comparison to Spaniards. As he puts it, we like it "soft and wet," and chunky with meats and vegetables, while the Spanish manner is to enjoy it "al dente and thin," with more rice than meat. Of course he says, ArroZeria will serve their paella both ways, according to how their customer likes it.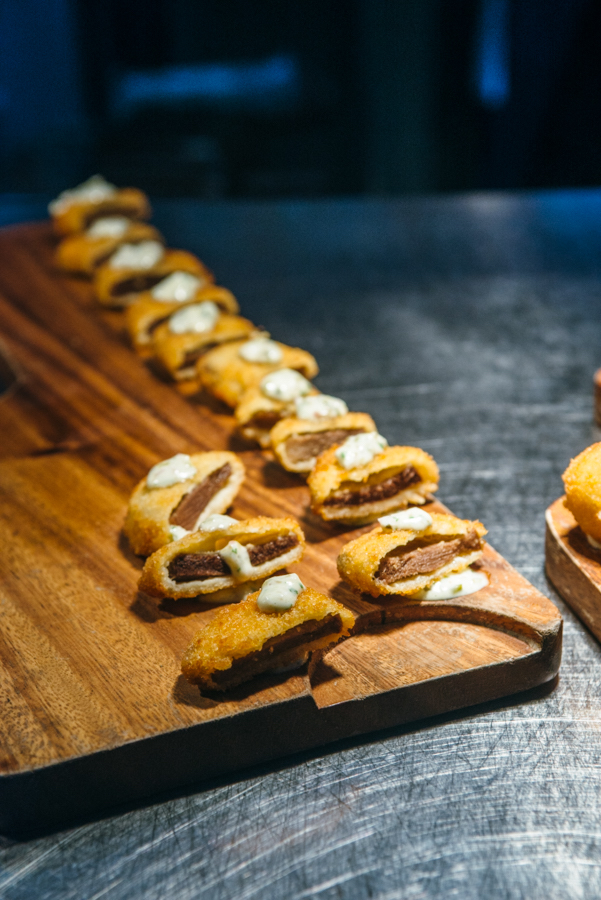 While we snacked on tapas like the Diabilito (spicy chorizo in corn bread), the Lengua Frita, Croquetas, and Costillas Glaseadas (glazed pork ribs on mashed potato), the real attraction were the large pans of paella that eventually made their way into the main dining area.
In their quest to make paella "as close as you can get to eating paella in Spain," the team behind ArroZeria partnered with the International Rice Research Institute (IRRI) in Los Baños. They brought samples of arroz bomba, the Spanish variety of rice typically used in paella and other rice dishes, for the scientists to study. They determined that the Ifugao heirloom rice variety tinawon had all the characteristics of bomba. (If you're a regular diner at Vask, you'll notice that the Ifugao tinawon is the same variety that Chef Chele uses for his buro.)
The result is paella that tastes as authentic as if you were in the seaside city of Valencia. As each separate grain of rice glistens, a thin layer crusts around the bottom and edges of the paellera. There is a bite to the rice, al dente, each spoonful so flavorful that meat or seafood are superfluous.
Arrozeria. 4/F, Century City Mall, Kalayaan Avenue, Makati City. For reservations and inquiries, call (0920) 974-4742 or e-mail [email protected]
Photos by Patrick Segovia