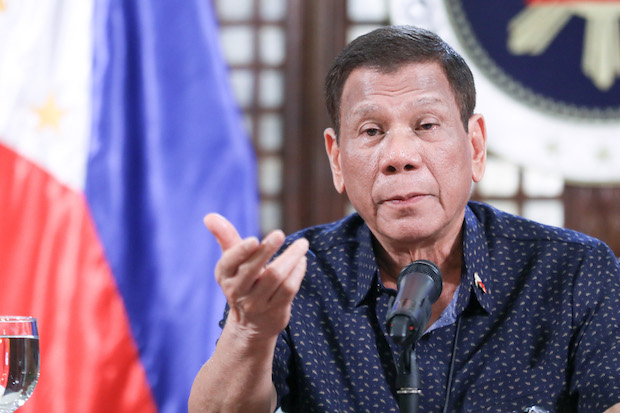 In one of his weekly press briefings,  presidential spokesperson Harry Roque said that Mr. Duterte's sexist jokes were just his "coping mechanisms," after seeing so many grim scenes following his visit to storm-ravaged provinces. This was after the President traded locker room remarks with local officials during a meeting in Bicol that was meant to discuss government action in the aftermath of a calamitous typhoon. 
"Hayaan na po natin. Bigyan naman natin ng pagkakataon na magkaroon ng light moment ang ating Presidente, (Let him be. Let's allow the President a light moment.)," said the Palace official who was caught "unloading" and violating quarantine protocols in a karaoke place in Baguio City on the night that Cagayan Valley folk had to scramble up their rooftops to escape the onslaught of floods from Magat Dam.
How tragic that a president's "coping mechanism" can be dangerous for women. 
Mr. Duterte's thoughtless comments disregard the struggle of women who must stay guarded in their daily interactions with men in this patriarchal society. His crude remarks, disguised as mere jokes, belittle the reality of women's lives and encourage a macho-feudal mentality harmful to the primary caregivers of our homes. Those vile and dangerous thoughts, which he seemingly couldn't keep to himself, serve to knock down the gains for equality that women have been fighting for. 
Instead of fooling the public into believing that this sexist outburst is just the President's way of coping, Roque should explain why the frail man even has to "cope" with man-made disasters to begin with. 
But can the President even face the truth? Can he own up to the fact that it was his macho administration who allowed the entry of large-scale foreign investments that plundered the environment and ignored the advice of experts, scientists, and environmentalists? Can he even recall how he had defunded Project Noah, which could have anticipated the monstrous fury unleashed by typhoons Rolly and Ulysses?
At the height of Typhoon Ulysses, Duterte was ironically attending an ASEAN conference on climate change online, members of the progressive women's organization, Gabriela, were cooking meals for the typhoon victims. 
While Defense Asst. Secretary Casiano Monilla was blaming people for being "unprepared", women of The Panty Project organized a relief drive to provide sanitary supplies for women. 
While Roque dismissed and threatened students who went on mass strike with the prospect of failing their academics, a female teacher declared her support for the students and said she wouldn't fail them for joining the strike. 
While the President can only mouth absurd statements like, "Gusto ko lumabas, gusto ko lumangoy, pero ayaw akong payagan, (I want to go out. I want to swim, but they won't allow me)" female artists of Ornate Ecology decided to donate 100% of the proceeds of their new Typeface to farmers, fisherfolk, and the youth. 
While Mr. Duterte, with his fragile male ego, peddled lies and accused the Vice President of competing with him in providing relief, VP Leni rebutted the fake information with her actual social media posts, that inadvertently became lessons on transparency and competence. 
Roque asked that the President be allowed a "light moment", but does he even need one, people asked, noting that Mr. Duterte himself admitted to starting his day at 2pm. And why expect deference and respect when his own conduct shows otherwise, with him spewing incoherent statements by day and addressing the nation with misogynist statements in the wee hours of the night? 
The bare minimum one expects is for the government to respect women and their struggles, especially when its response to disasters has been infuriatingly slow and inadequate. Instead, the President throws a tantrum on live television to discredit the efforts of a woman who, despite not having the funds that his office holds, has done so much to help the survivors of the typhoon. 
As we speak and as Duterte continues to fulminate, thousands of underprivileged women, unheard and unrecognized, struggle to rebuild their typhoon-stricken lives. 
Women farmers have gone back to their ravaged fields to ensure food security, while urban poor mothers line up for food and provisions for their children in crowded evacuation centers. Elder sisters look after younger siblings and help them study using their flood-soaked modules. 
Everyday, women and girls provide support that Duterte's iron-fist rule cannot give: selfless, immeasurable and often undervalued work that is essential to nurture communities 
Lastly, if we're talking about coping mechanisms, the people themselves are running out of ways to cope with his meltdowns. They're thinking: If Duterte can't do his job, well then women can, and will.
Featured photo courtesy of Inquirer.net
Follow Preen on Facebook, Instagram, Twitter, YouTube, and Viber
Related Stories:
We break down Duterte's misogynistic meltdown
Sex jokes in an official meeting about a disaster? Not cool
Check out this list of donation drives for Typhoons Rolly and Ulysses
Don't tell flood survivors that they should've moved houses