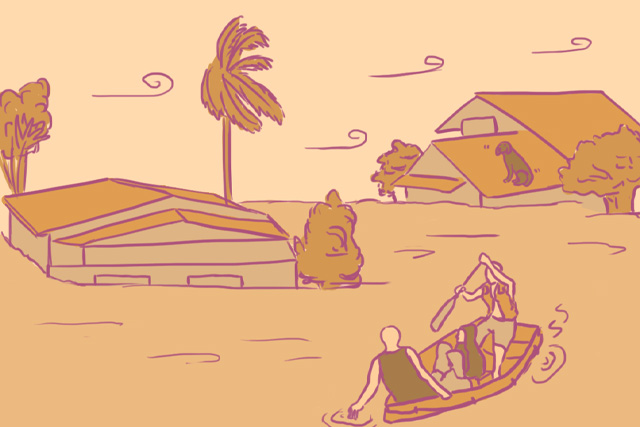 From the Taal volcano eruption to Typhoon Rolly, Filipinos have faced a number of natural disasters this year on top of the pandemic. It's within reason to expect deeper empathy for each other, considering how we've been soldiering on collectively, right? 
Today, with the onslaught of Typhoon Ulysses, thousands again face the loss of their homes and livelihood. This dire situation has not inspired more empathy among some journalists covering the calamity, however. Discerning netizens noted how the news program "Dobol B sa News TV" hosted by Arnold Clavio and Ali Sotto handled its interview with a woman affected by the severe flooding in Marikina.
Angela Jardin, a resident from Provident Village, reached out to the hosts to ask for rescue assistance since she was stuck with five others on the third floor of her flooded home.  Instead of empathy however, Clavio asked:  "Bakit diyan pa rin kayo [sa lugar] na alam niyong [lumubog] noong Ondoy?" Sotto added, "[Noong] naghahanap kayo ng lilipatan, hindi mo ba natanong, 'Kamusta noong Ondoy?'" 
A number of netizens found the questions insensitive, saying they weren't an appropriate response to someone asking for help. Moving to a safer neighborhood isn't a choice that everyone can make, after all. 
Haven't they realized perhaps those people don't have an option because even if they want to move out from there, nobody is interested to buy their properties if they opt to sell them? Insensitive and stupid, @gmanews!

— Tea Sommelier #RegisterToVote #WeDeserveBetter (@BIENsays) November 12, 2020
https://twitter.com/daccidecim/status/1326776456052150272?s=20
Twitter user @alyannagp writes, "Hindi kasalanan ng tao na mahirap/naghihirap sila, 'wag isisi sa mamamayan ang kakulangan sa pagtugon ng gobyerno sa mga isyung pambansa."
hindi kasalanan ng tao na mahirap/naghihirap sila, 'wag isisi sa mamamayan ang kakulangan sa pagtugon ng gobyerno sa mga isyung pambansa

— ????? ? #SaveLumadSchools (@alyannagp) November 12, 2020
Calling out flood survivors for living in flood-prone areas dismisses how affordable and safe housing is a social issue. Quality housing is a right that sadly, underprivileged families don't even get the chance to have in their lifetime. Bong Joon-ho's "Parasite" illustrates the disparities in people's living situations and how individuals would never choose to put themselves in a situation that would make them feel helpless.
It's a form of victim-blaming to put the burden of staying safe on victims of natural calamities. Major flooding is an effect of both climate change and faulty urban planning. While it's true that some citizens refuse to join preemptive evacuation efforts (don't blame them, either: they want to secure possessions they don't have the budget to replace), our national disaster response coordination and budget management can still be vastly improved. This will, in turn, inspire confidence from citizens whose past experiences in government evacuation sites and post-typhoon operations might have left them wary. 
Let's put ourselves in the shoes of flood victims and formulate solutions from a place of compassion. 
Art by Dana Calvo
Follow Preen on Facebook, Instagram, Twitter, YouTube and Viber
Related Stories:
Here's a list of emergency typhoon hotlines in the Philippines
3 tips to avoid gaslighting from our government
Hypocrisy is real and these government officials are proof
This woman's loss shows how the government allegedly treats frontliners