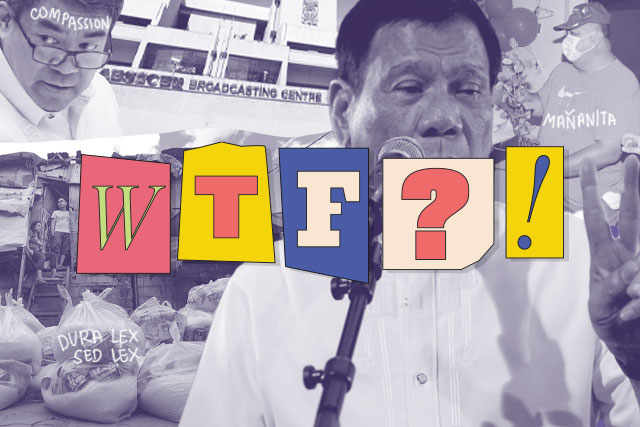 "Dura lex sed lex" (The law is harsh but it is the law)
If you observe closely, this Latin phrase is often recited by pro-administration people when regular citizens get arrested, beat up or shot during the enhanced community quarantine.
We're not saying that we should disobey laws. We're in the middle of a global health crisis and the last thing anyone wants is chaos. What we do expect is for government officials, especially those who constantly reprimand citizens, to follow the same laws and be penalized accordingly.
But as we've seen the last few months, the hypocrisy has been real.
We knew this would happen the moment officials asked everyone to show "compassion" to Sen. Koko Pimentel, who tested positive for COVID-19 and put health workers and patients at risk when he breached quarantine rules to accompany his pregnant wife at Makati Medical Center. But when Winston Ragos was shot or when 21 residents of Sitio San Roque were arrested, suddenly "the law is law"? Come on.
The week isn't even over yet but we're witnessing even more instances of government officials breaking the law and skirting accountability.
It's my party and I can do what I want
National Capital Region Police Office (NCRPO) chief Gen. Debold Sinas and his subordinates were put on blast for violating quarantine rules to celebrate Sinas' 55th surprise birthday party on May 8. The photos, posted on NCRPO's Facebook page, showed party guests sitting together and lining up in a buffet without keeping at least a meter distance from each other. Guests were also served beer despite the liquor ban in Manila.
Sinas later issued an apology, saying he didn't intend to disobey ECQ-related protocols. "I apologize for what transpired during my birthday that caused anxiety to the public," he said. "Overjoyed as a birthday celebrant, I was caught up with a traditional mañanita spontaneously conducted by some of my officers and men in their own volition. In all actuality, my accommodation to them was done with all cautiousness because I am fully aware of the anti-COVID measures being implemented by the government."
According to Executive Order no. 112, mass gatherings are prohibited during ECQ. Starting May 16, Metro Manila will be under modified ECQ—which mandates that mass gatherings should be limited to a maximum of five people.
Sinas also claimed the photos were "edited and grabbed from old posts. The pictures may depict itself however it does not define the totality of what really had happened."
In case you don't know what an edited photo looks like, it's something like this:
STRIKE 1: Poorly edited photo of fake rebel surrenderees. Photo from AFP, posted by @gmanews and @dzbb

STRIKE 2: Those fake surrenderees in Masbate have already "surrendered" last June 2017!

Hindi lang pala fake. Recycled pa!
Hirap kumita ng mga nasa AFP! pic.twitter.com/YLuFdXNW1y

— Raoul Manuel (@iamRaoulManuel) December 27, 2019
The NCRPO photos look pretty legit to us. Also, to quote Bayan Muna party-list Rep. Ferdinand Gaite: "Sinas who is a senior official and the center of the celebration could have told everyone to end the party right then and there simply out of delicadeza."
As of writing, Sinas and other police officials are facing criminal charges. Presidential spokesperson Harry Roque said in a press briefing that the Philippine National Police will file the case tomorrow, May 15.
#priorities
On May 13, the House of Representatives granted a provisional franchise to ABS-CBN until the end of October 2020. In his sponsorship speech, House Speaker Alan Peter Cayetano lashed out at critics and clarified that the issue of ABS-CBN's shutdown was never about "silencing media nor curtailing the freedom of the press." He also accused the network of being biased during elections and claimed that they wanted to be prioritized over the needs of Filipinos.
A total of 11 bills (with some filed as early as 2016) are pending with the House committee on legislative franchises to renew ABS-CBN for another 25 years. In the past, Cayetano has dismissed them as "not that urgent."
In an ANC interview, Buhay party-list Rep. Lito Atienza admitted that Congress failed to do its job in renewing ABS-CBN's franchise. He also claimed that Cayetano is the one to blame for what happened.
Buhay Partylist Rep. Lito Atienza apologizes to ABS-CBN in an interview with ANC: I would like to apologize for the failure of Congress to do its job. Kasalanan namin ito e. Kasalanan ng Kongreso ito. But more important, I would like to say squarely, kasalanan ni Speaker Cayetano

— Neil Arwin Mercado (@NAMercadoINQ) May 6, 2020
Also, if the needs of Filipinos were a priority, then how would Cayetano explain the exorbitant amount of money spent for the SEA Games cauldron which could've gone to sectors in need? How about that time he relaunched the Kobe Bryant exhibit in the House of Representatives when the COVID-19 pandemic was slowly creeping into our country?
Fake news vs valid criticism
Government officials have said multiple times that fake news peddlers, especially during the COVID-19 pandemic, will be arrested. Overseas Workers Welfare Association (OWWA) deputy administrator Mocha Uson has been posting misinformation for years, even after she got a government post—but the NBI Cybercrime Division is just investigating her now.
On May 13, the National Bureau of Investigation summoned Uson for posting fake news on her Facebook page, which is in violation of the Bayanihan to Heal as One Act. Uson shared a post showing personal protective equipment (PPE) allegedly purchased by the Department of Health, but netizens said the PPEs were donated by a mall chain. She is required to appear before the NBI on May 18.
If Uson will be penalized for her actions, that'll be great. But let's not forget that the NBI and other authority figures have only arrested regular citizens who posted criticism against the administration on social media. Granted, the can be deemed insensitive, but that also doesn't excuse pro-administration people from spouting death and rape threats against Vice Pres. Leni Robredo, as well as should government officials, including Duterte, from making the same insensitive comments.
Also, don't think we forgot about Uson violating ECQ rules at a Batangas resort last April and OWWA defending her actions.
Art by Dana Calvo
Follow Preen on Facebook, Instagram, Twitter, YouTube, and Viber
Related stories:
Politicians finally get a taste of accountability—but it's not enough
Breaking her silence: Kathryn Bernardo pleads "Wag na po nating palalain ang inequality"
Disinformation nation: The ABS-CBN shutdown is a suppression of truth
Protect your mental health from the pandemic