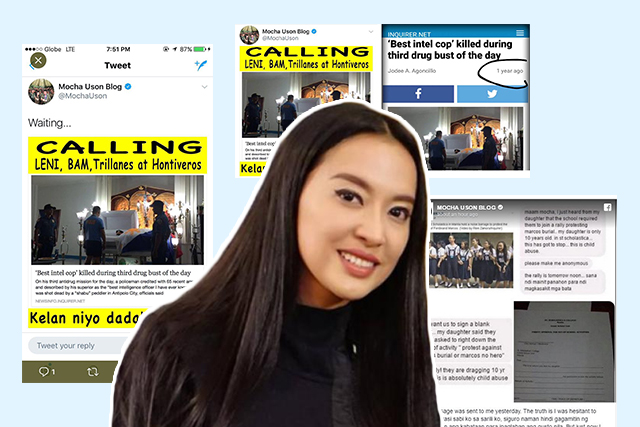 Mocha Uson's fake news hearing in the Senate had some quotable remarks from the blogger-slash-PCOO head. One of them was that she was also a victim of fake news. All the while trying to defend why she posted multiple falsehoods and photos on her social media accounts, and claiming that she merely shared them from other websites. Which raises the question on whether or not she verifies her sources.
Although Uson has apologized and took down many of her posts, there are still receipts. Because you can't hide everything from the Internet. So let's look back on some of the times that Uson, or whoever's running her page, was caught sharing and posting fake news.
#1 A dead body from Brazil
Uson shared a post of a Duterte supporter which claimed that a young girl was murdered due to the drug problem in the Philippines. She was reportedly outraged as to why the Commission on Human Rights didn't focus on the incident. However, the photo was of a nine-year-old Brazilian girl who was raped and murdered in 2014. BBC called her on it and she later took down the post.
#2 Attacking students of St. Scholastica's College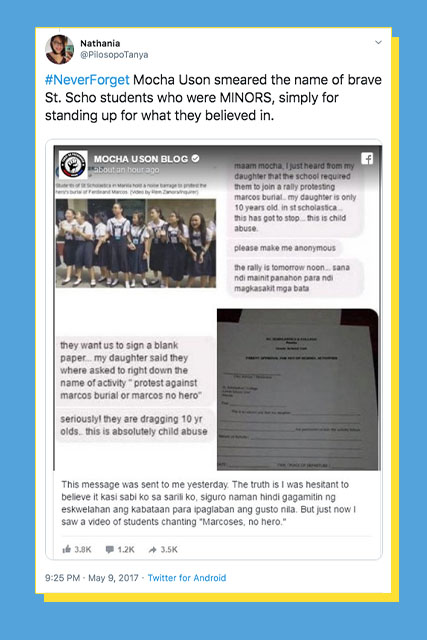 When the Supreme Court greenlit the Marcos burial, protests started from across the nation. The high school students from St. Scholastica's College were also part of it. Uson then shared a post, accusing the school of forcing the students to rally. This was then disproved by the college and the students who were part of the protests.
#3 "When will you visit this policeman's burial?"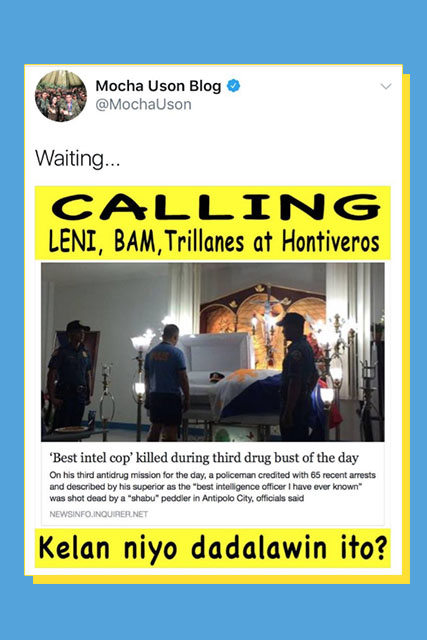 In the middle of the controversy on Kian Delos Santos' shooting, Mocha shared an Inquirer.net article on a policeman's burial. She asked Vice-President Leni Robredo, senators Bam Aquino, Antonio Trillanes, and Risa Hontiveros on when they plan on visiting him. This is in light of the fact that policemen were accused of murdering Delos Santos under the suspicion that he was a drug pusher. Turns out, the article was posted a year ago.
#4 Getting the Constitution wrong
A netizen called out Uson for citing "Article 263" of the Constitution, which allegedly states that a tax-evading company will pay 10 times the amount once they settle in court. "Walang 263 articles ang Constitution. Hanggang XVIII (18) lang!" (The Constitution doesn't have 263 articles. It only has 18!) the netizen wrote. Uson later clarified with an erratum: "In a previous post, I posted Article 263 of PH constitution. It is Section 263 of the Tax Code. However, unlike some VP I know, there was no intent to mislead the people and this was just an honest mistake. Thank you for understanding. And thank you to the DDS who defended my mistake."
#5 Honduran soldiers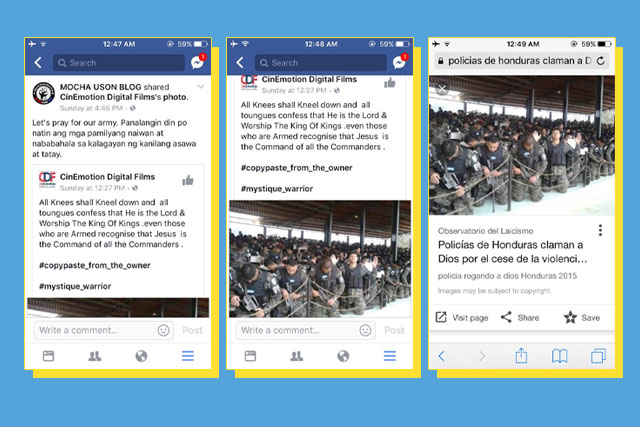 Mocha recently asked for prayers for the soldiers fighting the Maute Group in Marawi. It seemed like a sincere post of soldiers kneeling and praying. But netizens later pointed out that the soldiers in the photo weren't Filipino—they were from Honduras. When asked about it at the hearing earlier, Uson said that she was simply moved by the photo and didn't claim that the soldiers were Filipino. (Yeah, right!)
Recently, Sen. Trillanes filed a cyberlibel case against Uson because she accused him on her blog of having alleged hidden wealth. Trillanes debunked this and filed the complaint to the office of the Ombudsman, noting six criminal and one administrative offenses.
Updates as of Feb. 19, 2020
#7 ABS-CBN shutdown propaganda
When Solicitor General Jose Calida filed a quo warranto to the Supreme Court on Feb. 10 accusing ABS-CBN of alleged unethical business practices and foreign ownership, several pro-Duterte officials and citizens posted "#YesToABSCBNShudown." Uson, an Overseas Workers Welfare Administration (OWWA) official, weighed in with a tweet claiming that ABS-CBN serves oligarchs.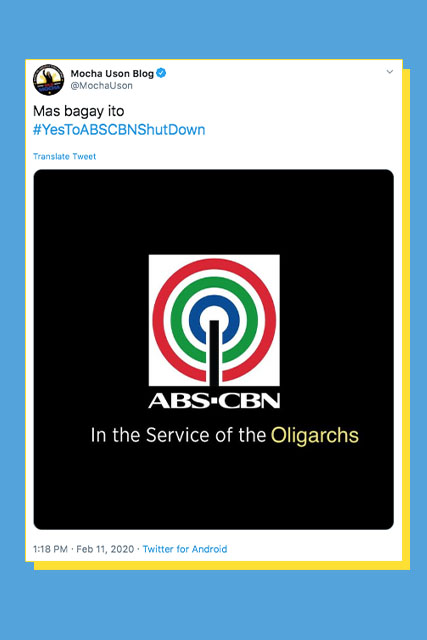 Aside from the fact that Uson's accusation sounds like mere propaganda, she might have forgotten that she's also supporting politicians who came from affluent families like Ilocos Norte Governor Imelda Marcos and former president Gloria Macapagal-Arroyo. Just saying.
#8 "Study Now, NPA Later"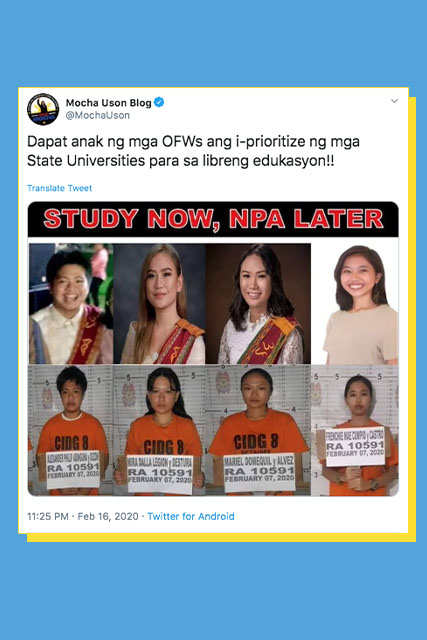 On Feb. 16, 2020, Uson was accused of red-tagging four female students after posting a photo with the caption "Study Now, NPA Later." She also implied that students from state universities are rebels of the New People's Army (NPA), which is a common accusation against the youth who are protesting against the Duterte administration.
Art by Lara Intong and Tricia Guevara
Follow Preen on Facebook, Instagram, Twitter, Snapchat, and Viber
Related stories:
Yes, it's real: Mocha Uson joins Pres. Duterte's communications team
Binibining Pilipinas-International Mariel De Leon summed up all our thoughts about Mocha Uson
Criticize Mocha Uson all you want but don't slut-shame her
Photographer Joseph Pascual calls out Mocha Uson on bashing VP Leni Robredo