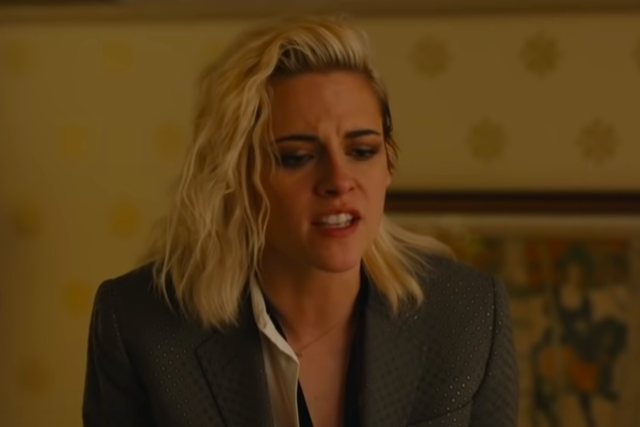 Note: This article contains spoilers.
Let me start off with this: Thank you, Clea DuVall, for giving us the first WLW Christmas romcom. As a queer subversion of the genre, "Happiest Season" carves a space for its lesbian protagonists in the realm of Hallmark Christmas movies where we rarely catch LGBTQIA+ characters get a taste of holiday cheer. It's undoubtedly a win—one that has a lot of people sobbing at the end. However, after proving that LGBTQIA+ narratives can exist within certain romcom tropes, we're hoping that the sequel (which, yes, might actually happen) would be more wary about being pigeonholed by narratives that it wishes to overturn.
The movie has some of the elements of a Nancy Meyers flick, but it's quickly evident that it won't be going in that direction. The film starts off with Abby Holland (Kristen Stewart) and Harper Caldwell (Mackenzie Davis) at a neighborhood Christmas tour. Michelle Buteau, who I wish had a bigger role, has a cameo as the guide. We get a short peek at the dynamic of their relationship: Harper is adventurous while Abby is more laidback. Harper pushes Abby to get out of her comfort zone. (It makes sense that in the animated Hallmark postcards intro, it seems Harper was the one who asked Abby to move in.) The one with the holiday cheer, Harper is also the taller one who slides her feet forward so they can comfortably make out against a wall.
They seem so in love with each other but for the rest of the movie, we're made to question this. Harper invites Abby to spend Christmas Day at her parents' house—forgetting for a minute that she still hasn't come out to them. From there, it's easy to guess how things are going to play out given how closely it follows the typical romcom formula. But with Harper's fear of coming out as a conflict that drives the couple apart, it's almost too high stakes and there aren't enough funny and warm scenes to really cushion the rise and fall of their relationship. 
The circumstances don't really push the all-white wealthy main cast into embarrassing situations; it's Abby who's forced to go through a bunch of hoops for the sake of love as Harper reverts to being a conservative trophy daughter. It's painful to watch successful queer women go into the closet (even for just five days). Harper is a journalist with politics as her beat who starts sporting straight mom-approved outfits as soon as she arrives home. She's not only less hot (sorry! I can't help but notice it when she's beside KStew in all her hot butch glory), she's not herself.
Before meeting Harper's parents, Carnegie Mellon art history grad student Abby already decided to, as her BFF John (Dan Levy) says, undergo the archaic and patriarchal ritual of asking Harper's dad Ted (Victor Garber) for permission to marry his daughter. It's a very real moment that speaks about how some queer folk still want to take part in certain traditions despite their exclusionary roots. However, Abby soon learns that approval from Harper's parents isn't so easy to get.
Micromanaging mom Tipper (Mary Steenburgen) and caricatured oddball sister Jane (co-writer Mary Holland) make Abby feel uncomfortable as soon as the secret couple enters the house. They call Abby an orphan and it's one of the running "gags" that the movie could've done without. It becomes apparent that while the Caldwells highly value reputation, they're not as gracious to people they don't plan on impressing—such as Abby. 
Half of the comedy on "Happiest Season" feels a bit out of touch. In one of the scenes, Abby gets framed for stealing a necklace and gets interrogated by aggressive mall cops. In 2020, threats from uniformed personnel aren't really effective punchlines. We're also asked to laugh at Jane's behavior but I can't help but simply feel bad about her family turning her into an outcast for it (even if this does get addressed later on). A lot of the jokes don't really lessen the blow of the offhand hurtful comments from Harper's parents that are interspersed in the movie. I really wish they wrote in more scenes where we have Harper comforting Abby while they're tucked in bed.
What does work are the performances of comedic actors and fan favorites Levy and Aubrey Plaza. Plaza played well-beloved-by-the-internet Riley, who a lot of people (including the actress herself) believe that Abby should've ended up with instead.
It's hard not to agree with my fellow queers of the internet. Abby and Riley both magnetic and look amazing in suits. They have both gone through similar heartbreaks because of Harper. They had a drink and caught a drag show together. They seem to have the same sense of humor. They have good chemistry and we all want to be in a throuple with them. But Duvall makes a good point (which she delivers via John's tearjerker speech) that, in the end, had me appreciating the reconciliatory movie kiss. John tells Abby, "Everybody's story is different. Just because Harper isn't ready, doesn't mean she doesn't love you." Maybe it isn't fair to say that Harper doesn't deserve to be with Abby when all we really get to see is Harper at her lowest point. 
People who take time to come out deserve a happy ending too. Davis masterfully brought out her character's desperation in her immediate denial and her vulnerability when she finally came out. Harper was in a difficult position, one that can be hard to feel compassionate with, when you've already gone through the hurdle of coming out or if your personal hurdle wasn't that high to begin with. There's no such thing as too late when it comes to coming out. 
I admit that I wish Abby was given some time to process what happened before fate decided that they should have coffee together and get back together (think "The Break-Up" but less heartbreaking). But what's a Christmas without even the smallest of miracles? Holidays are about forgiveness, love and happiness. Who am I to begrudge my fellow queers of that? But my fingers are definitely crossed for a gay Yuletide sequel where Riley gets her own fiancé and married Harbey's troubles are just normal domestic woes. If the existing romcom tropes don't go well with this narrative, maybe we don't have to depend on them too much.
Photo screengrabbed from the "Happiest Season" trailer
Follow Preen on Facebook, Instagram, Twitter, YouTube and Viber
Related Stories:
LOOK: We got visuals on KStew and Mackenzie Davis' gay Christmas
Kristen Stewart was my gay awakening
5 WLW POC films to decolonize your queer watch list
Here are the essential feel-good WLW films worthy of a marathon