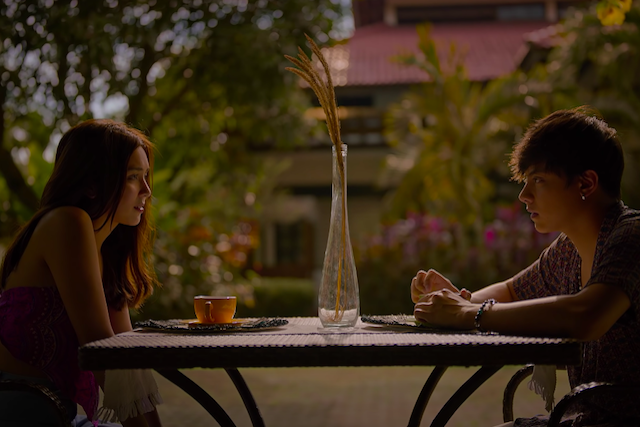 Is anybody cutting onions? My eyes are getting slightly watery after watching Ben&Ben's new music video for their single titled "Sa Susunod na Habang Buhay."
The nine-piece folk-pop band has finally premiered the video starring Kathryn Bernardo and Daniel Padilla as a couple stuck in a time loop. "Palagi akong nananaginip. At pag-gising ko, para akong nagluluksa para sa pagmamahal na di ko pa naman nahanap," says Padilla at the beginning of the video. You instantly know you're in for a little heartache. Match that with Ben&Ben's gut-wrenching lyrics and you have a recipe for a cryfest. 
At its helm are director Jorel Lising (who also worked on the band's "Pagtingin," "Masyado Pang Maaga" and "Nakikinig Ka Ba Sa Akin" MVs) and actor-writer Juan Miguel Severo. For those of you who are still trying to wrap your head around what it's actually about, their team confirms that the narrative follows "two lovers who have lost and found each other in a fated cycle of events." Yes, you can say it with us: KathNiel soulmates.
We get to see the real-life couple walking on a beach, getting cozy in their seaside home as well as…holding a pair of baby shoes and a crib carousel? While we didn't see an actual baby on the MV, the thought of married KathNiel being torn apart is enough to make us a little emo. 
According to Severo, working with a song about the "possibility of another life to succeed in love" inspired him to create a reincarnation story similar to his screenplay for "Hintayan ng Langit" which explored the concept of eternal romance in the afterlife. 
"Then it hit me, what about a couple stuck in a time loop?" Severo said. "What if every time one dies, they go back to their first date with one of them carrying memories from their previous run? It took the band, Direk, and I a couple of zoom calls, brainstorming ideas to compound on that concept and get everything laid out before I presented it to KathNiel."
Lising helped mold the non-linear, fragmented storytelling that we can't help but compare with "Eternal Sunshine of the Spotless Mind" and "Comet." The director said, "It all comes from the content of the song—it's a strong piece that speaks about love lost and an intense sense of longing, so the process of developing the treatment and Severo's script came from that. The challenge for us was to maximize the emotion based on that kind of narrative."
For those who are wondering how they all ended up working together,  co-vocalist and guitarist Miguel Benjamin was more than happy to explain. "About two months ago, an interesting exchange came up while our keyboardist Patricia Lasaten was working on the music of Juan Miguel Severo's 'Gaya Sa Pelikula,'" said Benjamin. "As a way of showing appreciation when we offered our song 'Ride Home' to the series, Juan Miguel graciously offered us in return to write a script for the 'Sa Susunod Na Habang Buhay' MV, and pitch it to KathNiel, as they are good friends. We pushed through, and to our surprise, they loved both the idea of working with all of us and the script. This was a big thing for us because we never expected that these great artists would be open to doing a music video with us, given their stature and busy schedules." Ben&Ben, thank you for gifting us more KathNiel content this Christmas.
Photo screengrabbed from the "Sa Susunod na Habang Buhay" music video
Follow Preen on Facebook, Instagram, Twitter, YouTube and Viber
Related Stories:
Kathniel under one roof? Thank 'The House Arrest of Us'
The evil has been defeated: KathNiel fans fight back against online trolls
Ben&Ben's new single 'Di Ka Sayang' is a pop-rock empowerment anthem
Juan Miguel Severo pins down systemic homophobia as the enemy in casting queer actors