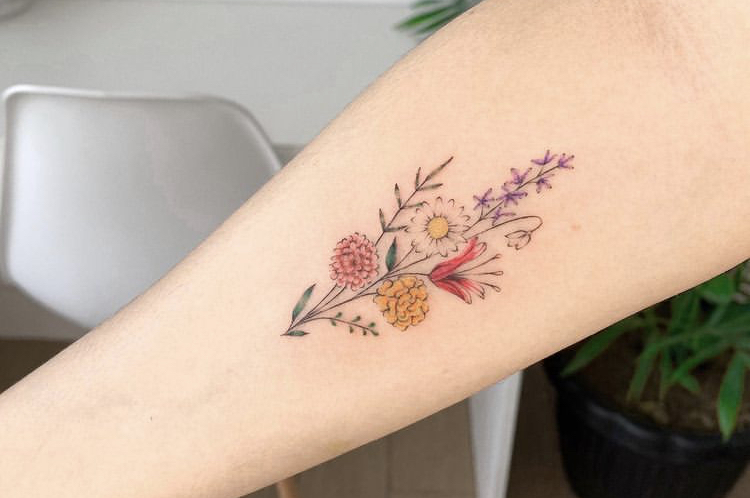 One of the tattoo artists whose work caught wide attention this year is Eloise of Siningtinta, known for her intricate line tattoo designs. Eloise commits to making tattoos accessible in terms of cost and in ensuring that her studio remains a safe space for women. Beyond tattoos, Eloise is also transforming her space into an empowering outlet for women artists who use different mediums. 
Eloise says her studio started as a personal passion project. "It was never in my immediate dreams to be a tattoo artist. In May 2019, I just had the most impulsive idea brought about by the stress: I wanted a tattoo. But I'm a student, dependent on my middle-class student allowance; I can't afford tattoos. So I thought, why not buy a cheap low-grade tattoo machine instead," the 21-year-old tattoo artist recalls of her humble beginnings. This experience also shaped her thinking that her art should be accessible, especially in terms of price. 
As a student, Eloise mentions that it's difficult to juggle her time between tattooing and studying. "I pattern my work schedule after my school schedule; that's not to say that I have priorities because both are." Eloise says she doesn't get proper rest because she uses her breaks in the studio to go back to doing schoolwork or replying to inquiries. "I recently developed a website for Siningtinta for a more organized booking and commission system. It honestly relieved me from a chunk of manual workload," she says. She shares that she dreams of becoming a teacher in rural communities in Leyte, which is why she can't simply give up on studying. 
View this post on Instagram
The pandemic affected the tattoo scene, especially when tattooing requires the artist and the customer to be in close contact. Eloise originally thought that she'll have less customers because of this situation, but that wasn't the case. Apparently, getting inked was a popular way for people to cope during these times, at least for her clients. 
Despite the changes in terms of protocols and Eloise's frustrations with the government's apparent mishandling of the pandemic (which affected a lot of small businesses), she continues to at least make her studio a safe space for her customers. "By having a women-artists-only studio, we're reclaiming the spaces taken from us by traditional society. In the process, we're empowering the disempowered. Another factor to this is the alarming confessions of women clients feeling unsafe, intimidated or vulnerable, and even harassed by their previous male artists. The point is not to dishonor male artists. It's to provide a space free of this kind of threat. Inking and getting inked is an intimate and a very personal and connecting process, it should not feel otherwise," the young tattoo artist says. 
Recently, Eloise collaborated with Ally Campollo, a guest tattoo artist in her studio. "The world of Philippine tattoos is a man's world, so scouting wasn't easy. Ally was one of the first women artists I found [whose work was] in line with how I wanted Siningtinta to be. She is empowered with what she does as an artist, loves inking and is also making sure the art is accessible to everyone," Eloise says of Campollo's works. 
View this post on Instagram
Aside from collaborating with other women who ink, Eloise's studio is also a space for women artists of different mediums to market their products. This decision was "fueled by my love for slow art, especially local artistry and products," says Eloise. Handcrafted pieces made by Celine Tabinga of Mini Kartel will be arriving in her studio by January 2021. Tabinga was Eloise's previous client who gave her one of her handmade clay pins. 
"Mini Kartel is home to playfully absurd and funky handmade clay pieces like ashtrays, mini plant pots, clay brooches, pencil holders, and a bunch of other trinkets! It's a young brand with fresh and odd ideas that aim to bring strange but adorable creatures into your space," says Tabinga. 
View this post on Instagram
Watercolor artist Joannie Candi's works will also be displayed in Eloise's space. "I'm a professional artist who does calligraphy and painting full time. Sharing my art and creativity is one of my greatest goals in life. People should know about its major contribution to our wellbeing in this time of crisis and isolation," says the artist behind Water Song Lei Art. Candi's works will be available for viewing in the studio and will also be sold by the end of the year. 
View this post on Instagram
Aside from visual work, literary pieces by Camille Pilar will be joining Eloise's hub in Maginhawa, Quezon City. Pilar's pieces would be used as flash designs or text designs when tattooing. "Surfing taught me how to read waves and writing has always been my way of riding words. Today, I write in all the ways that I can write— stories, long Instagram captions, and love letters to where I live," says Pilar who is based in La Union, and is one of the women behind one of the coolest spots in the area, Clean Beach. Pilar adds, "Writing has been my own way of freezing time and space. When I read something I wrote in the past, I am taken back to the day I wrote it and  am re-introduced to a young-yet-old version of me." 
Eloise, whose hometown is in Leyte, says that she's always been fond of Pilar's written pieces even before Siningtinta existed., "Her works have always resonated with me and I feel the same way with how her craft/work is inspired by her home. I especially love her "#writingtrue" series—at  a time when what we do is driven by the requisites of a fast paced world, we reclaim the spaces for art and writing by reconnecting with the raw joy in our pursuits," explains the tattoo artist.
View this post on Instagram
Siningtinta is still a growing space for women artists and artisans. "The goal is to be a safe and empowering space and it is a work in progress. We're eyeing to connect with and support more local artists and artisans, and women tattooists outside the metropolitan and across the country," says Eloise.  
Schedule a tattoo session with Siningtinta through their website.
Photo courtesy of Siningtinta's instagram
Related stories:
These IG accounts are giving me inspiration for my post-quarantine tattoo
Want new ink? Get a hand-poked tattoo
Tattoos, momhood, and spirituality: The curious world of Wiji Lacsamana
These Filipino illustrators launched a font with native flora for a cause