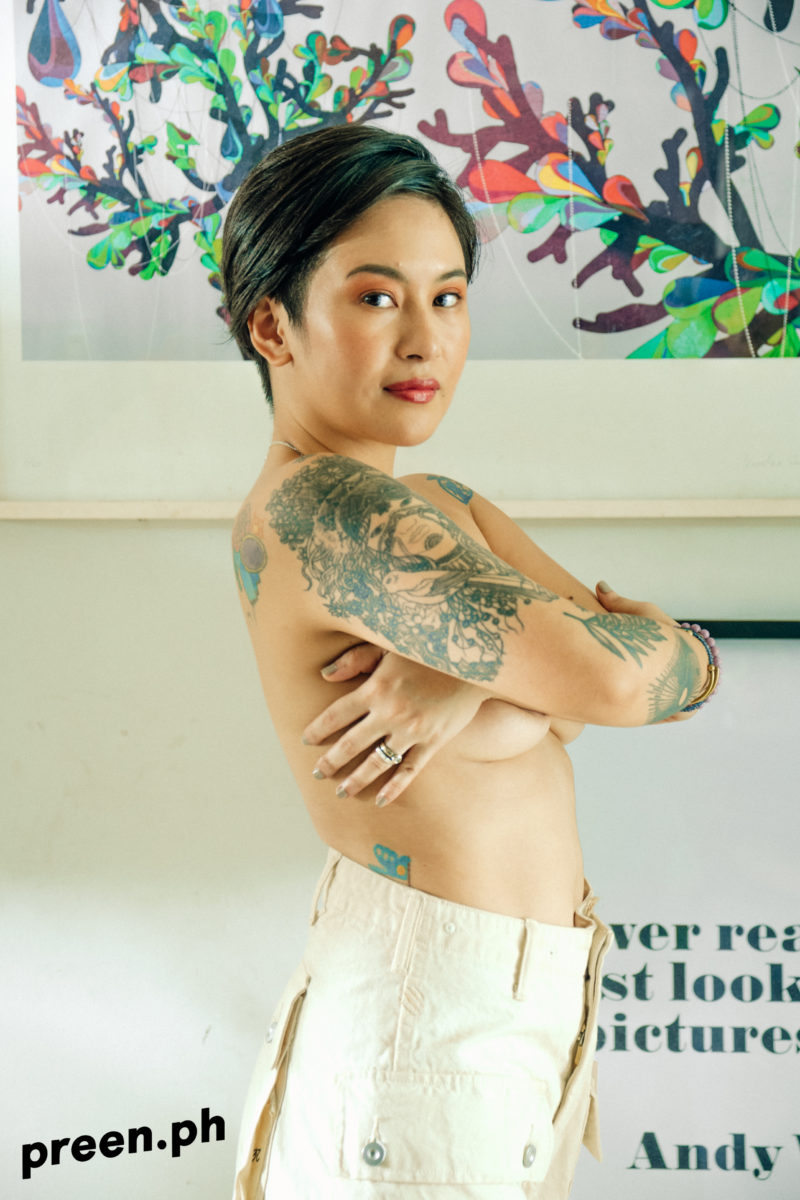 I know I will never be able to fully capture it. But all the same, allow me to try and paint a picture of Wiji Lacsamana. At barely five feet, Wiji is shorter than what I initially thought…but a lot more interesting than what I expected. And that says a lot 'cause I had high expectations. Living with her in her homey abode, filled with lots of natural light and plants, are her husband, four-year-old son, a pet pig named Pinkerton, and Bowie the cat who, we kid you not, could pass as the double of the grumpy cat meme. She's also got the skull of her first dog in her studio. A couple of art works—hers and other artists she admires—line the walls of her living room and studio. Based on the music playing when we were there, she's a Mac Miller fan. Oh, she definitely exudes youthful energy, no matter how much she refers to herself as a "tita."
When asked to introduce herself, she simply went with "tattoo artist." While that's true, that doesn't even begin to sum up who Wiji really is. More than that, she's a wonderful and doting mom, an illustrator, and a published author of Tiny Universe, a visual-heavy book which captures her spirituality through her own art.
Also: contrary to what most would think, her background isn't in the arts. She's actually a political science graduate from De La Salle University, and even taught politics and governance in her alma mater for a term. "I kept switching jobs until I stumbled upon tattooing," she told us casually. But there wasn't anything casual about her "love affair" with tattoos.
Her "meet-cute" with her calling is one for the books. It happened at a friend's birthday party, where she and other guests were asked to hang at a friend's tattoo shop. Before she knew it, she was holding a tattoo equipment, guided by her soon-to-be mentor, Jun Depasupil, and about to permanently ink her friend's back without prior experience whatsoever with the craft. "As soon as I did that first line on him, it was like love at first sight. Or when you surf for the first time. It was like 'Oh, this was a vocation, a calling feels like,'" she told us.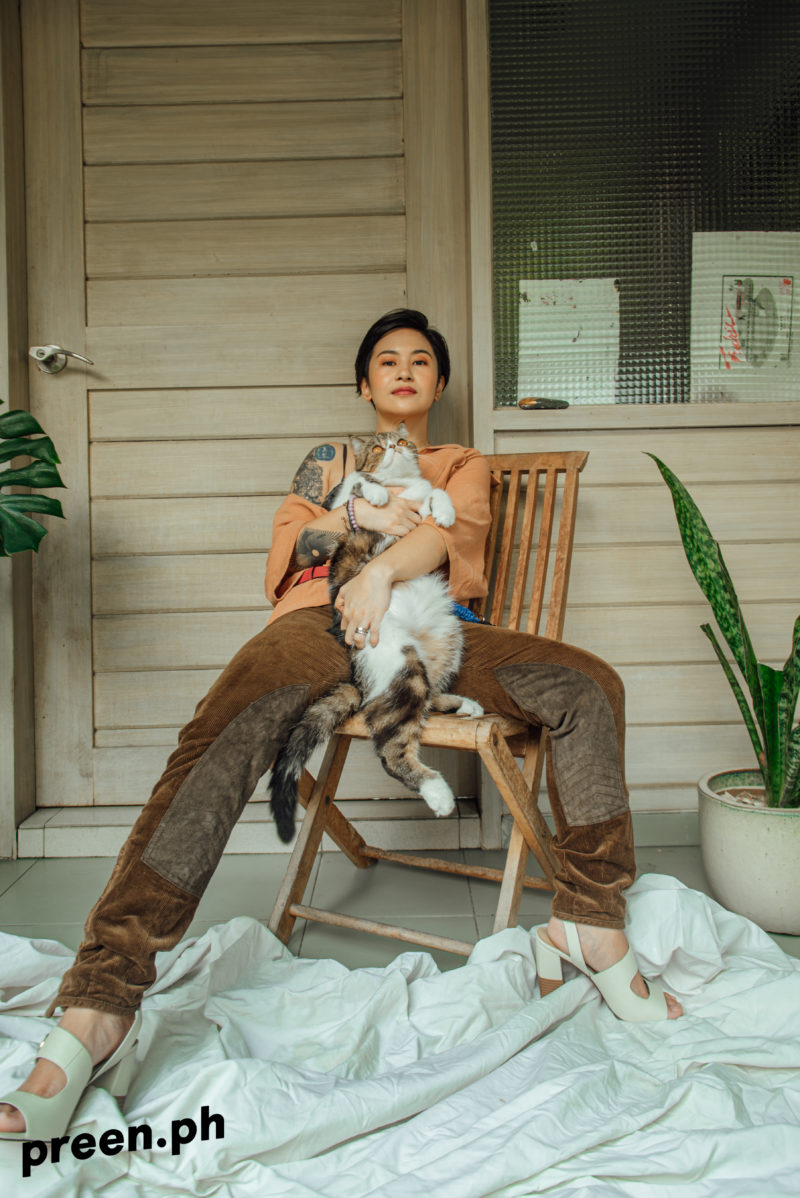 And like any love story, Wiji was hooked. "I went home that night, I couldn't stop thinking about tattooing. I woke up the following day, as soon as I opened my eyes, I texted Jun if he would take me in as an apprentice." When she didn't get a response, she texted him again a week later, to which he then replied, "you passed the first test." And that was how it started.
Ten years after that fateful night, Wiji is now one of the most recognizable names in the local tattoo industry. She is especially known for her unique style: her trademark tattoos are pastel and flowy, like the watercolor art she has become adept in as an illustrator, way before she started tattooing.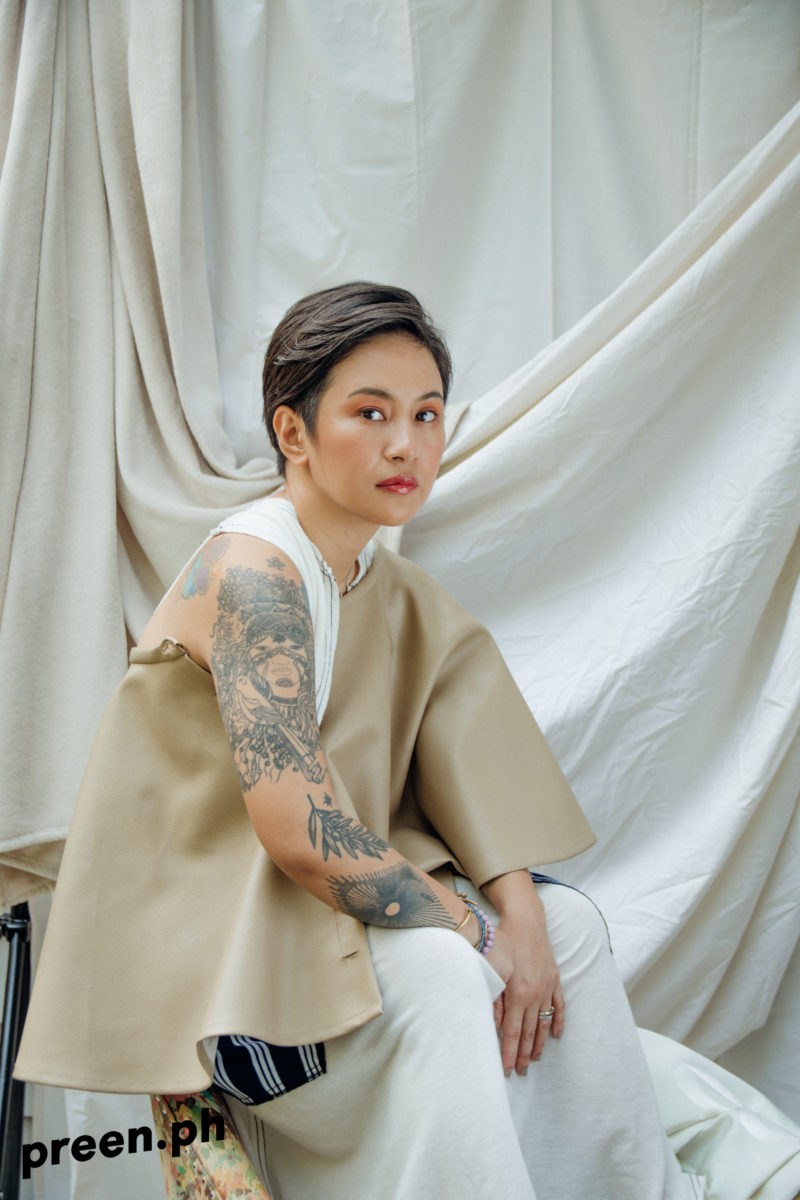 But getting there was not easy. When she started in 2009, there was basically no artist who matches her style whom she could approach. So after mastering the basic techniques and skills from her mentor, she turned to experimenting. She had no choice. "For watercolor tattoos, I kinda had to just find friends who were willing to be practiced on because paper and skin are obviously very different mediums and textures, so I had to learn how to translate it to skin through willing friends," she said.
That wasn't the only struggle she faced. After all, it wasn't like she was taking on tattoos merely as a hobby. No, it wasn't mere infatuation. She had decided tattoos was it for her—despite the risks. "The first year, you're gonna be broke for sure. You're gonna be investing in a lot of equipment, and obviously, skill," she said, recounting her greatest challenges upon starting out. "The thing about learning new skill set is, you have to devote a lot of time into it. And so that's the struggle—learning to survive with the limited skills you have, cause you're still learning."
And through the years, Wiji has witnessed many different changes in the local tattoo scene. Aside from new emerging styles, she said there is now a wide variety of clients she tattoos. "A couple of weeks ago, I tattooed a priest. And that's the second priest I've tattooed," she revealed. "I've also tattooed numerous doctors, lawyers, BIR people."
In terms of the people inside the industry, she said, "A lot of women are now tattooing, which is fantastic. And I feel like it's a very positive community, in terms of female camaraderie. We're all very supportive of each other. We get to talk to each other when we have questions about tattooing and I like that a lot." She said she's lucky the local tattoo scene is a great industry for a woman to be in—at least according to her experience. "Everybody was super helpful, especially when I was starting out. A lot of the older tattoo artists were willing to teach what they knew."
But even though the community has been accepting, she acknowledges the stigma on tattooed women still exists today. "Walking down the street, you know. There's bound to be someone who will stare at you." She particularly cited the older generation. "Their stares are kinda… like you really feel it," she said. "I've learned to ignore it or laugh it off or when someone stares, I'd be like, 'Okay ba?' and they look away. You learn to deal with these things."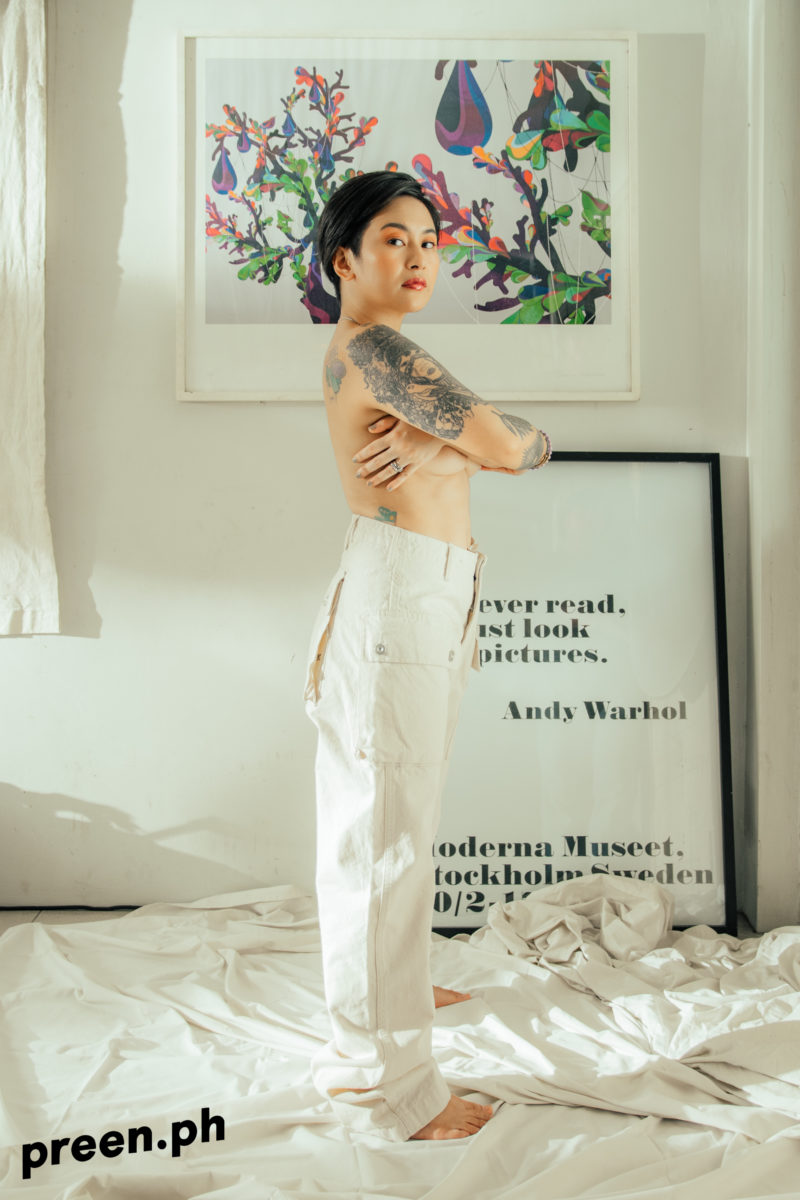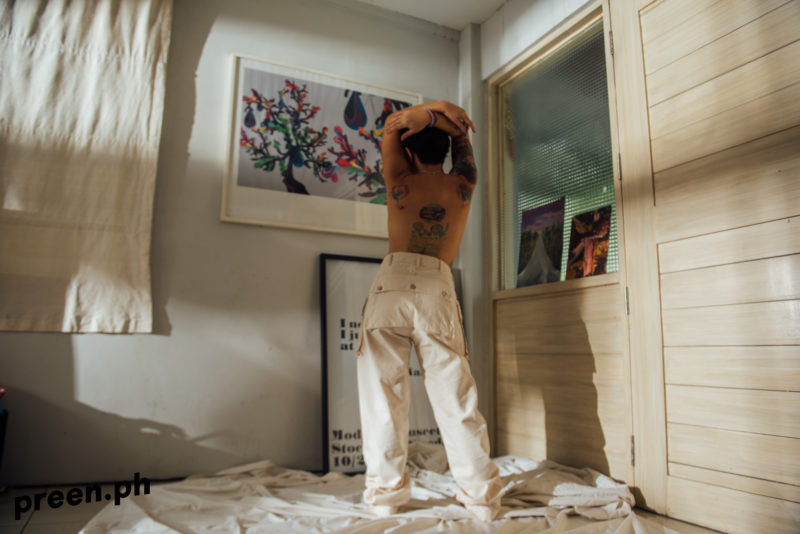 That's not the only thing she's learned through the art of tattoos. On the bright side, she told us, "One of my favorite things about tattooing is that I've learned so much about humanity. It's helped me grow artistically, yes, but also as a person." She explained, "Tattoos are very healing. People come to me because they're either celebrating something, or trying to remember something, or trying to forget something. And it's a release for them." She added she actually feels like a bartender most of the time. "It's a very intimate process. We're together, we're touching for extended amounts of time, and people tend to share a lot of what they're going through with me and so that has helped me change the way I see the world from different perspectives."
Of course, Wiji understands the true healing power of tattoos. She has several on her own skin. This time, she's the one who opens up to us by explaining her own tattoos. Oh, and she's got tips for first-timers too. Watch the video below:
Photos by JP Talapian
Creative direction by Tricia Guevara
Styled by Meg Manzano
Produced by Bea del Rio
Hair and makeup by Dorothy Mamalio
Video by JP Talapian and Javier Lobregat
Audio by Tricia Guevara
For the latest in culture, fashion, beauty, and celebrities, subscribe to our weekly newsletter here 
Follow Preen on Facebook, Instagram, Twitter, YouTube, and Viber
Related stories:
We feel inspired by these women with tattoos
This is how you take care of your tattoos
Instagram artists to stalk if you're looking for minimalist tattoo inspos
The process of getting a watercolor tattoo is painful, but worth it