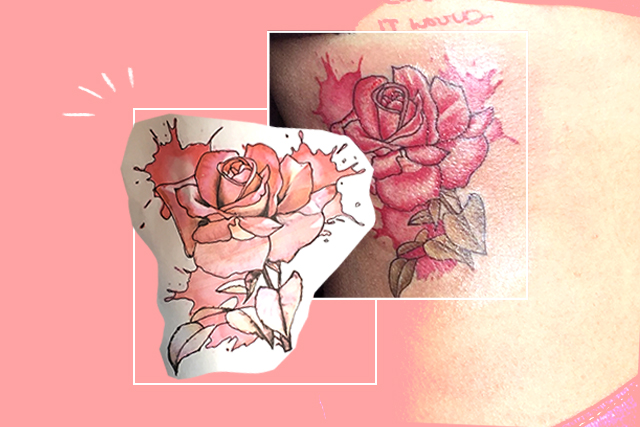 Way before I even got my first ink in 2015, people have been obsessing over watercolor tattoos. This is a freeform style that mimics the effect of—you guessed it—watercolor paintings, creating a bold and unique effect. Many have black outlines that are emphasized with color, while others are made purely with color and white ink highlights.
Naturally, this trended quickly among people who've either wanted to get a tattoo, or just want to look at the artistry of it. It's still a popular style choice until now and I only know a few studios and artists that really specialize in watercolor tattoos here in Metro Manila. For me, it wasn't easy to think of the right design, size, placement, and budget (colored tattoos aren't cheap, you know).
It took me three years and 11 tattoos to finally book an appointment. I didn't want to end 2018 and pass up the opportunity again.
The design I chose is a red rose, which is one of my favorite flowers. That's also the reason why I was such a perfectionist about how it'd look like. Since I can't exactly draw and take a photo off of the Internet, I asked Arte Tattoo to customize a watercolor design for me since they're known for their floral work.
https://www.instagram.com/p/Bj4hunogo5w/
The initial result was a vibrant rose with red splatters in the background. It really looked like a painting that didn't have prominent outlines. At first, my boyfriend suggested to change the color of the background so the rose would stand out more, but I couldn't think of an alternative because I thought it looked great already.
When I went to Arte Tattoo's studio in Parañaque, my artist, Jun, helped me figure out how to make the rose pop. Instead of the original design which was purely watercolor-style, he asked if I wanted black outlines to separate the flower to the paint splatter. I said yes and, of course, had to endure around 30 minutes of piercing pain on my rib cage area. Ouch.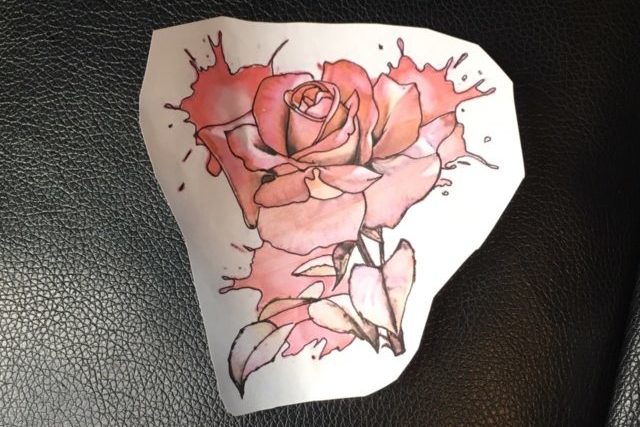 After the black lining, Jun did the red background first then used the same color for the rose, he just added white to create highlights. A little green was used as well for the stem and leaves. It was a 45-minute to one hour process but the wait (and pain) was worth it.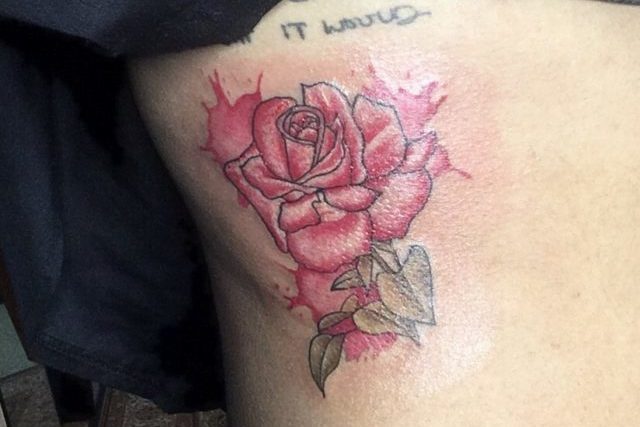 The tattoo isn't fully healed yet since I just got it last Saturday (Dec. 22). I can't wait until it is so the colors would be even more eye-catching. Right now, I'm focused on getting it cleaned and moisturized every day as an after-care procedure.
If you want to get your own watercolor tattoo, just two things you need to remember:
1. Have a clear vision of what design you want and where you want it placed. Check Instagram accounts for an idea but don't copy the designs. More importantly, go have fun with the colors! You have a whole spectrum to choose from.
2. Prepare your budget. The estimate price for such pieces can be P3,000 to P4,000 at minimum, depending on your design and the studio where you're getting it done.
So, are you getting one in 2019? Let us know!
Art by Marian Hukom
Photo inserts by Jacqueline Arias
For the latest in culture, fashion, beauty, and celebrities, subscribe to our weekly newsletter here
Follow Preen on Facebook, Instagram, Twitter, YouTube, and Viber
Related stories:
I got the daintiest tattoo in Seoul, Korea
Instagram artists to stalk if you're looking for minimalist tattoo inspos
The moment Pete Davidson realized couple tattoos were a bad idea
Tattoos, women, and slut-shaming: Why does it happen anyway?