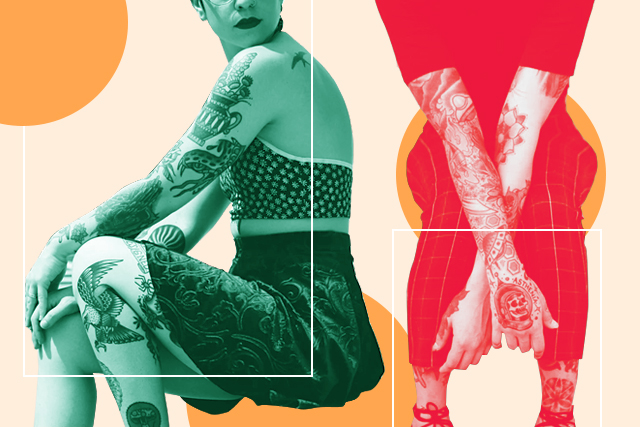 As someone who has several tattoos, I've heard a few backhanded comments about my decision to get inked. The common one mostly revolves around the fact I "dirtied" my skin. I'm sure others also got this comment—sometimes even before they book an appointment for their first session.
Women, particularly, are judged unfairly when they have tattoos. The stereotype is if we get one, we are no longer "pure-looking," or we are automatically perceived as "sluts" for some reason. Meanwhile, when guys get tattoos, they're badasses. We beg to disagree because women are beautiful and can be badass too—their tattoos don't diminish their worth.
READ MORE: Tattoos, women, and slut-shaming: Why does it happen anyway?
That said, there are several tattooed women on Instagram you can follow for design inspiration. Or, you know, if you just want to fill your feed with people with art on their bodies. Check out our list below and hit that Follow button.
Dennese Delaney
Dennese is a tattoo artist based in Manila (if you want to get a tattoo done by her, she has a private studio). She's known for her colorful illustrations and tattoos—many of her works remind me of cherubs and women in Greek paintings. She rarely posts photos of herself on her account, but when she does, you'll see the colorful ink on her arm and a glimpse of her neck tattoo.
Alysha Nett
I talked about Alysha a bit in a previous Preen Picks. She is a model who's known for her tattoos and her photography work. My personal favorite ink on her is the portrait of Audrey Hepburn on her thigh and the bedazzled shoulder pad on her shoulder (duh). If you want to see her talk about all her tattoos, she made a vlog about it.
https://www.instagram.com/p/BumLvwCFFn9/
Patty Tiu
If you've been to a party with Patty as DJ, you've probably seen her many tattoos on her arms, chest, and back (the wings on her shoulder blades though!). Aside from tattoos, you can also follow her to find out where she's playing on days. (Or just party vicariously through her Instagram account.)
Hannah Pixie Snow
This UK-based tattoo artist is covered in ink from her torso down to her legs. What I love about her account is she shares her personal and professional life as candidly as possible. The best ones are when she showcases her talent in freestyle sketching on her clients' skin. Also, if you think she doesn't have any more space for new tattoos, you're wrong—she just got new ones.
Kristen Leanne
Kristen Leanne is one of the few popular beauty vloggers who's known for her tattoos. Just like most of her makeup looks, her inks are colorful, especially the huge piece on her back. Of course, if you're watching a tutorial of hers, you'll mostly notice the green flower of life pattern on her neck.
Mia Claravall-Reyes
Mia is a tattoo artist from Chronic Tattoo x Culture. She's known for her black and white works, and her clients include Jess Connelly and Jane Oineza. She's also a cool mom of two with a colorful arm sleeve and a penchant for streetwear. If you want to have her do your tattoo, you can check out her IG for inquiries.
Art by Marian Hukom
For the latest in culture, fashion, beauty, and celebrities, subscribe to our weekly newsletter here  
Follow Preen on Facebook, Instagram, Twitter, YouTube, and Viber
Related stories:
This is how you take care of your tattoos
The tattoos you need if you have commitment issues
The process of getting a watercolor tattoo is painful, but worth it
I got the daintiest tattoo in Seoul, Korea