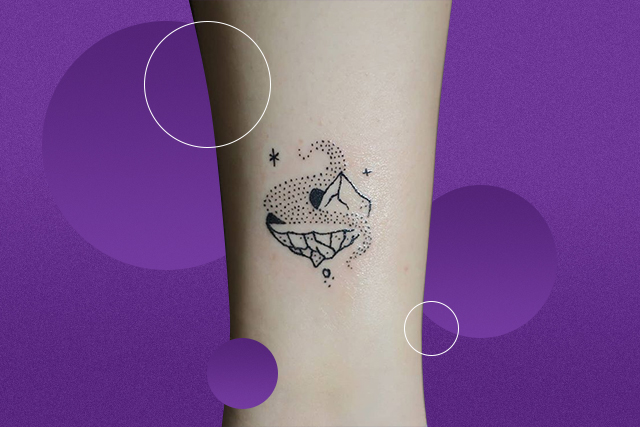 The tattoo designs we're used to are the ones done with a machine. But recently, many have been looking for shops and artists that do hand-poked tattoos.
How are they different from machine tattoos? Also known as "stick and poke," this procedure has the artist manually pushing the needle into the skin to deposit the pigment ink. Stylecaster notes the needle will go just as deep as a tattoo machine, and will give you the same permanence. This will also take longer to do depending on the size and the design. But unlike machine tattoos, hand-poked ink is said to heal faster because it's less invasive, meaning it doesn't hurt as much.
Of course, you also need to be careful when choosing where to get your hand-poke tattoos and ensure artists are using sterilized needles. Once you find the right place, all you need to is to talk to your artist about the design you want and schedule an appointment.
We're also helping you out and listed down some artists you can put on speed dial.
@misspokestattoo
Chelsi, aka @misspokestattoo, is known for her minimalist line and dot work. She can do small tattoos, dainty lettering, and shaded tattoos in black and white or colored ink. You can check her Instagram Highlights on how to book an appointment, as well as promos and flash designs.
Maharlika Handpoke Tattoo 
Tattoo artist Ezekiel Oclaray runs Maharlika Handpoke. The shop is known for doing baybayin (indigenous Filipino script) deisgns. If you're looking to get a handpoked tattoo here, make sure you write down the phrase, word, or name you want so you can have it translated. For inquiries and bookings, check Maharlika's Instagram Highlights.
@alishainks
If you want clean line work with a pop of color, check out @alishainks' works. For prices and bookings, you can DM her on Instagram.
@venusveritas
https://www.instagram.com/p/B1k0nExplUK/
For bigger and more intricate designs, @venusveritas is your gal. She can do florals, plants, and mandala tattoos. You can also collaborate with her on a customized design. Be sure to keep checking her Instagram page for updates on her next free dates.
@haliya.pokes 
Haliya started just last July and so far, their designs are all line work with shading. They also have flash designs available on their Instagram Highlights. For inquiries and booking, shoot them a quick DM.
Art by Tricia Guevara
For the latest in culture, fashion, beauty, and celebrities, subscribe to our weekly newsletter here  
Follow Preen on Facebook, Instagram, Twitter, YouTube, and Viber
Related stories:
Tattoos, momhood, and spirituality: The curious world of Wiji Lacsamana
We feel inspired by these women with tattoos
The process of getting a watercolor tattoo is painful, but worth it
This is how you take care of your tattoos