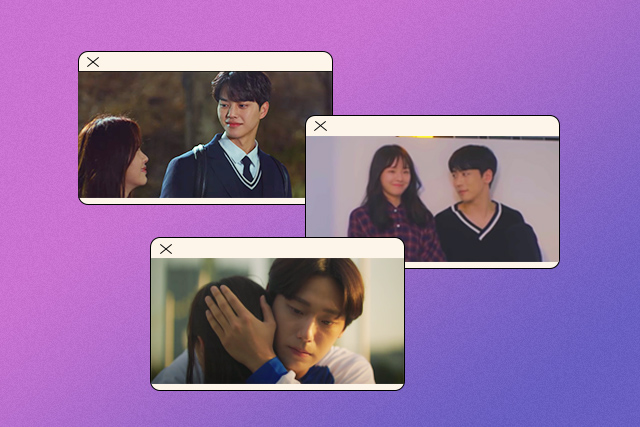 After bingeing K-drama "Sweet Home" on Netflix, I'm convinced that I can survive an apocalypse with bloodthirsty monsters if I'm locked in with hot people.
Yes, I know, it's not just the eye-candy that had us hooked on the show. It also boasts of great performances, intense fight scenes, horrific (in the best way) monsters, an ominous-looking set, a packed storyline, and (funnily enough) an LSS-inducing track from Imagine Dragons. It easily claimed the top spot of my fave series adapted from a webtoon and I'm one of the many fans who are hoping that it gets renewed for a second season soon.
If you're nursing a "Sweet Home" hangover just like me, I'm inviting you to binge these shows featuring its cast members. 
Song Kang in "Love Alarm"
One of the first thoughts I had while watching the show was, "I really hope Hyun-soo cuts his hair soon and heals from his trauma." Willing to make sacrifices for others and sexy in monster form, Hyun-soo was just doing his best but the plot wasn't giving him a break. If you want to see (a more fashionable) Song Kang in a less difficult sitch, the love triangle romance "Love Alarm" is the treat you're looking for.
Kang plays Hwang Sun-oh, a model from a rich family who falls for the same girl his best friend is crushing on. The twist? They live in a world where an application notifies you when someone within a 10-meter radius has romantic feelings for you. Its second season is slated to be released this year.
You might also want to check out the movie "Beautiful Vampire" where Kang stars as a guy who falls in love with a 500-year-old vampire trying to survive on animal blood. Yup, he's basically Bella Swan here.
Lee Do-hyun in "18 Again"
Medical student turned appointed leader of Green Home apartment survivors Lee Eun-hyuk is the type of person that you just want to grab by the shoulders and shake. Level-headed but conniving, Lee Do-hyun's character often views people as his pawns. In K-drama "18 Again," Lee's role is entirely different while still giving off some old man vibes.
He plays Hong Dae-young, a 37-year-old who miraculously gets his 18-year-old bod again after he makes a wish to turn back time and save his crumbling marriage. Yes, just like Zac Efron on "17 Again." You can also catch (and cry over) him on "Hotel Del Luna" as royal guard captain Go Chung-myung who stood by Jang Man-wol's (IU) side. 
Park Gyu-young in "Miss Independent Ji-eun"
Bat-wielding bassist Yoon Ji-Su is the character that had me shedding the most tears on the show. Losing the person you love just when they finished confessing feelings for you? Mega rough. It made me feel even more protective of my badass fave.
If you want a break from angst, check out Park Gyu-young as the titular character on slice-of-life K-drama "Miss Independent Ji-eun." Ji-eun is a 24-year-old who has just entered the workforce and we accompany her as she makes important life decisions and adulting in general.
You probably also remember her as Nam Ju-ri who's harboring an unrequited crush on Moon Gang-tae (Kim Soo‑hyun) in "It's Okay to Not Be Okay."
Lee Si-young in "Liver or Die"
Who else screamed when former firefighter looking for her missing fiancé Seo Yi-kyeong revealed her abs during her escape from a giant spider monster? She's got both brains and brawn, making her one of the show's MVPs. Former amateur boxer Lee Si-young doesn't only take toughie roles though. On family dramedy "Liver or Die," she takes on the role of a shopaholic troublemaker.
She plays the family black sheep Lee Hwa-sang, the younger sister of a lonely man who has dedicated his life to his siblings and is now in need of a liver transplant after being diagnosed with cancer. But if you want to see her roughing up some more bad guys, she does exactly that (in red heels!) in the movie "No Mercy." 
Go Min-si in "Secret Boutique"
Love her or hate her, you can't deny that abrasive former ballerina Lee Eun-yoo added spice to the show. As the love interest of Hyun-soo and sister to Eun-hyuk, the character has a lot of potential to be a major player should there be a second season. Go Min-si doesn't really go for the goody-two-shoes roles and I'm not complaining. In 2019, she won "Best New Actress" at the SBS Drama Awards for her performance in K-drama "Secret Boutique."
She plays Lee Hyun-ji, a baduk (a strategy game that is also referred to as Go) player who gets dragged into a secret network that solves the problems of the upper class. The show is full of double-crossers who keep us on our toes. I also recommend catching her alongside Kim Da-mi ("Itaewon Class") and Choi Woo-sik ("Parasite") on the supernatural action flick "The Witch: Part 1. The Subversion."
Lee Jin-wook in "Voice 3"
The enigmatic and misunderstood Pyeon Sang-wook whom residents mistake as a gangster is another character who won my heart. He's unstoppable (or so we were made to believe) like "The Terminator" and he's out to deal justice. If you want to see more of him in action, procedural thriller K-drama "Voice 3" is right down your alley.
The show follows the lives of people who work in a 112 emergency call center and dispatch team fighting an international cartel. He plays dispatch team leader Do Kang-u who's able to tap into the minds of criminals. But if you'd like to see his range, watch him fall in love with his BFF for the past 17 years in the romantic K-drama "The Time We Were Not in Love."
Art by Jan Cardasto
Follow Preen on Facebook, Instagram, Twitter, YouTube and Viber
Related Stories:
Which K-dramas reigned supreme in 2020? We've ranked them
K-dramas you shouldn't miss this October
Out of this world K-dramas you need to watch
Choi Woo-sik Hallyuwood films you shouldn't miss out on