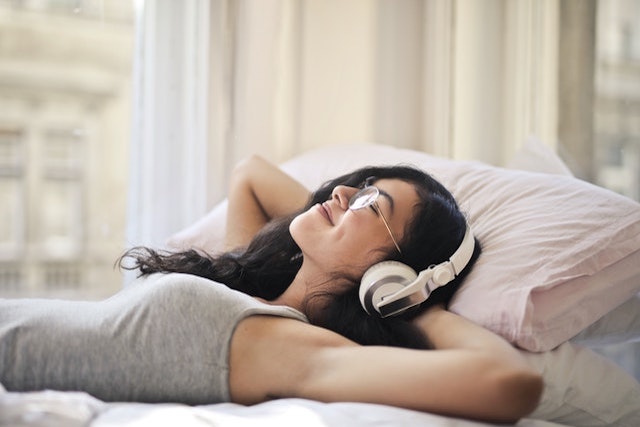 There's something about the summer heat and longer days that get me in the mood for podcasts. Of course, I'd rather listen to them on the way to meet up with friends for drinks or to attend an outdoor affair, but listening to them at home is comforting too.
If you're on the lookout for more local podcasts or are just starting to build the habit of listening to them (adulting things, am I right?), here are some new offerings from Spotify Studios featuring Filipino creators.
"Huwag 'Tong Makakalabas"
In partnership with Globe Studios, writer and spoken word artist Juan Miguel Severo is sharing his unsent letters, essays, stories and poems in "Huwag 'Tong Makakalabas." It gets pretty intimate and Severo likens it to entrusting his journals to a friend. It's an exercise in vulnerability and embracing the past. Would you do it too, given the chance?
In the episode titled "Si Diether Ocampo at ang Pag-ibig na 'Di Nasusuklian," Severo shares a journal entry that he wrote on Nov. 7, 2008. After watching the finale of the teleserye "Iisa Pa Lamang" (spoiler alert: Claudine Baretto ended up with Gabby Concepcion), he contemplates how Ocampo's roles peg him as the "2000's poster boy for unrequited love."
"Between Us Queens"
You can probably guess from the title that this podcast, created in partnership with the Trypod Network, stars Filipina beauty queens. Former Miss Universe Pia Wurtzbach, former Miss Intercontinental Carla Lizardo and former Miss International Bianca Guidotti get together and get candid about topics ranging from breakups to PMS.
On the "Between us Queens, kailan dapat magpakasal?" episode, they talk about "the dreaded questions Filipino titas love to ask whenever there's a family get-together." Is there a right age to get married or is that just BS?
"Itatama Pa Ba o Tama Na"
Donnalyn Bartolome has come a long way from being the girl who sang "Kakaibabe." Now, she's doling out love advice as a kinda-sorta couples therapist on "Itatama Pa Ba o Tama Na." She invites couples, who are trying to decide whether they should break it off or make up, into her show. As you can expect, it gets messy.  
On the episode called "Umuwi ka na sa nanay mo!," she counsels Whengce and Jemielyn, a couple who seem to have grown apart and lost interest in each other after living together. Is it just a normal post-honeymoon phase or is the spark really gone?
"Growing Up with Ben & Kris"
Wish there was someone who can navigate adulting alongside you? If you tune in to "Growing Up with Ben & Kris," you'll have two. YouTuber Benedict Cua teams up with blogger Kristian Somera to share their takes on a variety of topics including trends, relationships and career.
For their first episode titled "Becoming TikTok Famous with Marvin Fojas," they invite funny man Marvin Fojas for a chat on TikTok culture and tips on growing your online following. Internet fame, here we come.
"The Raid with Alodia & Ashley"
Gamers-slash-cosplayers Alodia and Ashley Gosiengfiao want you to geek out with them on "The Raid with Alodia & Ashley." The sisters talk all things pop culture and drop some of their secrets as gaming influencers.
On "From P150 a day to affording a car and house thanks to gaming," they got Mobile Legends streamer Elie Gaming on the show. He opened up about his life before making it to the gaming world and how you can try to do so too.
"Superhuman"
Alodia isn't the only one with the new project. Wil Dasovich also has his own podcast called "Superhuman." Dasovich's show is like a guide to unlocking your full potential and living adventurously. As a cancer survivor, he has become dedicated to overcoming fears and living his best life.
In "The Most Painful Moment of My Life," Dasovich revisits past traumas and candidly talks about what it was like "being face to face with death." It's an emotional story (ready your tissues!) and he shares the life lessons that he learned from the terrifying experience.
"Payaman Insider"
You might have heard of the dedicated content creators headed by Cong TV called Team Payaman. But what is it really like for them to live under one roof with each other? "Payaman Insider" is a slice-of-life comedy show where the group spills all. 
On "Usapang Payamansyon," Pau Sepagan, Marlon Cortez, Junnie Boy Velasquez, Tryke Gutierrez and Peachy Bonifacio Santos look back on how they all got wrangled together and how the idea behind the Payamansyon was born. 
Photo by Andrea Piacquadio from Pexels
Follow Preen on Facebook, Instagram, Twitter, YouTube and Viber
Related Stories:
These Filipino podcasts are my new workday companions
Fantasy podcasts are giving me new life this quarantine
Podcasts that feel like a regular ladies' talk
Some podcasts for the on-the-go film buff