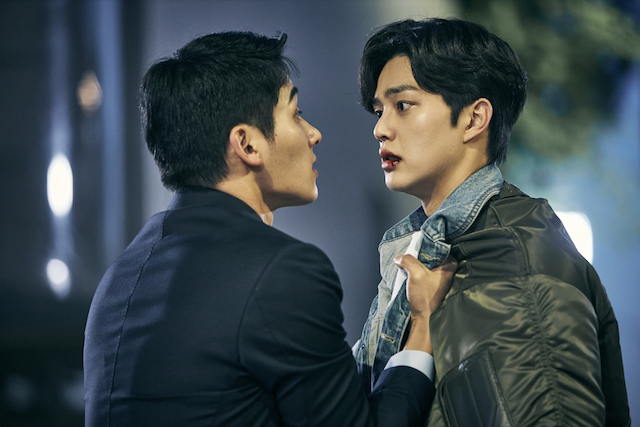 Guess who's back to make our toes curl in kilig and make us cry due to major heartache. Earlier today, we joined two of the main leads and the director of the Netflix original series "Love Alarm" in a press conference ahead of its second season's release on Mar. 12.
We've waited more than a year to find out how the launch of Love Alarm 2.0 (the app in the show, not the IRL one based on it) will affect the love triangle between Kim Jo-jo (Kim So-hyun), Hwang Sun-oh (Song Kang) and Lee Hye-yeong (Jung Ga-ram). The first season left us with a big cliffhanger. The app's update, which takes four years after its initial debut, introduces a new feature that provides users with a list of people who *might* have feelings for them in the future. Will this be bad news or good news for Jo-jo, who's torn between two cute guys? Oh, to be a K-drama protagonist! 
Let me backtrack a bit for those who haven't binged the show yet or need help in recalling what went down. Love Alarm is a mobile app that lets you know when someone within a 10-meter radius likes you. I won't go into the details but back when the trio was in high school, Sun-oh kissed (and eventually dated) Jo-jo even though he knew his bestie Hye-yeong had a big crush on her. D*ck move, I know. After an accident took place during a school trip, Jo-jo felt the need to break up with her BF. She installs Shield, a no-go-backs software that blocks her from ringing her Love Alarm. Fast forward to a few years, Hye-yeong meets her again and courts her. Sun-oh, who has an idol GF he doesn't love, finds out.
The stakes are higher now and the characters are more mature since graduating. Judging from the trailer and behind-the-scenes footage, we're getting a level-up with more dynamic shots from director Kim Jin-woo ("Good Doctor," "Suits") too. He shared in the press conference that the cast members, who were even consulted in terms of wardrobe, were more engaged in the process this time around. "I wanted to share the anxiety and loneliness that the characters were going through because I knew that the actors knew [them] best," said Kim. 
"Jo-jo is a character who used to be defensive. She was wary about her feelings being exposed to others. In the second season, the frustration because of using the Shield leads to Jo-jo taking different actions, leads to her personal growth and development," says Kim So-hyun. "The Shield not only protects you but it hurts others as well. Jo-jo doesn't know how she feels as well because her feelings are guarded [from] herself [too]."
Kang adds, "The overall tone of the series has changed. In season one, we saw the youthful energy of the high school students… In season two, Sun-oh is going to be completely transformed." When asked if it's true that he shed a lot of tears this season, Kang replied, "I love Sun-oh very much. I rewatched [season one]. When I was trying to act out those scenes where I had to cry, I became Sun-oh literally."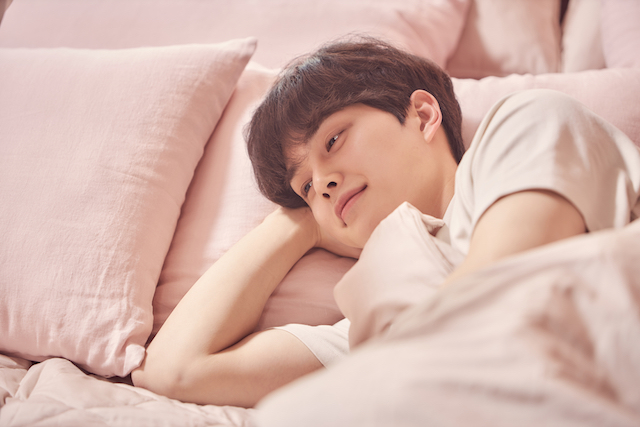 There were playful questions posed to the leads for fans like us. When asked which characters they wanted to try playing, Kim said that she wanted to be Sun-ho instead of Jo-jo's selfish cousin Park Gul-mi (Go Min-si) because she wanted to know how it would feel to constantly have your Love Alarm ringing. Kang chose Jo-jo because she has two dudes who are completely in love with her.
When asked whether they'd want to use the app themselves, Kim mentioned that her character ended up hurting others so she would rather express her feelings with words. Kang also said that while the app is convenient, confessing your feelings is more true.
In the latter part of the conference, Kang was asked about how he chooses his roles and how he feels about the nickname "son of Netflix." (He was on "Sweet Home" and has an upcoming Netflix title called "Navillera.) He said that he doesn't actively choose webcomic adaptations. He prioritizes roles that he feels would show a different side of him, which he hopes would help him live up to the nickname.
For those who are counting the days until the release, Kim promises that fans will see stronger chemistry and a more exciting show. Kang says that there's [a lot of] fun and healing in season 2, so he hopes [fans] come back.
So, who are you hoping that Jo-jo ends up with?
Photo courtesy of Netflix
Follow Preen on Facebook, Instagram, Twitter, YouTube and Viber
Related Stories:
'Love Alarm' season two is coming this March
Cure your 'Sweet Home'hangover with K-dramas featuring our faves
K-dramas are doing second leads so dirty
Which K-dramas reigned supreme in 2020? We've ranked them