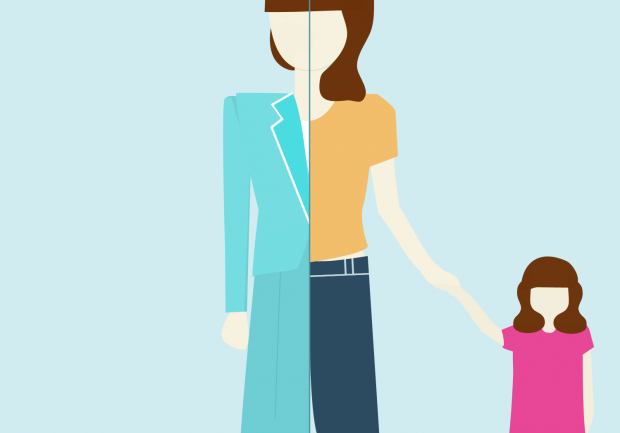 My husband and I didn't expect to have a child. Why would we when my OB said I wouldn't likely get pregnant without any help? We were married for five years with a pretty healthy sex life, anyway. Our family planning mantra was tried-and-tested: "Bahala na si Batman." I cozied up to my situation and focused on building my career. Idle doesn't do me good and busy is my thing; it's my lifeline. So when the universe decided to toy with me and granted me pregnancy, it made me think twice about my priorities.
Can I really be both? A mom and a career-driven woman?
If anything, the hormones were enough to keel my views over—from having no interest in kids at all, I ended up deciding on a month-long maternity leave, then quit my job weeks before giving birth. The minute I saw my daughter after 10 hours of labor and an emergency CS to boot, I knew I made the right decision. And in the following year, I spent all my energy on her.
Did I end up being the superstar housewife I envisioned myself to be? (I'd like to punch the agency behind the latest Nestle Chuckie commercial in the face. Thanks for reminding me of the mom I can't be!)
Let's just say old habits die hard. Slowly, as my daughter grew easier to care for, I had more time in my hands. I itched for other things to do. I missed my old self and yearned to yank back my identity. In my extreme fashion I took on three new businesses to manage. Not that I intended to; they somehow ended on my lap, and I just had to grab the opportunities.
I joined the club of working moms—moms who carry with them the guilt of feeling less of a mother for every work achievement they tick off their list. I'm luckier than most because I usually work from home. The constant cries of "mama!" every time I wave her off to yaya to finish a proposal or hurry off to a meeting really rubs salt on the wound, though.
But what most moms would hate me for the most is my reasons for working. We have an average, comfortable life, and there really is no need for me to work. I'm not in it for the money. Heck, I don't really get a lot from the things I do anyway. It's more than that. And it's the very fact that I don't have to work that amplifies the guilt tenfold.
Don't women like me deserve to work even if we don't have to? And why does it feel like the burden of being a parent is always on us mothers?
As a writer, I've interviewed celebrity moms who talk about their own rules for the perfect work-life balance. I don't know if I'm just disorganized (which I really am not. I may have borderline OCD) or if those moms are delusional when really, what fucking balance means working 12 hours a day, squeezing a few minutes of quality time with their child, dealing with a husband who feels neglected, and still sleeping in four-hour intervals because said child still wouldn't sleep straight at night?
There's no formula to follow. I just take it a day at a time, happy for easy days that I can use to spend with her. What's constant is the effort. Effort to tune out from work (and social media!) and forcing myself to stretch the time I have with her, making sure I engage her, teach her, play with her, make her feel loved every chance I get. It's quality over quantity, and it can be tiring.
Call me selfish but this doesn't make me want to quit work still. I just don't believe you have to lose yourself when you become a parent. Heck,
Art by Dorothy Guya