Warning: This story contains spoilers.
"Stranger Things" has returned with a bigger and scarier fourth season. This time, the monster fighting party is separated from each other. How are they going to defeat the powerful and kinda sexy baddie that's wreaking greater havoc from the Upside Down? Also, what will happen to the couples?
Set in 1986 (we see a shot of the late dictator Ferdinand Marcos on an old Newsweek cover), Jane "Eleven" Hopper and the gang have entered high school but aren't spending it together. El and the Byers are hiding out in California, with Mike Wheeler paying them a visit. The rest of the Hawkins team are in different cliques while Max Mayfield is trying to deal with her stepbrother's death alone. Jim Hopper, who was presumed dead, is actually stuck in a Russian prison. With this shift in their dynamics, the characters' relationships are changing, too. We try to weigh in on which ones should last and which characters should let go.
Eleven and Mike… and Will
"You're a superhero!"
"Not anymore."

Still reeling from this Mileven scene in Stranger Things 4 pic.twitter.com/iguwfuxRK9

— Netflix (@netflix) May 30, 2022
They say first love never dies, but true love can bury it alive. There's trouble in Mileven paradise, with El doubting that Mike still loves her and keeping the bullying that she experiences a secret from him. When she finally confronts him about it, to reassure her, he says, "You're a superhero." Without El's cool powers and without her dependency on Mike in navigating normal life, it's harder to see what's tying them together. Have they outgrown each other?
The show is also teasing that Will Byers may have a crush on Mike, a thing that fans have been speculating on in previous seasons. Romance between them would've made sense, if Mike were queer. But, hey, maybe the pair will have the same coming out talk Robin Buckley and Steve Harrington had last season to set things straight. If Will gets over Mike, maybe he'll finally get a boyfriend who won't forget his birthday.
Verdict: Better as friends.
Steve, Nancy, and Jonathan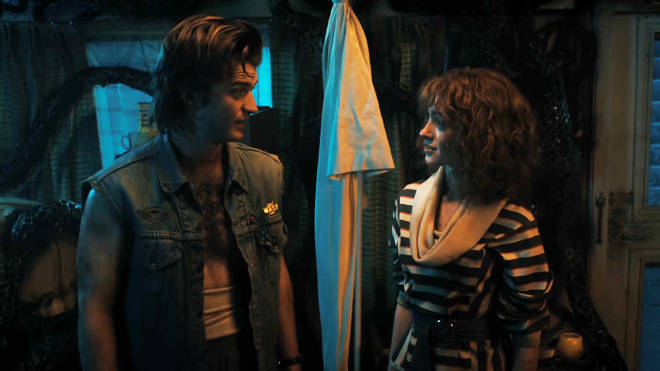 This season, it's evident that long distance isn't really working for Nancy Wheeler and Jonathan Byers. While the couple aren't talking, the spark between exes Steve and Nancy is rekindling. Should Nancy choose between them? Would it be possible for polyam Stoncy to happen just like in fanfics inspired by that InStyle video of actors Charlie Heaton and Joe Keery making out in an elevator?
While it would be cute to see polyam representation, it's highly unlikely for Steve and Jonathan to end up falling for each other. Incredibly driven Nancy has chemistry with them both but she deserves someone whose goals are more aligned with hers, TBH. Go spread your wings, girl!
Verdict: Better as friends.
Max and Lucas
Stranger Things fans after watching Dear Billy: pic.twitter.com/IliDrHwDWa

— Netflix UK & Ireland (@NetflixUK) May 30, 2022
Max and Lucas Sinclair had an off-screen split but they still care about each other. It's not the first time they've broken up, as Lucas revealed in the previous season. They're cute together because they're similarly level-headed and their senses of humor are compatible—though that might be more of an indication that they'd be great as friends but not necessarily as partners.
As Caleb McLaughlin said about his character Lucas, he'd probably end up in the military when he grows up. Not to perpetuate stereotypes, but that's not exactly the type of person a fan of Kate Bush—certified alt queen—like Max would go with long-term. With different values, would it work out? 
Verdict: Better as friends.
Joyce and Hopper
joyce flying to russia to save her crush iktr pic.twitter.com/Y6uH3qgbqK

— Stranger Things (@Stranger_Things) May 31, 2022
Hopper is angsting over the thought that he's always dragging the people he loves down with him. He ends up regretting asking Joyce Byers to help him break out of prison when she gets caught. The Red Scare plotline isn't the most engaging, but we do get to see the lengths Joyce will go for Hopper.
Last season, Joyce accidentally stood Hopper up for a date that she asked him out on. If they both make it back to alive, maybe they can finally date, get married, and co-parent their kids. They could both use the help.
Verdict: Endgame.
Dustin and Suzie
View this post on Instagram
Suzie, save your love! The show often inverts the damsel-in-distress trope, and it does it again this season with Suzie Bingham helping Dustin Henderson and his friends more than once. Their relationship may be a little juvenile because of how head-over-heels they are for each other but they clearly highly respect each other. They get each other in all their nerdy glory and there is still a lot of opportunity for growth in their relationship. What they have feels kind of special. We want to see what they're like when they're together face to face.
Verdict: Endgame.
Robin and Vickie
how i imagine Robin's thought process went the entire time she was talking to Vickie #StrangerThings4 pic.twitter.com/CYvfIT88MA

— Netflix Geeked (@NetflixGeeked) May 29, 2022
Seeing Robin in gay panic mode is a treat since she's usually so chill and cool with Steve. Although we only get to see Robin and her new crush Vickie interact once, we can see the potential for fun banter. Plus, Vickie might really be into Phoebe Cates on "Fast Times at Ridgemont High" so Robin might've finally found another gay girl in school. Let the sapphics win this time!
Verdict: Go for it, Robin!
Do you agree with our verdicts? 
Art by Pammy Orlina
Follow Preen on Facebook, Instagram, Twitter, TikTok, YouTube, and Viber