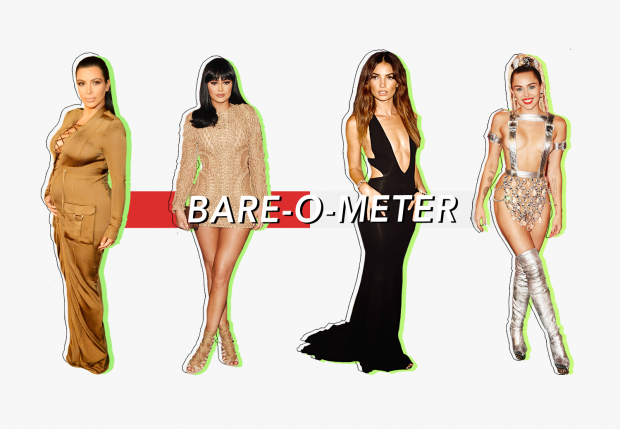 The 2015 MTV Video Music Awards was so emotional: "Aww"-worthy reconciliations one and two (Care of Tay-tay's past bad blood!), Justin Bieber crying (poor baby, baby, baby, oh!) and Yeezy's 12-minute (rant) speech only to conclude that he'll run for presidency in 2020
But it was really Miley's accidental boob flash that may have stolen the show's thunder—and she wasn't the only one who showed this much skin! The show's drop in ratings was a rise in pre-show temperature. Ranging from a wide array of skin to more skin, some ladies graced the red carpet with more things exposed than covered by fabric. The the show was full of verbal censorship like 90 percent of the time, but the pre-show red carpet was a grand display of side boob, inner thigh, and clavicles.
Cue Preen's Bare-o-Meter. We rate the best-dressed girls (or "least dressed," rather) according to how much skin they've shown in this definitive list.
Kim Kardashian-West
Bare-o-Meter score: 1%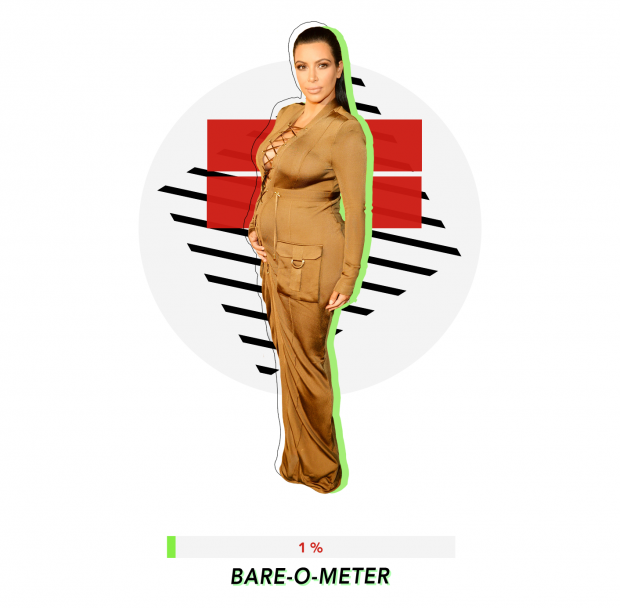 Her preg-o Instagram selfie may have scored a full 110 percent but down the runway, she's actually *hold your breath* in full clothing. With Kanye West in tow and her baby bump on show, Kim in her floor-length, military-inspired night gown was actually the most covered up.
Taylor Swift
Bare-o-Meter score: 10%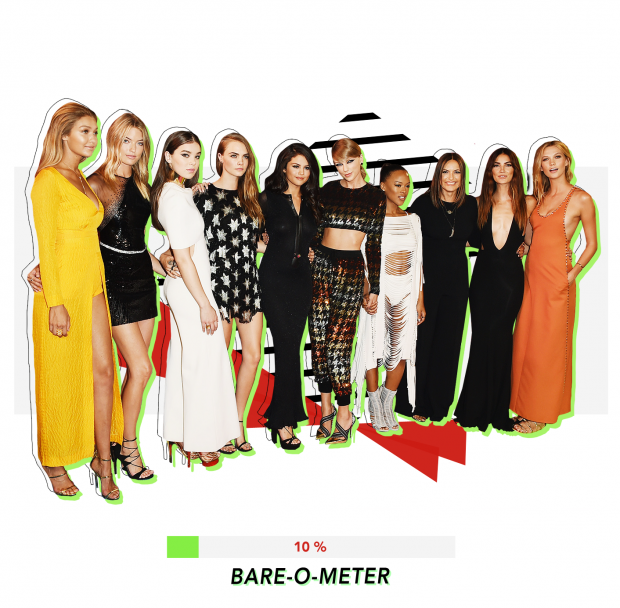 Winner of three major awards that night, Taylor Swift came with her "Bad Blood" #squad proving that no one can mess with this clique. All eyes were still on her and her Ashish metallic Ashish cropped top and trousers, subtly exposing only her midriff. The crew beside her who were "appropriately dressed" altogether comprised a group average of a full 100 percent in hotness—with just bare navels, flashes of leg, and some even fully concealed.
Kylie Jenner
Bare-o-Meter score: 30%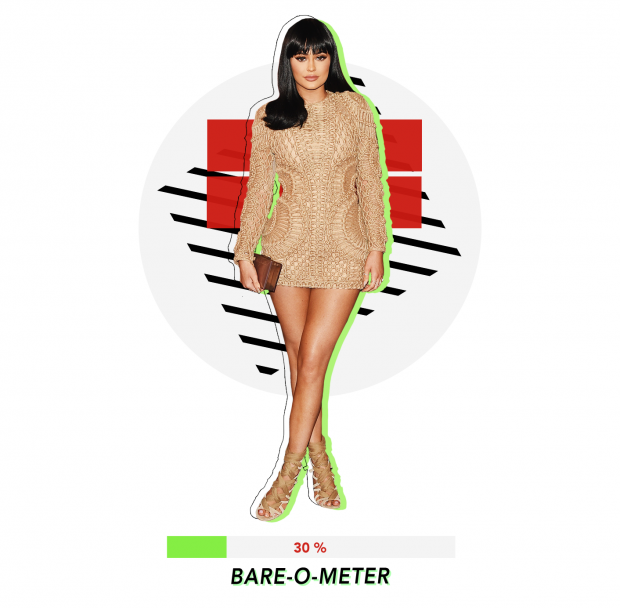 Part of the Jenner genetics could be bare-it-all chromosomes. The just-turned-18-year-old Kylie, though, chose to highlight just her legs in this Balmain mini-dress and a full bangs 'do. It's still very sexy, nonetheless.
Gigi Hadid
Bare-o-Meter score: 40%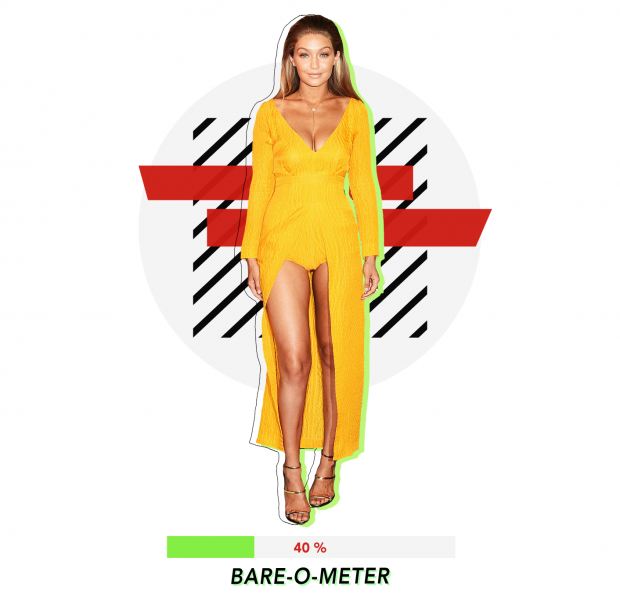 Leave it to model Gigi Hadid to teach you a thing or two when doing slits. Her tangerine Emilia Wickstead number has a slit right smack the middle as if screaming, "Yes! Inner thighs are sexy, too!" With a thigh gap like that, who wouldn't go for this slit?
Lily Aldridge
Bare-o-meter score: 50%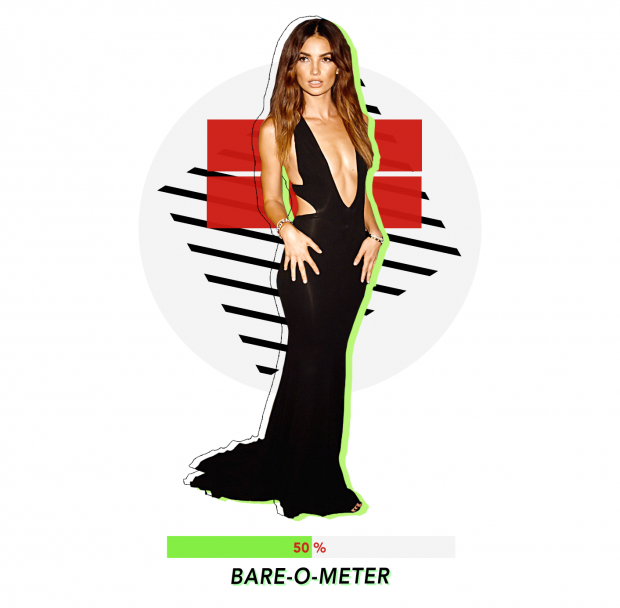 Now, this is sexy. Victoria's Secret model Lily Aldridge hits the sweet middle ground with 50 percent skin and 50 percent clothes with her Alexandre Vauthier cutout gown. The revealing upper half is suitably matched with a fully covered lower half. Cleavage, check! Peeking waist, check! Sexy back, check! All these without being too revealing.
Chrissy Teigen
Bare-o-Meter score: 60%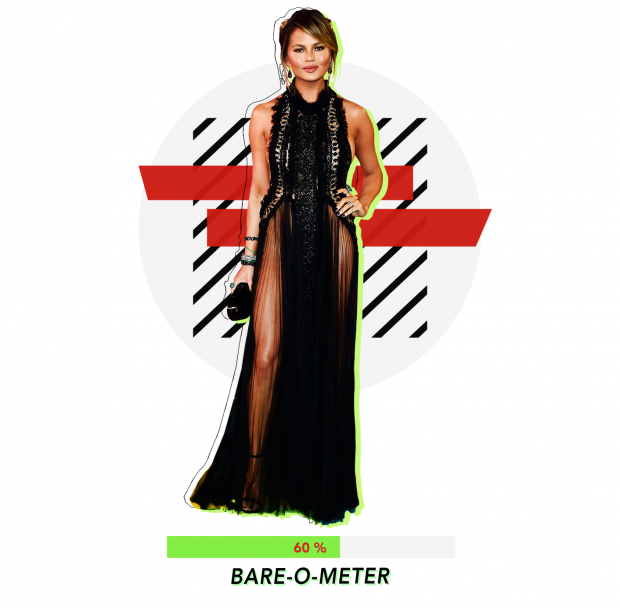 The woman that launched a thousand John Legend songs—and now we know why! Chrissy in Marchesa chose frills and sheer fabric to push the envelope of skin dressing. Her weapons of choice? Long, slender legs, and a great arching back. All of us love all of you, Chrissy!
Rita Ora
Bare-o-Meter score: 65%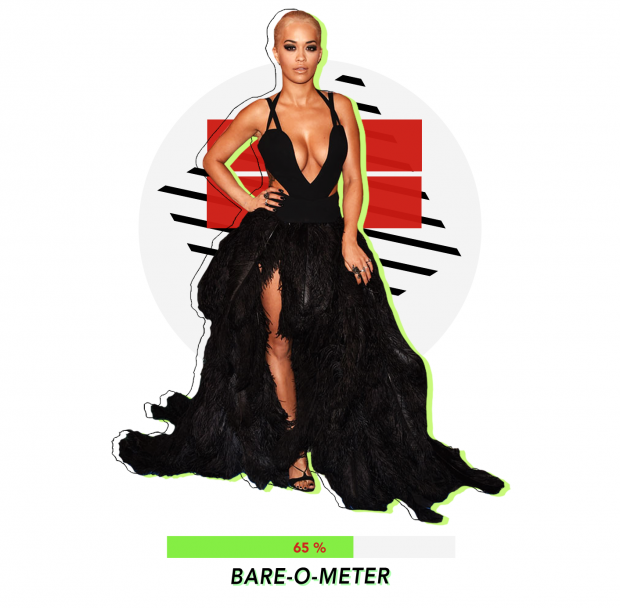 Rita Ora's so fly (not just because of her full-feathered skirt), she totally owned that Vera Wang number. Ravenous and ravishing, her eye-popping bust can be spotted a mile away. That's how she do.
Ciara
Bare-o-Meter score: 70%
We know what you're thinking: Yes, she's alive! Slowly creeping back up to pop culture fame is Ciara in an Alexandre Vauthier fringed dress. Sporting a new 'do and revealing just enough skin that you'd want more, we can't wait till she goes all out again.
Britney Spears
Bare-o-Meter score: 80%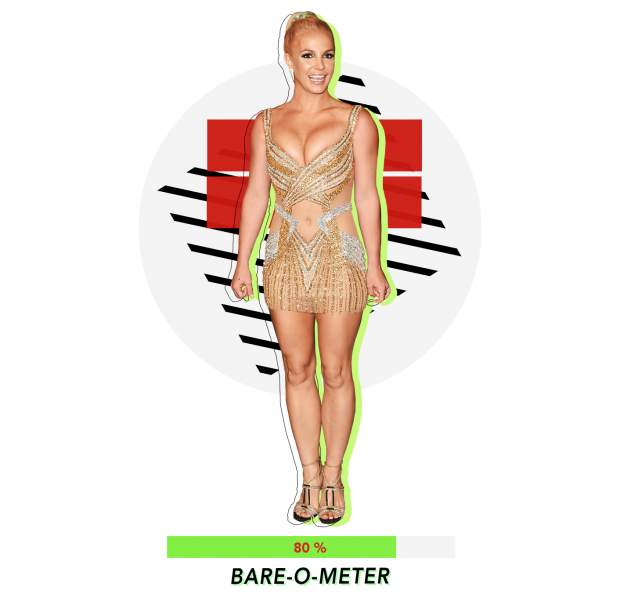 VMA royalty Britney Spears came in a tight gold La Bourjoisie mini dress and hard-pressed boobs. You want to look good in that, too? You gotta work, bitch. You want that rocking body? Now get to work, bitch.
Nicki Minaj
Bare-o-Meter score: 85%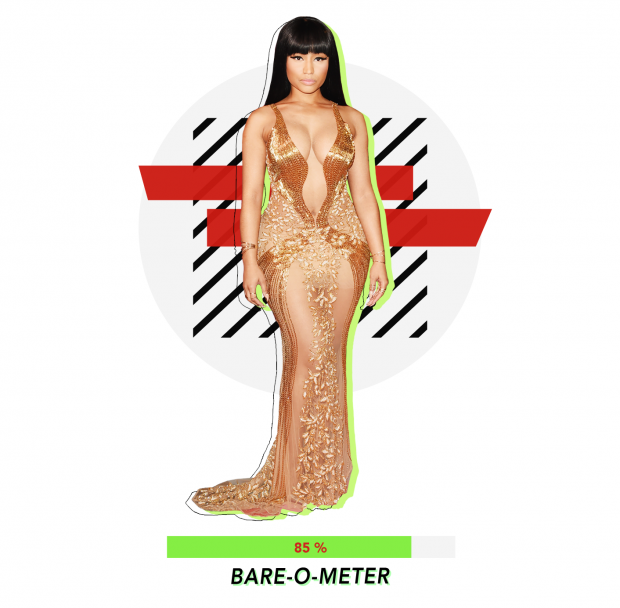 Nicki could scream at Britney "twinsies!" in her almost-identical but slightly longer La Bourjoisie dress. Though floor-length, it's not hiding anything. It's almost fully sheer THAT IT WAS showing her buns, hun. It's the type that the "anacondas" at the show would've surely wanted.
FKA twigs
Bare-o-Meter score: 90%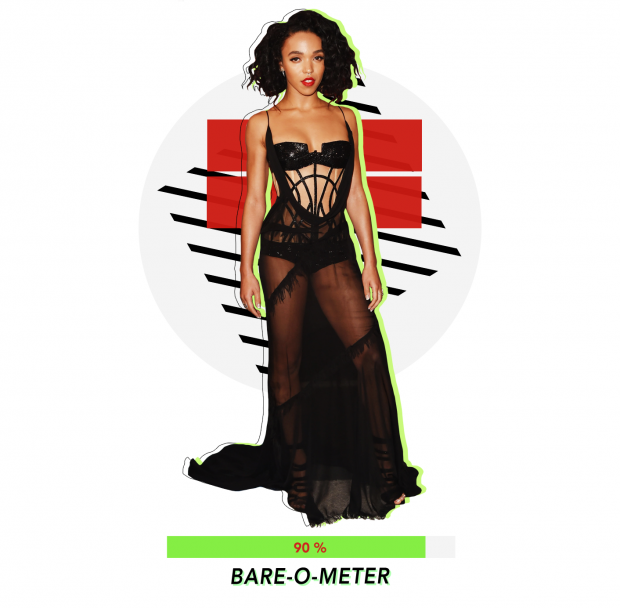 This year's three-time VMA nominee FKA twigs may have left the show empty-handed but she went home with a handful of praises for her Atelier Versace super sheer black cage dress. It's basically a corset with a thin sheer overlay leaving too little for the imagination. If we're going by this dress, we're quite certain that she is a pretty sweet little love maker.
Miley Cyrus
Bare-o-Meter score: 99.99%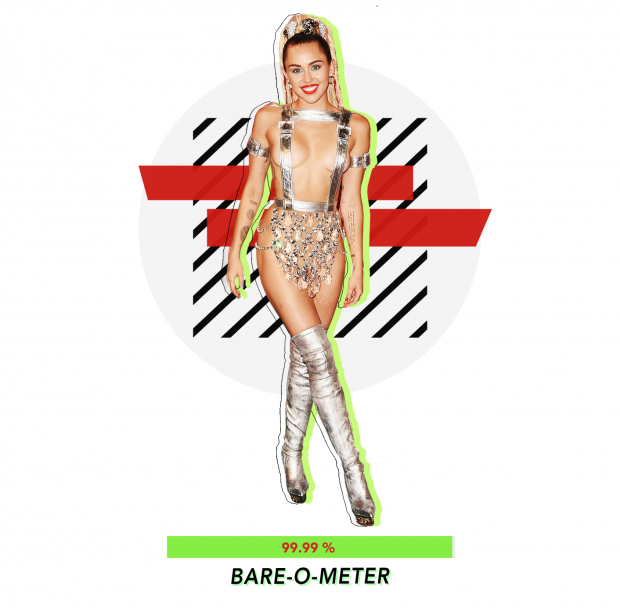 Host of the night Miley Cyrus had 14 outfits in total, which included her morphing into daisies, a plastic, and an LGBT flag. And no, her runway look wasn't a chandelier (or was it?). Hey, let's not objectify her in this—literally! But her silver Barbarella-esque Versace pre-show look is the type that'll be indelibly marked in your mind before you know it. It just has belts to cover the nips, crystal beads for her nether region, and nothing for the back. Perfect for twerking, you say? We thought so, too.
Photos courtesy of MTV.com
Art by Dorothy Guya