Tell me you're a Filipino without telling me you're a Filipino—do you find yourself, or at least notice the people around you, walking around with an umbrella even if there's no drop of rain in sight? That's because living in a tropical country calls for extra protection from the burning sun—and we know how it can feel like you're melting most of the time.
While sharing an umbrella under the rain makes for the perfect K-drama scene, this portable device is an everyday item that a lot of us would never leave home without. So if there's one thing that will make Filipinos stick out, even when outside the country, it's the umbrella on a sunny day.
But we hate to break it to you, using an umbrella is not enough to protect you from the harmful effects of sun exposure. Regular exposure to the sun's UV rays can take a toll on your skin's overall health. And although we may love to flex our natural sun kissed complexion, it's a must for us to take an extra step to maintain and protect our skin's glow. 
So let us introduce you to your next go-to essential and your skin's next best friend—the everyday sunscreen.
Over time, UV damage causes premature aging which will make your skin develop a lot more wrinkles and lines. We won't be young forever, so why would you want to look twenty years older than you actually are? Wearing sunscreen religiously can also greatly benefit your skin in the long run as it prevents the risk of developing skin cancer—which we should especially be aware of because we're here for a good time and a long time.
Dermatologists recommend that you use sunscreens with sun protection factor (SPF) values of 30 or higher for daily use. But of course, it's always better to go for a higher SPF if you can. The higher you go, the more protection it provides. So if SPF 30 sunscreens filter out about 97% of UVB rays, then SPF 50 sunscreens can filter around 98%.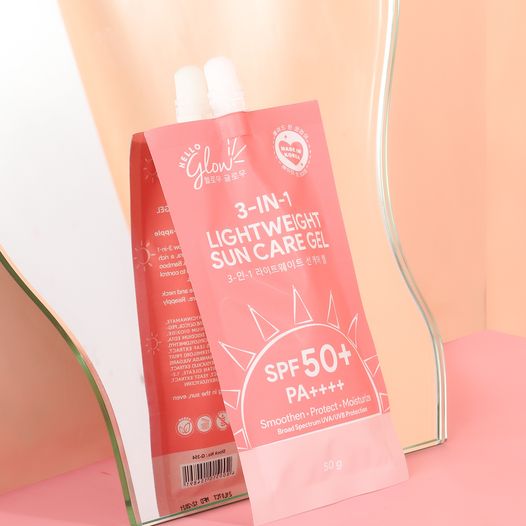 Hello Glow's 3-in-1 Lightweight Sun Care Gel (₱ 320) is the perfect product for ultimate protection from harmful UVB rays. Not only does this sunscreen have a value of SPF 50+ PA++++, but it also contains natural ingredients like aloe vera, bamboo leaf extract, and woodapple which help to keep your skin cool and smooth.
If you've been turned off by sunscreen before due to the notorious white cast it tends to leave, you don't have to worry about that happening with the Sun Care Gel. Thanks to its gel base, it's non-sticky and will leave you with minimal to no white cast. The consistency also makes it lightweight and fast-absorbing, allowing you to quickly apply it as one of the first steps in your morning routine—providing ample time for the sunscreen to work its magic as it's recommended to apply it at least 30 minutes before going out into the sun.
Even if you don't plan on being outdoors for most of the day, it shouldn't be an excuse to skip the sunscreen. The sun's UV rays can reach a person three ways: directly from the sun, scattered from the open sky, and through reflections. So if you find yourself near a window, then you're most probably still vulnerable to UV rays — and using an umbrella definitely can't help you there.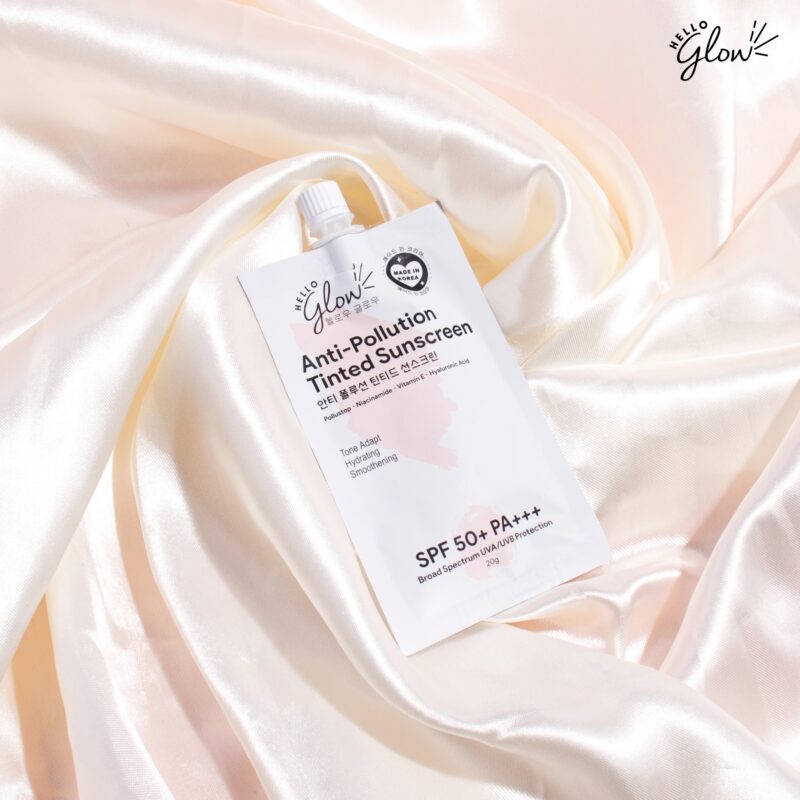 Given these reasons, it's really important to make it a habit to use sunscreen, which can easily be practiced if you're able to incorporate it into your daily life. For those who wear makeup or are just looking to even out their skin tone, we recommend finding a product that can complement or even replace your everyday foundation like Hello Glow's Anti-Pollution Tinted Sunscreen (₱185).
This tinted sunscreen adapts to the color of your skin while still providing top tier protection against UV rays. The product also contains Pollustop Technology which gives you an added layer of protection against external pollution — keeping your look fresh and clean wherever you go.
Just like the Sun Care Gel, it also has extra ingredients that help with your skin's overall maintenance. The Anti-Pollution Tinted Sunscreen has vitamin E that nourishes the skin, while hyaluronic acid and niacinamide helps to lock in hydration and control your shine for that dewy but sweat-free look.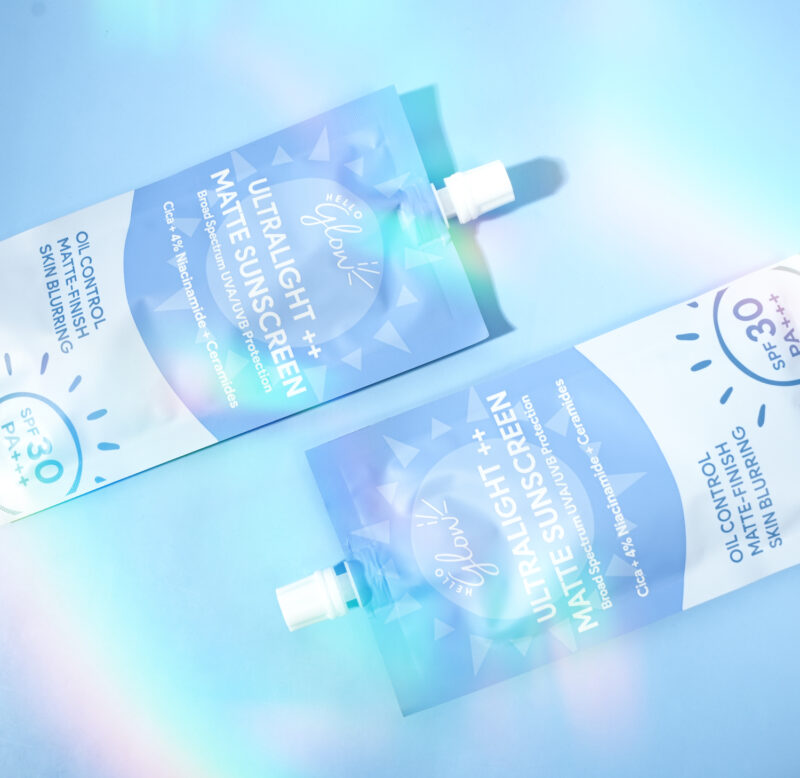 Looking for something that gives you the best of both worlds? Hello Glow's newest Ultralight++ Matte Sunscreen (₱320) deserves the spotlight. Their latest drop provides the matte-finish you may be looking for from a sunscreen, and also the easy application that comes with a moisturizing formula like a gel.
Being out in the sun for too long can be overwhelming for your skin and your energy. So ease your worries by using something that gives you skincare and protection in one.
Boasting of broad spectrum UVA/UVB protection, the Ultralight++ Matte Sunscreen contains additional ingredients that brings sun protection to the next level. The centella asiatica (cica) in the product helps to calm any inflammation or irritation. Hexylresorcinol and niacinamide brightens the skin, while 3 types of ceramides help to restore the skin barrier.
In order to make the most of your sun protection, it's recommended for sunscreen to be reapplied every 2 hours since the active ingredients will start to break down as they do their job once you're exposed to the sun. So the lightweight formula of Hello Glow's products make it super easy to reapply as well.
Check out Hello Glow's 3-in-1 Lightweight Sun Care Gel, Anti-Pollution Tinted Sunscreen, and Ultralight++ Matte Sunscreen in their official Shopee and Lazada store, Watsons and other leading stores nationwide—trust us, your skin will thank you later.
Photos courtesy of Hello Glow
Follow Preen on Facebook, Instagram, Twitter, TikTok, YouTube, and Viber