This just in: Women know how to have fun! Women have hobbies! Women don't live just to impress insecure men!
Is self-described motivational speaker Rendon Labador vying for the spot of local manosphere mouthpiece? This week, he's received backlash for disparaging, thinly veiled misogynistic comments against Andrea Brillantes who was minding her own business, playing with a lato-lato. 
"Maraming pera pero isip bata, iiwanan talaga namin kayo. #CareerMunaBagoLandi" Labador wrote in a June 14 post with a screenshot from Brillantes' now-deleted lato-lato TikTok. 
"Para sa lahat ng taong iniwan ng jowa, oras na para ayusin ang mga sarili ninyo. Hindi namin [kailangan] ng babaeng maraming pera. Mas appealing ang babaeng matured mag-isip at may priority sa buhay. Wake up call sa lahat ng kabataan na puro paganda lang ang alam pero wala naman laman ang utak. In short, turn off ang babaeng immature. #PrayForAndrea #MoveOn #StayMotivated," he added.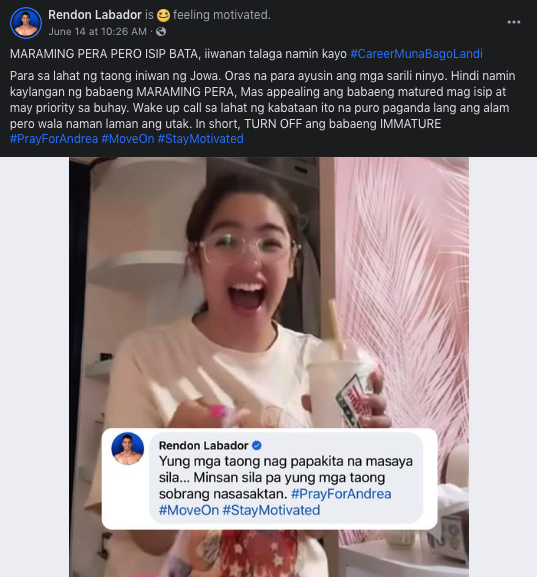 Earlier netizen comments on the TikTok were along the lines of "Nagmahal. Nasaktan. Naglato-lato," with many taking it as one of Brillantes' post-breakup independence posts. It's good to see someone not letting their breakup dictate their life and still having fun. But it seems for Labador, it's a woman's failing if the type of fun they're having isn't considered attractive for men like him.
It's funny how Labador seems to think highly of looks, financial success, and fame but suddenly for someone like Brillantes who already achieved these, his metric flips to a vague idea of "maturity." It's as if he thinks a  woman's value depends on whether she can please her partner. 
I mentioned manosphere earlier but in case this is the first time you've heard of the term, it's what we call the online realm of hypertoxic masculinity posturing as a community for "alpha males" that's inhabited by the likes of Andrew Tate. Preoccupation with self-image and financial success, and propagation of misogyny usually characterize its rhetoric. "Men's rights" activists, pick-up artists, and incels are some of its members.
There's a very real danger to the production and consumption of content catering to manosphere beliefs because it warps its audience's ideas about gender, sexuality, and even self-worth. It preaches that the only way to be respected and loved is by treating other people, women especially, like they're beneath you. And this isn't exactly a new mindset.
This week, Gabriela Women's Party raised concerns over the findings of the Gender Social Norms Index study by the United Nations Development Programme (UNDP) that 99.5 percent of the entire population in the Philippines hold biases against women. The study also revealed that biases against women in terms of political, educational, economic, and physical integrity issues remain prevalent in the country.
"Women portrayed as sexual objects reinforce the country's culture of misogyny and sexism. Worse, these films are unregulated and are readily available to minors who use these online streaming applications," Rep. Arlene Brosas said.

READ: https://t.co/o7wnlqSodD pic.twitter.com/gchlzSe9qq

— Gabriela Partylist (@GabrielaWomenPL) June 14, 2023
We're still fighting for gender equality and yet today's culture of toxic masculinity is already trying to undo all of our progress. So we should call out anyone who's propagating and profiting from misogyny. 
Photo from Andrea Brillantes' Instagram
Follow Preen on Facebook, Instagram, Twitter, TikTok, YouTube, and Viber