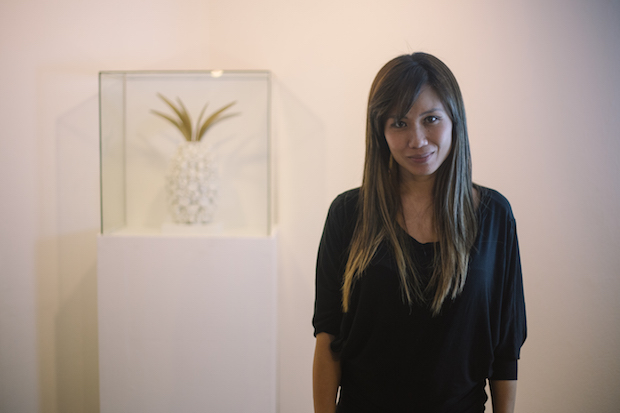 White, pieces of human vertebrae, and the word 'labor' in neon-lit capital letters—these were the first things I saw when I walked into Nikki Luna's 13 Artists' show.
And if I had known the award-winning artist before this exhibit, I should've expected a far more intricate display of a moving political sentiment—which, it was, and I just missed it. Like many others who could've easily mistaken Nikki's aesthetic as merely pretty things with a punk rock theme.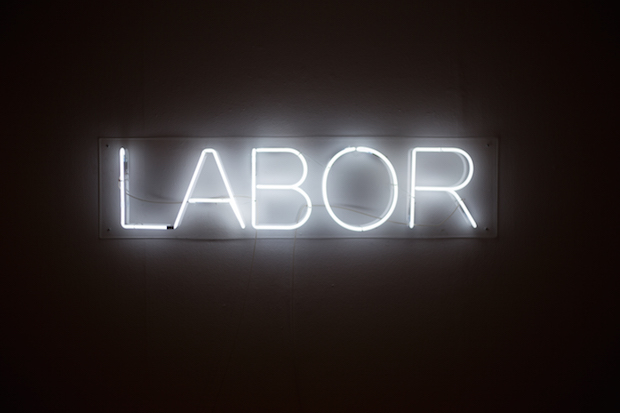 One of four females in this year's roster of CCP's 13 Artists, Nikki represents the sex she knows best. She makes art about women not because she simply identifies with them, but because somebody needs to speak for them. Her show here, which will run until Oct. 25, gestures to another disappointing truth on female life.
Nikki has a sharp mind for symbols. What I initially thought were bones crafted from scratch were actually a female laborer's hand-painted pelvis, a few other fragments of her tired spine, and an allusion to the forgotten Kentex fire. They were bits and pieces that refer to the multiple burdens that the working woman carries. Nikki dug these skeletons—with permission from the families concerned, of course— to remind us of the realities we tend to ignore, and the social norms that we need to start questioning.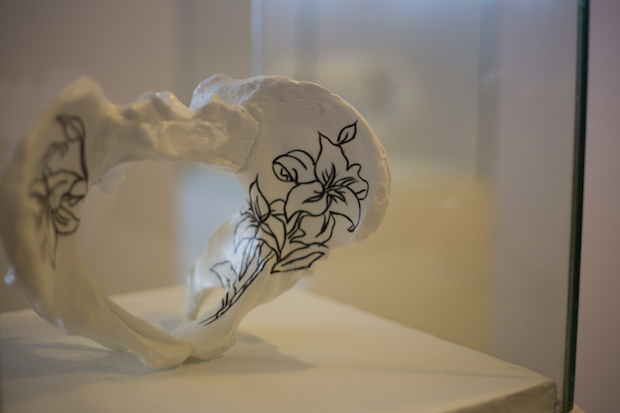 "In reality, women work longer hours," says Nikki, who later on cites their needed presence in the workforce and at home, "The biggest thing that's not valued by society is when people say someone is a housewife or doing household chores. Just because it's unpaid doesn't mean it doesn't have any value. That's the multiple burden [I'm tackling in my work.] That's why I have symbolisms of anatomical parts."
An artist must
show
, not tell. This time, Nikki mounts an installation that relies heavily on her arresting images. In case the history they carry don't reframe thought about women, she's adamant about making art to help the cause.
"More than anything, it's not just in art where [women] aren't represented or valued. It's in society as a whole. I speak for developing countries, especially the Philippines where a large percentage is marginalized." Nikki reflects. "There's a need to improve and progress, whether they be gender equality or footing. There are so many things that we need to do and keep on doing."
"There's still a long way to go [for women]," says Nikki, quite correctly. On her way to achieving what she can do, she'll be having a show in New York next year to celebrate gender sensitivity, and collaborating with a major clothing brand to help spread the word.
We don't have to be Nikki. To prove a point and cause the mildest change, we don't have to dig skeletons or make art if we can't. Because the artist—her, the three other women of the 13 artists' group, and many others—just wants us to listen. How else we take action is our own call and appreciated reaction. 
With additional reporting by Olivia Estrada