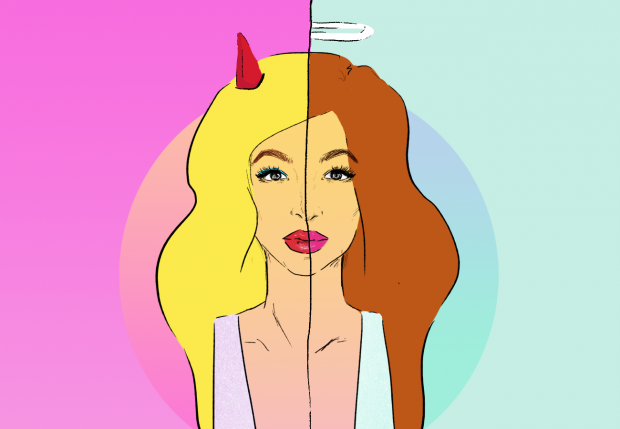 There's a brief sub-plot in season four of Mad Men when a newly-divorced Don Draper slips further into dissipation, drinking the day and night away and waking up in his bed hungover, not knowing the various women beside him or wondering how they got there.
In an effort to steer him back along the path to some semblance of respectability, at least in his choice of women, Roger Sterling and his new young wife Jane set Don up with a suitably WASP-y potential girlfriend, Bethany Van Nuys, who turns out to be Betty Draper-lite. (Betty is Don's ex-wife, in case you didn't follow the show.)
Bethany, predictably, relies on the good girl's playbook to ensnare Don Draper: Be attentive but play hard to get, don't put out, maintain some element of mystery, etc. But Don knows that playbook by heart. So after an unexpected run-in with Betty and her new husband at a restaurant in Manhattan, Bethany decides to surprise him with a blowjob in a taxi—because, you know, good girls really don't do that sort of thing. She wanted to show him she could be daring, too. But Don never calls her again.
Bethany was cast as the good girl archetype, the woman who was "wife material" who exuded purity and virtuousness, as opposed to the dark haired, sensual, sexually adventurous temptresses Don often consorted with on the side but never married. (Apart from Megan, the secretary-turned-holiday-au-pair to his children, who became his third wife.)
For some, the world may be divided into two kinds of women: saints or sluts, good girl or bad.
The foul-mouthed but hilarious Australian stand-up comedian Jim Jeffries illustrated the differences more clearly (from a man's point of view): A good girl would suck a man's dick as a special favor, meaning, she doesn't really want to do it, but will oblige on occasion, like a birthday or Christmas, whereas a slut can't wait to get someone's cock down her throat.
In other words, good girls mask—or sublimate altogether—their desire for the sake of propriety, while bad girls make no secret of their desire.
Following this thought process, the good girl's trajectory, it would appear, involves playing her cards right, dispensing and withholding sexual favors in the right doses, until that ring is firmly on her finger. A picket-fenced house and at least two children after, the good girl is too exhausted running a household and raising a family to even have the energy to suck anyone's dick, let alone her husband's, so the blow job and other sexual acts apart from the customary five-minute in-grunt-out routine every few weeks or so, if that, becomes a treat.
The bad girl, on the other hand, does it—and more—without even being asked. One urban legend back in college had one girl, branded a slut for having such rampant desires, fucking a gearstick.  (Manual, I presume, because have you seen the size of those automatic gearsticks? It would require Patpong levels of pelvic floor dexterity to get that into any orifice.)
Exciting she may be, but men marry saints, the conventional wisdom goes, and fuck sluts. Besides, says Jim Jeffries, sluts are flat-out batshit crazy, and therefore do not make reliable girlfriends, wives, or partners.
Which is bullshit and misogynistic, not to mention reductive, diminishing the slut to nothing more than someone who can't control her sexual desires, conveniently ignoring the fact that women actually tend to have a better, um, grip over their desires than men do. And that, slut or saint, women are far more complex creatures who do more than open or close their legs at whim.
The thing is, most men—and this retrograde society at large—persist in these outdated and frankly ridiculous modes of thinking. The characterization of a woman with healthy sexual appetites as a slut essentially illustrates more than anything else their fear (primal perhaps, but nevertheless real, if unspoken) that they are not enough. That for all their bravado about their sexual skills, they are not enough to satisfy the "slut" who has, in all likelihood, given them the most amazing fuck of their lives 10 times over.
"Good girls," declares my friend G, "are just bad girls who don't get caught."
G may be right, but I prefer to think in blunter terms. There are smart girls and there are, well, not-so-smart girls. Smart girls know that sexual desire is healthy and they understand their sexual power.  They'll take it any way they want it—in their mouth, in their vagina, up their ass, blindfolded, tied up, with one partner, with multiple partners, whatever—on consensual terms. And they won't take shit from anybody.
B. Wiser is the author of Making Love in Spanish, a novel published earlier this year by Anvil Publishing and available in National Book Store and Powerbooks, as well as online. When not assuming her Sasha Fierce alter-ego, she takes on the role of serious journalist and media consultant. 
For comments and questions, e mail [email protected]
Art by Dorothy Guya