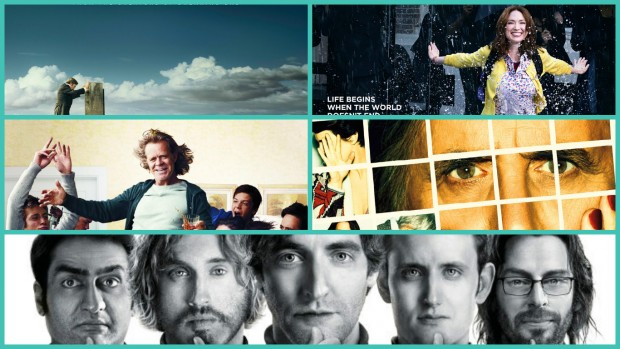 Of course, it's a no-brainer that everyone's favorite Game of Thrones won Outstanding Drama Series in the 67th Primetime Emmy Awards. But what about all the other shows that haven't garnered a faithful following locally?
Dig deeper. Dive right into the other shows that weren't necessarily big winners, but 
are surely
 worth your rabid attention. (Anybody heard of Veep?) After all, if they're nominated—one even won—in the Emmys, there must be something good in them.
So hit pause
 on your Westeros marathon, and start giving these shows a try.
#1 Unbreakable Kimmy Schmidt
Here's for all of you, Tina Fey fanatics. The writer-comedian partnered with producer Robert Carlock on a 13-episode Netflix series about a woman's second life—and no, she wasn't dead. She starts her NYC life anew after being kept by a reverend-turned-rapist in a bunker from a 15-year false apocalypse.
Heavy? We thought so, too.
But trust Tina and her cohort to turn grave topics into delicate satires that are hard not to enjoy. Packaged as a sugary and all-too cheerful binge-watch—much thanks to Ellie Kemper's sunny smiles and Tituss Burgess' "Peeno Noir" stunt—Unbreakable Kimmy Schmidt packs a considerable amount of irony and sharp-witted
jokes. They all may seem lightly funny at first, but it's loaded with commentary and contempt as they sink in—much like its toothy protagonist.
#2 Silicon Valley
If you're a fan of movies like Office Space, then this series is definitely right up your alley. From the brilliant (if not deranged) mind of Beavis & Butthead creator Mike Judge comes Silicon Valley.
This show has everything in spades: penis jokes, awkward dates, Satanist cults
,
 and pretentious hippie CEOs. You name it. This is no Big Bang Theory.
Sarcasm and vitriol aside, the show's heart is honest and pure. At only 10 episodes for its second season, this is a better option over the confusing True Detective season two.
#3 Transparent
We heard you're getting tired of all their media spamming, so here's some good news: You don't need to break your Kardashian-Jenner fast just to watch and understand the transgender struggle. Caitlyn Jenner's reality show might've been highly anticipated—the family sure knows how to
break the 
Internet
—but nothing beats the Emmy award-winning entrance of director Jill Soloway's fall comedy-drama.
The show revolves around a father's journey to gender reclamation, after being discovered as a transgender by his own family. A narrative that's as rich and complex as the LGBT discourse it treads on, Transparent dabbles in the interconnected stories of lost adults as it leads to insights as damning as parables, but as easily consumable as daytime radionovelas.
It's not every day that we see a transgender individual headline a touching series, let alone have a double-handed pun in its own title.       
#4 Shameless
If you like your comedies as black as your coffee,
then Shameless is the show for you. This criminally underrated series from Showtime tells the exploits of the Gallaghers—a dysfunctional family eking out a living in the inner city slums of Chicago. (Thank God, we're up to our noses 
with shows set in 

LA and New York a
lread
y.)
William H. Macy, who has won an Emmy for his role as an alcoholic patriarch, Frank Gallgher, steals the show. Now on its sixth season this coming 2016, this show's black comedy take on life is a winner.
But more importantly, the show also gives you a glimpse on how intrepid American families survive in the recession. 
Kudos to a show that looks at poverty in the eye and
mocks it—something all 
Pinoys
(shamefully)
can relate to.
Sure, this spin-off about Breaking Bad's strip mall-based lawyer didn't get as much fans as the original series,
but if you give it a chance,

you'll eventually warm up to it, despite its slow crawl of a start.
Though there were no cameos by Walter White or Jesse Pinkman in the first season, there sure were appearances by other characters worth remembering. (Spoiler alert: Fan-favorite psycho drug dealer Tucco is back from the dead!)
If you need other reasons, look at Bob Odenkirk, who plays the titular character. He's not only a fine comedian, but is turning
out to be an actor the same level as 

Bryan Cranston when it comes to the serious stuff.