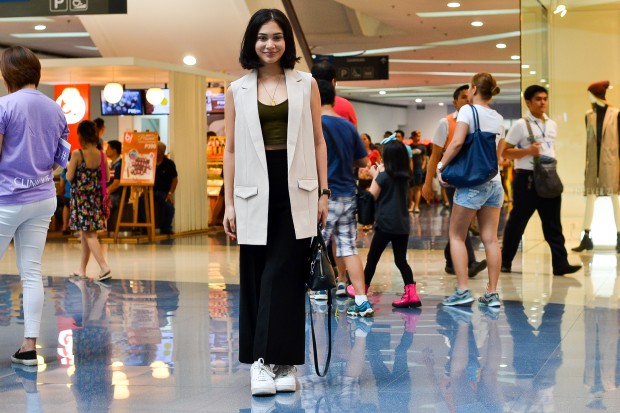 Few people are effortlessly cool. If you think about it, being cool should be done without trying too hard (*cough* filtered selfies and curated social media personas *cough*). And this is how #TeamPreenPH girl Jess Connelly stands out from the rest: She doesn't try to be cooler than others. She already is.
It's perhaps the way she mixes up formal wear like a sleeveless white coat with (removed word) sneakers, or how she's proven some serious musical chops despite the age of autotune. Present last Saturday at the Clinique #FaceForward event, Jess was open to playing a little game with us. I asked her a series of questions with which she could answer with anything that came to mind, but I had one condition: She could only answer in threes.
Preen: What are your top lip shades?
Jess: One pink-apricot lip gloss, a good '90s matte brown, and a great red.
Who are the people you follow on Snapchat?
Ta-Ku , a music producer. Then, there's this artist from San Francisco, his name is Aaron Kai [who is] super funny, and the last would be Kylie Jenner.
You love sneakers. Which pairs do you always reach for?
Oh, you're giving me trouble now. Number one [are my] Nike Air Force 1's, since I'm a Nike girl. [The] second one [would be] Vans Hi-Tops . Those are my go-to [shoes] every single day, I don't even think about it. Third would be something that I want, [something] that I am waiting for. There are a bunch of collabs coming out now, but I really want Rihanna's Puma creepers. Hopefully, I get them. I just placed an order.
Who are you listening to right now?
Travis Scott (rapper and producer—ed.) Everyone should listen to him right now, he's behind everything anyway. I am super into Korean rappers now so check out The Cohort and, of course, listen to my mixtape, my EP with CRWN.
What are your fashion essentials?
Denim, jackets, and cropped tops. Sorry, I give in to crop tops all the time. (Laughs)
What are the top three cities you'd want to have coffee in?
Well, I am going to Tokyo in a week and half. It would be my first time so I [will definitely have] coffee there, and I heard they have [great brews]. [I would also like to have coffee in] Sydney, because I'm Australian, and Australia has the best coffee. And New York. I haven't been there and I want to go.
What movies do you watch when you're sad?
I love any comedy that has got Jonah Hill and Seth Rogen. I also love '90s movies like Clueless or Can't Hardly Wait.
What are three TV shows you love to binge-watch?
I love watching Fresh Off the Boat, Seinfeld, and Entourage.
Which websites are you always logged on to?
Soundcloud, Hypetrak,and YouTube. I am always on YouTube. I should work [for them], actually. I don't even watch TV, I just watch YouTube.
Name three artists who have greatly influenced your music.
I would definitely have to say Tupac and Biggie. Maybe Biggie more than Tupac. I love Tupac for who he is and what he preaches. But the flow of Biggie is probably something that influenced me growing up. I was the only one listening to hip-hop growing up as a teenager in Australia. Then I have to say N.W.A. You know, people are getting into hip-hop and rappers recently because with the movie coming up so they realize that these guys influenced a lot of the music we have now.
What are three pieces of advice you'd give to people your age?
First, be aware of your surroundings. Whether you are surrounded by people who do nothing and just want to be in the spotlight and want to party all the time or if you're surrounded by people who make you too scared to do something. You know, the people who are too safe. There are either people who are too wild or too safe. Don't pay attention to them. Put yourself in a position where you are with people who make you want to go to higher places or where you want to be.
Second, don't be scared. Lastly, do what you love and not what you think you should love. I hate it when people do something just to gain attention. In five to 10 years, people might not know your name anymore so you should just find a place where you're happy.
Photo by Acushla Obusan