As Paris Fashion Week officially comes to a close, so did the month-long fashion celebration that kept enthusiasts on their toes. And if the past week's collections didn't speak for themselves, let us break it to you: Paris doesn't do small shows.
Dior went all out with a show in a dome covered with 300,000 stems of delphiniums, Chanel served up an airport-themed runway show, and Rick Owens staged the "most powerful and moving" show of the season. But the most groundbreaking news of the week was the announcement of Balenciaga's new creative director.
Let it be known now: Everything is bigger in the City of Lights. Here are the other highlights of the week that proved just that.
Balenciaga finally has a new visionary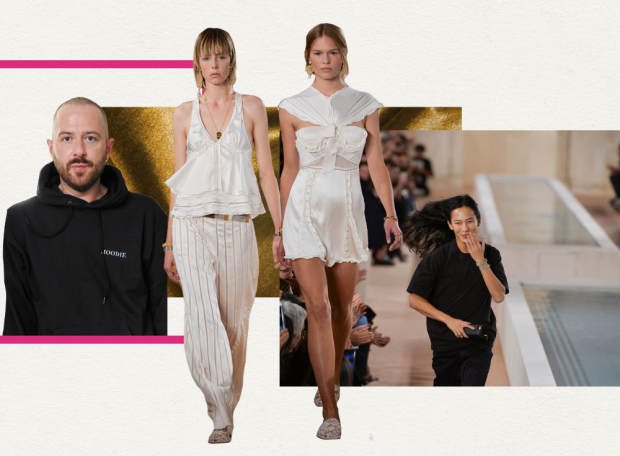 Alexander Wang took selfies during his final bow and last Balenciaga show with Tupac, Snoop Dogg, and Notorious B.I.G. on full blast. It was a 35-piece collection of delicate white ensembles. But his exit paved the way for Georgian designer Demna Gvasalia to take over. Demna leads the design collective Vetements, a breakout label in Paris this season. The designer was previously part of the design team at Margiela for eight years and at Louis Vuitton for a brief period. No official statement from Kering, Balenciaga's parent company, has been released about the choice of the new helmsman. On March 2016, Demna is set to stage his first fashion week show for the storied brand.
Saint Laurent's crowning glory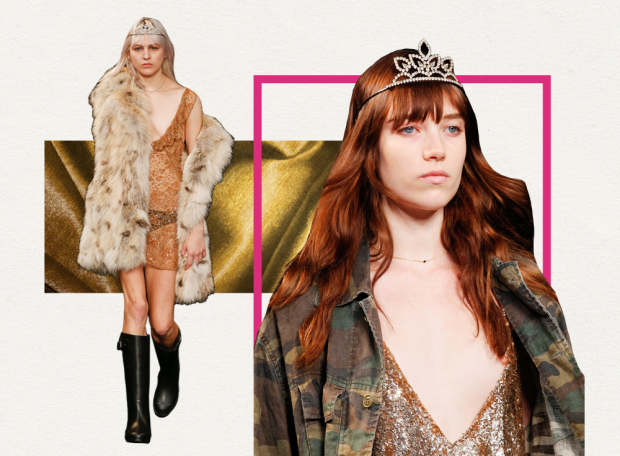 In an attempt to bring grunge fashion back, Hedi Slimane took everyday clothing and gave them a punk rock punch. And if a stereotype were to embody the collection, it would be your typical high school prom queen, complete with a "grunge tiara." This piece du jour is "to be worn with everything" and that was what the runway show commanded: From sequined slips to plush fur, everything is better when topped off by this glittery new accessory.
Céline and Stella McCartney for every woman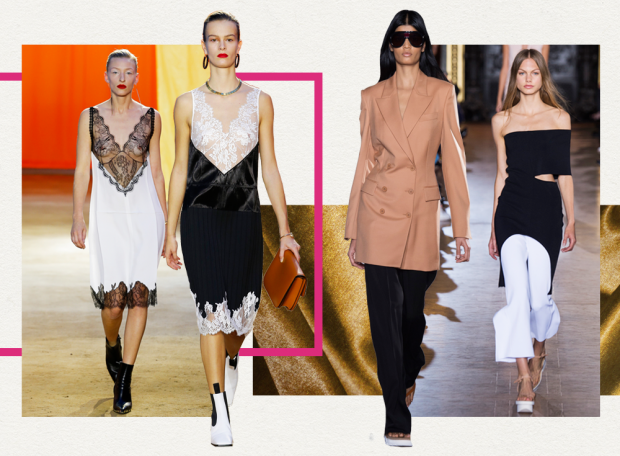 Though quite different from one another, Céline and Stella McCartney both proved that a woman could be stylish in more ways than one. Over at Céline, minimalism was pushed a notch higher when creative director Phoebe Philo added a few embellishments and touches of lace on silk slips. These seemingly simple add-ons are actually the brand's attempt on being more adventurous even after eight years since Phoebe took over. On the flip side, Stella McCartney's contrast-color separates and digitally enhanced knits bring a different womanly allure that's both energetic and put-together. Long tank dresses and plaid collared ones stole the show, too.
Jacquemus, Rick Owens, and Hussein Chalayan were the showstoppers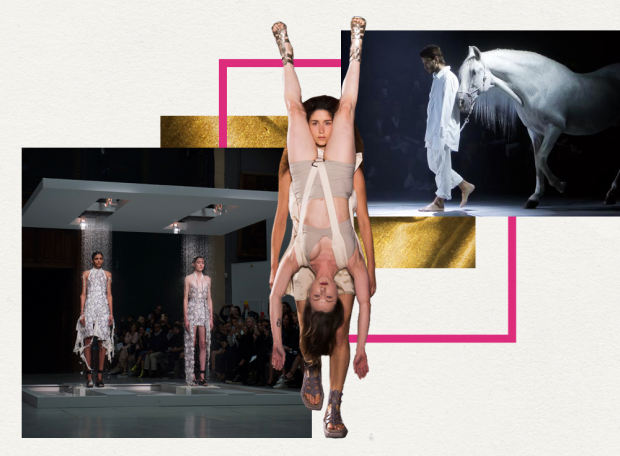 What's fashion without the little theatrics that come with it? Rick Owens' show brought out models with other co-female models as "human backpacks." Though this faced criticism from social media, the "most moving show" of the season resonated best with those who were present at the show—feeling the emotions directly and even bringing tears to the audience. Jacquemus, on the other hand, brought in a white horse during the show—a representation of faith from the psychological crisis that inspired the collection. Hussein Chalayan was all for the wow moment when he made coats that melted with water, only to reveal sparkling dresses underneath. These shows proved that fashion still can tug the heartstrings from time to time through moving presentations.
Stock up on knee-high boots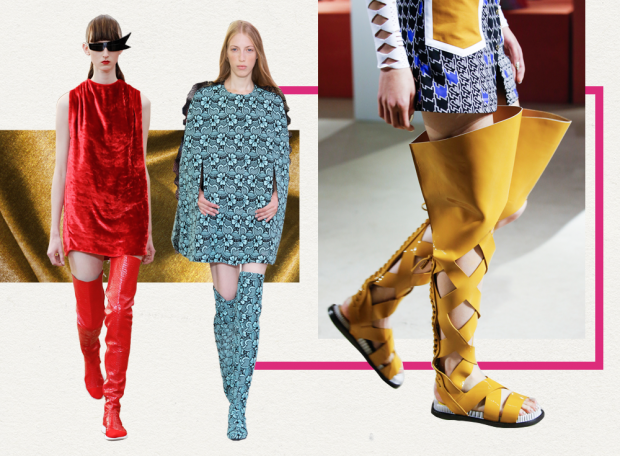 And they have to be leather and brightly hued! Paris showed penchant for these strides, all paired with a high hemline (mid-thigh). It's a leather cutout pair for Kenzo, 3D flower-covered boots for Emanuel Ungaro, and an electric red, patent leather for Acne. So when picking your next shoe of choice: Aim high!
Dior goes for airy and flowery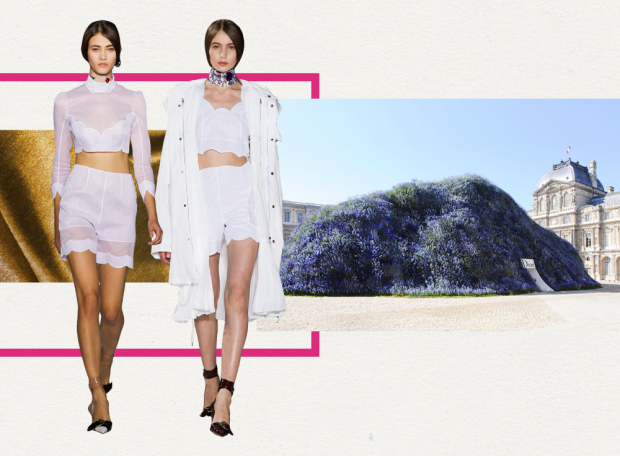 For Raf Simons, flowers symbolize the overlapping of romanticism and modernity. And with 300,000 delphiniums covering a 40-ton, 59-foot-high show venue at the Louvre, his point couldn't come across any better. He even had the clothes to back it up. Light, billowy dresses and not one but three chokers worn all at the same time, Raf Simons had a mood of ease for this one. "I was thinking about the South of France—rainbows and the simple things," he tells Vogue.
Chanel takes flight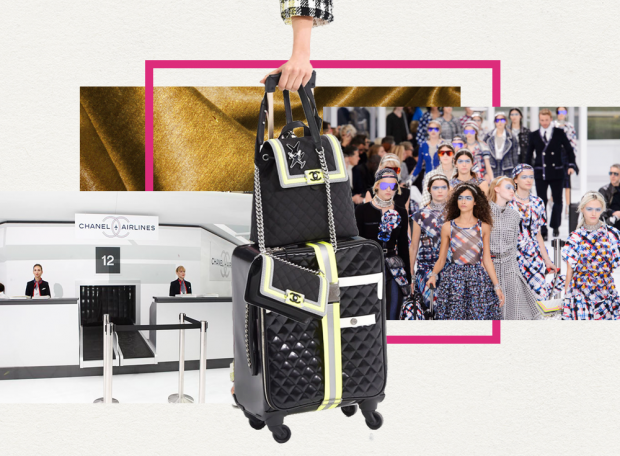 Deemed as the "most Instagram-able show of the month," Karl Lagerfeld sets up an airport terminal for his runway that he named Aeroport Paris Cambon. As if these editors and guests weren't jumping from airport to airport enough, stylists Carine Roitfeld, model Cara Delevingne, and editor Eva Chen, among others were seated in airport lounge chairs, while models dressed in pastel-hued tweed jumpsuits and knit dresses navigated the makeshift terminal. Of course, what's airport fashion without the cool luggage? Wheeled suitcases, miniature carry-on bags, and gold-plated backpacks make travelling in style a lot easier.
Art by Dorothy Guya