As I approached the building where Ogawa Traditional Japanese Restaurant is located along The Fort Strip, I saw that their windows were boarded up with thick wooden planks as if the place had just closed down. In truth, it's a way to separate the restaurant from other establishments.
To enter the restaurant, you must cross a small bridge way that ends in a wooden door that slides open to the reception area where a staff member beats a drum to welcome you in. On your right is a white canvas curtain with Japanese calligraphy that gives way to a wide restaurant with a sushi bar on the left side. Found in the middle is the grilling and cooking area, where people can watch the chefs grill and fry your orders.
George Pua, owner of Ogawa, ("small river" in Japanese) thought it would be good to set up this restaurant at the height of fusion cuisine and Japanese restaurants specializing in only one dish. At Ogawa, the aim is to let you experience as many aspects of Japanese cuisine as you can. "We want to really transport people to Japan with the food and how we laid out the restaurant," he tells Preen. For now, it seems to live up to that standard.
Food
In a huge tray, I was served the Ryo Goku Gozen (P550), a bento meal that consisted of a pickle and seaweed appetizer, three kinds of sashimi, grilled Wagyu beef cubes, salad, a sushi roll, egg custard, cod teriyaki, and shrimp and eggplant tempura.
Taste-wise, the Ryo Goku Gozen bento had a few gems in it. The most precious of which would be the grilled Wagyu beef that was very juicy and tender on the inside. I would also recommend to get more of the cod teriyaki, which was grilled just right and served with the exact amount of sauce that blended well into my mouth along with the fat.
In a little ceramic bowl, the egg custard may confuse leche flan lovers. A heads up: It's not a dessert. It's a very rich, coagulated blend of chicken and mushroom that may be a little too much on top of everything else you might have to eat. Don't make the mistake of eating it last, as it is a staple appetizer in Japan. Meanwhile, the main course, which was the shrimp and eggplant tempura, was coated very lightly, as how tempura should be, and was delicious despite the fact that I ate them cold. (I had to try the tangy appetizer, and miso soup first before I got to it). It was also great that it wasn't oily at all despite being well-fried.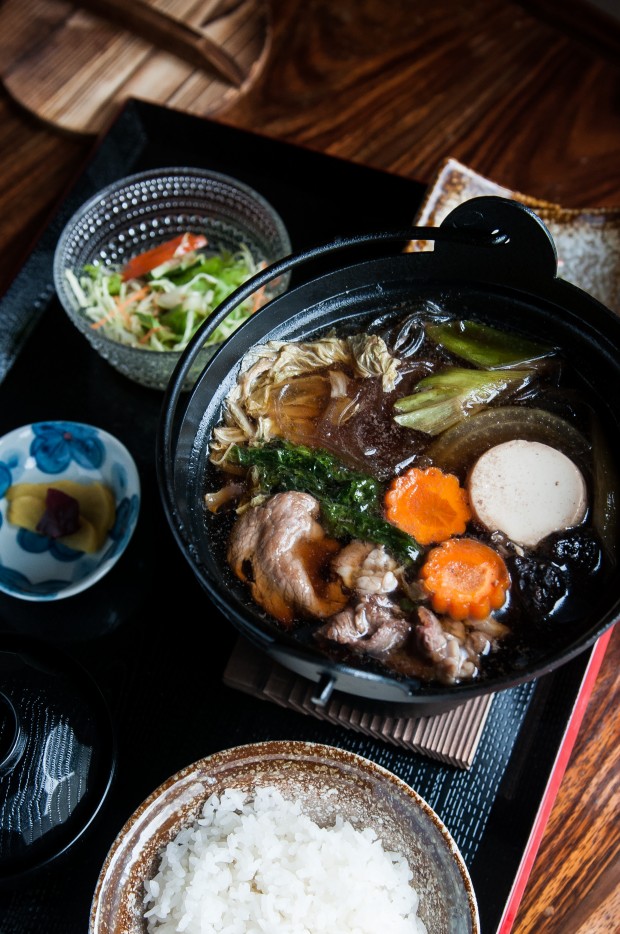 The Gyunabe Lunch (P480) was something a little less complicated. With the main focus on a large serving of beef and vegetable sukiyaki, it's a good alternative if you're sick of ramen. There was nothing special about the sukiyaki, but I'm glad that it wasn't too salty and that the rice noodles weren't soggy and overcooked as with most versions I've encountered. What caught me off-guard in this dish was the tofu. It melted in my mouth the moment I took a bite and carried the flavor of the soup well despite its soft consistency.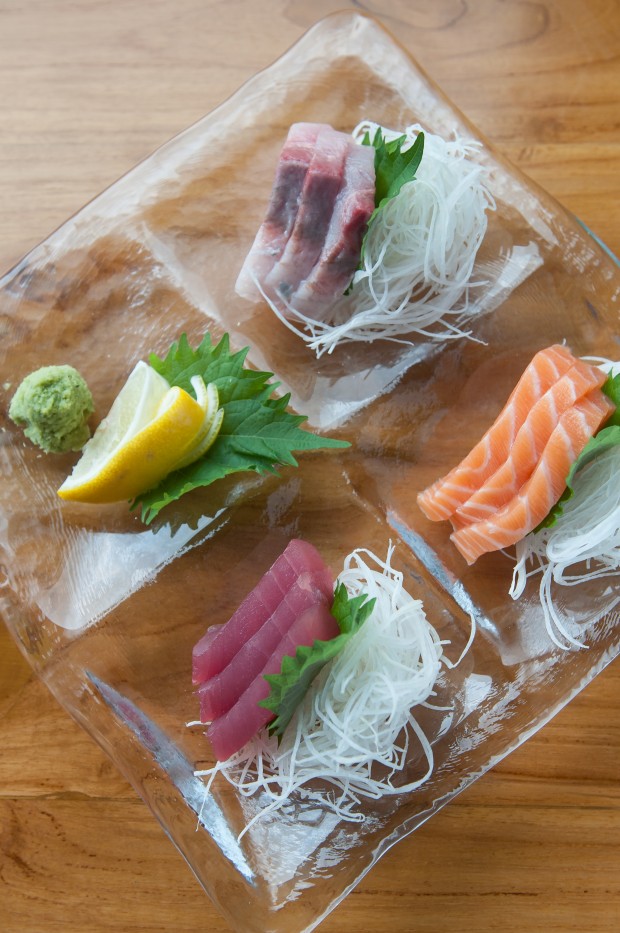 Of course, no authentic Japanese dining experience would be complete without sashimi. The Sashimi Mori (P770) offers three kinds of fish: yellow tail, cod, and salmon. They had that easy-on-the tongue quality inherent to fresh sashimi. Note that the wasabi that comes with it is made in the restaurant and not squeezed out of a tube, hence its rough texture and mild kick.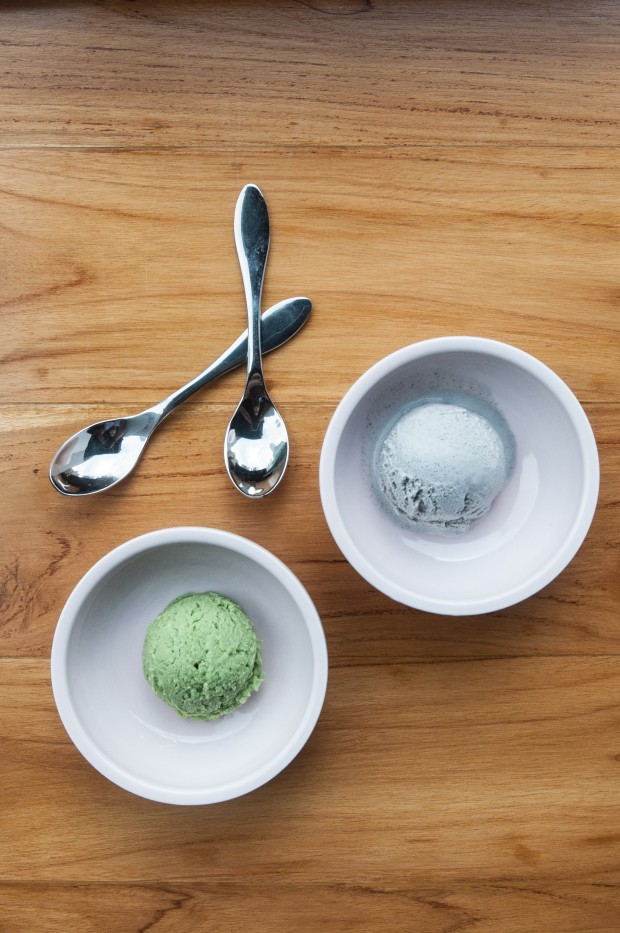 For dessert, we were given several options of ice cream which included black sesame and green tea. The black sesame was quite good as you could really crunch on some sesame seeds for that unique salty, bitter taste that contrasts  with the sweetness of the cream. The green tea one tasted very earthy and wasn't too sweet, to my delight.
Ambience
The chef shouting "fire in the hoe" as he sets the grill aflame to cook the beef should pretty much tell you that Ogawa is not the setting for intimate one-on-one conversations. The place is meant to give off that busy vibe and lively experience while dining. However, secluded function rooms are tucked away in the corners of the restaurant for those who want a little privacy.

Price
The price range for a meal will set you back at least P500 pesos. Appetizers and side dishes are within the P200 to P300 range. If you want to really splurge, you can order the Teppan Lobster Gozen for P1,800.

Service
Despite the large dining area, it was easy to call the server's attention for additional requests. They were very prompt in refilling our water and in offering us iced tea. They knew about the dishes, from the ingredients to their Japanese names, and were happy to explain them one by one. 

Problems
My photographer and I were seated in front of the sink by the sushi bar so I don't really know how appetizing it should be to watch the chef wash his hands. On the other hand, some seats do not have ample lighting so it might be tricky when trying to look for your next bite.
Ogawa Traditional Japanese Restaurant. 2/F The Fort Entertainment Complex, Fort Strip, 5th Avenue cor. 28th Street, Bonifacio Global City, Taguig. (02) 886-4996. Open daily starting today from 11 a.m. to 10 p.m. For more information, you may visit their website.
Photos by Nico Nuyda