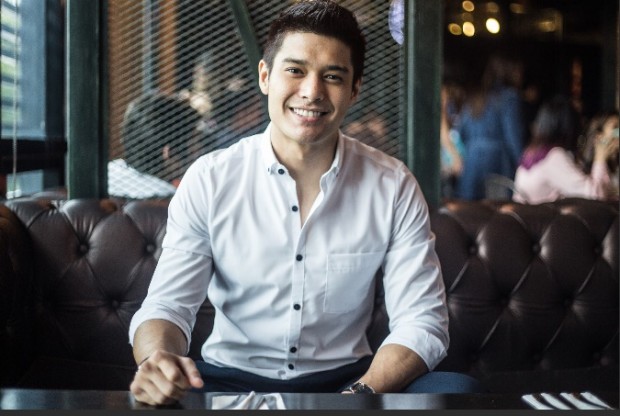 If you ever find yourself in the company of JC De Vera, expect a relaxed night in, eating good food while watching cooking shows. "I love food and watching cooking shows [can be very interesting] because there is sometimes travel involved."
Despite being out and about for his shows and endorsements, he'd rather spend some time indoors, doing the things he likes. "On a regular day, I would go to the gym and then just spend some time with my family. When I'm with my friends, we just like to gather around for good conversations over beer," he shares.
When we caught up with the actor at a press event with Lovi Poe for Imono Steel Jewelry, we got to ask him a few movie-related questions along with some other things, like his own version of "Netflix and chill."
On a free day, what's playing on your TV?
Right now, I really watch AFC (Asian Food Channel). I'm very curious about cooking shows kasi kailangan ko talaga manood ng ganun for my business. Switch mo lang sa channel na yun and you can watch the whole day. I also like Pawn Stars and Discovery Turbo. It's a show about cars.
What are your favorite movies?
Any Marvel movie. When I was a kid, nagbabasa ako ng comics and I grew up watching their cartoons. Mas maganda na din kasi visuals ngayon. I also like any Leonardo DiCaprio movie and any Johnny Depp movie.
What movie do you wish you starred in?
I wish I was the star of the Pirates of the Caribbean [franchise]. Gusto ko ma-try na ganun ako ka-loose. Feeling ko hindi ako si JC, ako yung character. Very immersed [into the role] and only Johnny Depp can do that. I want to try that if there's an opportunity sana someday.
If you could direct a movie, what would it be about and who would be in it?
Something like The Hangover. It's very demanding because it should be really just like a day in the life among a group of friends.
When I think about it and if that's the format, siguro kasali yung mga kasama ko sa Banana Split. Kasi natural sila and very flexible, and what's nice about the Banana Split family is they're very clannish and have their own culture. To have your own culture in one show means sobrang lalim na ng pagsasama niyo. It won't feel like you're working, feeling niyo naglalaro lang kayo. It's something I want to explore.
What's one movie you'd recommend people to watch?
I really like The Wolf of Wall Street. Napakagandang movie about opportunities. [It asks,] "What would you do if something like this was right in front of you? How would you handle yourself if you had everything?"
What would you cook for a 'Netflix and Chill' night?
That's hard. Maybe Sinigang na Salmon Belly. It's comfort food, especially for Filipinos,and it's a really nice dish for this weather, umuulan, and when it's late at night.
Who would you be with on a 'Netflix and Chill' night?
I am a very simple person. I have very simple likes and wants. On a free day, I like to be with my friends. I don't do much partying because I wasn't never into it.
I always try to be with my group of friends, the ones I met when I was in Colegio De San Agustin. We're still very solid. When we're together we are almost 10 to 15 in the group.
Photo by Paolo Tabuena