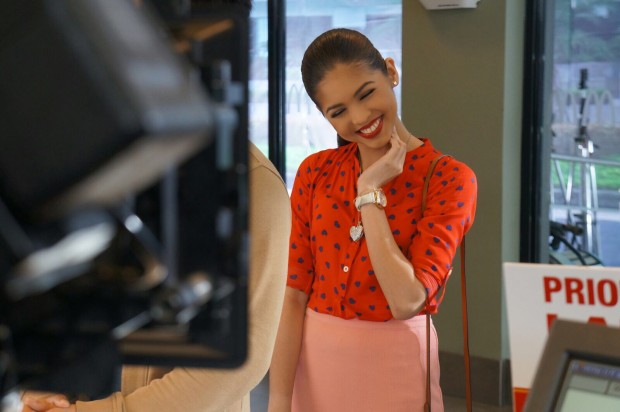 The #AlDub tandem is one to shake up the whole Twitterverse. Just today, Maine Mendoza's well-followed account with 2.4 million followers got compromised, and everybody's on it.
If you are a hacker with a message to broadcast, it would make sense to use the kind of influence she has to your advantage. Anonymous Philippines, an anti-government hacking group with a mission to "fight for freedom, truth, and justice" took to Maine's Twitter account to promote an anti-corruption protest called Million Mask March on Nov. 5.
https://twitter.com/mainedcm/status/661228139247349760
A first tweet came up with a link to a Facebook post by Anonymous Philippines with the hashtags #AnonPH #Anonymous #MillionMaskMarch #MMM2k15. The URL contains an announcement of the said Million Mask March and a cryptic message saying "For too long, we have endured every lies (sic) our own government force (sic) upon us. Look around you." As if calling to participate, linked in the body are almost all of the Philippine governments' websites.
https://twitter.com/mainedcm/status/661229016981118976
A second tweet came bearing the event's poster.
https://twitter.com/mainedcm/status/661229064523378689
But the most interesting part in all this is that the group was apologetic for what they've done and promised to give the account back to Maine in no time. Are they fans of hers, too?
Anonymous Philippines is known for attacking government websites to relay messages and concerns to government officials and the public. Just this year, the group hacked and defaced 20 government websites to seek justice for the 44 fallen policemen at the Mamasapano incident. Last September, they did the same thing to the National Telecommunications Commissions (NTC) website but this time, over slow Internet connection.
The hackers released an official statement addressed to all AlDub fans in their Facebook account. They claim they aren't enemies and asked for understanding to know where they are coming from.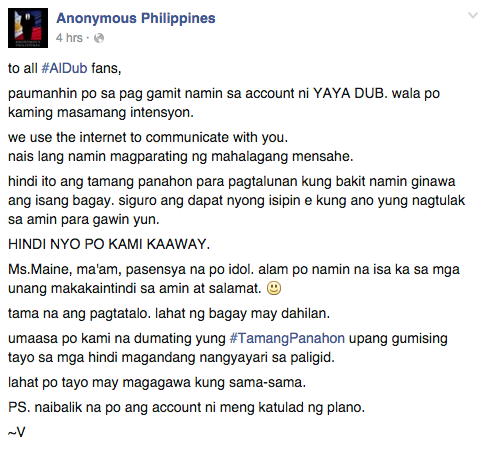 The account has been returned to Maine but everyone has yet to hear from her. Same goes for her prince charming Alden Richards, who may have been too late to come to the rescue this time.
[
Maine Mendoza's Twitter account
]
Photo courtesy of Inquirer Lifestyle